Wilderness deluxe
BISSETT, Man.--The Cessna 185 lifted effortlessly off the water in the light morning breeze, and we soon were headed north above miles of trees, rocks and water.
BISSETT, Man.-The Cessna 185 lifted effortlessly off the water in the light morning breeze, and we soon were headed north above miles of trees, rocks and water.
Wisps of fog, formed by the cool morning air meeting swamps and water, rose up from the seemingly endless expanse of lakes, trees and streams several hundred feet below us. At first glance, the wisps resembled smoke from tiny fires.
The day was just getting started at Atikaki Provincial Wilderness Park on this mid-July morning, and adventure beckoned. For the next four days, we'd live a life of wilderness comfort at Shining Falls Lodge, a fly-in fishing destination at the far northern edge of Atikaki about a half-hour's flight north of the Bluewater Aviation floatplane base in Bissett.
Designated by the province of Manitoba in 1985, Atikaki Provincial Wilderness Park is about 3 hours northeast of Winnipeg and covers more than 1,500 square miles, slightly less than Minnesota's Boundary Waters Canoe Area Wilderness, which covers 1,703 square miles.
Despite the park's remote setting, visitors to Shining Falls Lodge don't exactly rough it. Coffee is delivered to the cabin at 7 a.m. daily, breakfast and evening meals are served in the lodge and noontime shore lunches are cooked on the lake at a different site every day for those who choose the inclusive American Plan package. A generator that runs just long enough to charge a high-tech system of 16 batteries provides electricity to the lodge and the camp's four cabins, and satellite Internet ensures those who can't quite unplug from their smartphones don't go into withdrawals.
Family (Lake) venture
Now in their fifth season at Shining Falls Lodge, owners Tobias and Ellen Becker have made a lifestyle of catering to adventure seekers; anglers mostly, who come to match wits with the gamefish of Family Lake. Walleyes and northern pike are the primary species, but anglers who probe the depths of Family Lake's 35 miles also catch the occasional perch or sauger, a smaller cousin to the walleye.
The Dogskin and Berens rivers feed Family Lake on a watery journey that includes Lake Winnipeg and eventually ends in Hudson Bay. The lodge gets its name from Shining Falls, the spectacular series of rapids and waterfalls at the headwaters of the Pigeon River just a short boat ride from camp.
"When the generator's off, you can wake up, and you'll hear the falls sometimes in the mornings," Becker said.
Family Lake routinely produces northern pike large enough to qualify for Travel Manitoba's popular Master Angler program by meeting the 41-inch minimum size requirement. The toothy predators have been known to take advantage of walleyes conveniently dangling from a lure or a stringer, Becker says.
"Every once in awhile, somebody decides to tie a stringer to the dock, and I always warn them that probably every 10th time, a walleye might go missing here," he said.
One time, Becker recalls, a fisherman who came back to camp for a break left a walleye on a stringer tied to the dock, only to find a 37-inch pike had engulfed the fish when he pulled up the stringer.
"It swallowed the walleye whole," Becker said.
It took some doing, he said, but they managed to get the fish turned around in the pike's belly so they could pull it out of the predator's mouth without the walleye's spiny dorsal fin harming the pike.
"We released the pike, it swam off, and the walleye was still flopping. The pike basically swam up and just sucked that thing in," Becker said, making a slurping sound.
Simpler life
The Beckers both have engineering degrees from the University of Manitoba, where they met, but decided they preferred a simpler life. Tobias grew up on a farm near the edge of Whiteshell Provincial Park northeast of Winnipeg, and Ellen grew up in Winnipeg, spending a couple of summers working at Budd's Gunisao Lake Lodge in northern Manitoba.
Both were in their late 20s when they purchased Shining Falls Lodge after the previous operator, a long-distance owner, found out the business wasn't the moneymaker he'd hoped it would be or a license to go fishing at will.
"Dumb luck," is how Tobias describes the turn of the events that led to their buying the lodge.
"Basically, we kind of sat down together, decided we're spending life together, so we figured we should figure out what we're going to do with it," he said. "And among all the other things we put on the list-which would mean farming and engineering and the more normal things people do-at the bottom of it was fishing lodge, which was kind of a pipe dream and 'maybe when we retire' type of thing.
"Ellen's dad knew a guy that knew a guy that was selling a fishing lodge. So we gave him a call and it kind of went from there."
Initially, at least, the purchase wasn't as daunting as they thought it would be, Becker says.
"I think we were just too ignorant to know," he said. "I think the second year was more kind of a 'Wow, what the heck were we doing?' kind of thing."
The first year, he said, was "interesting."
"We got a lot of fishing in," Becker said. "There were no guests basically. We had like a week and a half in June that was completely full, and then we had like two groups later in the season. And other than that, we were stuck up here."
Gradually, though, they've been able to build up a steady client base, he said. Most drive to Bissett the previous evening and spend the night at Northern Wings Bed and Breakfast.
Owning a lodge accessible only by air requires ingenuity, not to mention planning, Becker says.
"It comes with its logistics, I guess," he said. "At least I'm not bored."
'A lot of fun'
Living in the wilderness from May through September and tending to the seemingly endless chores and demands of keeping a lodge on track is a good life, the Beckers say. Along with their son, Max, who'll be 2 in October, they spend the season in a 12-foot-by-24-foot wall tent in the woods behind the camp's four cabins.
"We kind of wanted a lifestyle where he's always with us-he's around," Tobias says. "It's a lot of fun watching him grow up."
A staff of three and various family members who fly into camp for the occasional visit help with babysitting and keeping the workload in check.
"We're not dropping him off at daycare," Becker said. "We're more bringing up family members to help take care of him. But he's a lot of fun, so that's part of the life, and our staff are like part of our family, too, and everything, and the guests as well. ... We enjoy that part of it."
Most anglers fish on their own out of 14- and 16-foot boats with 20-horse Yamaha four-stroke outboards, but first-timers to the lodge typically book the American Plan, which includes all meals.
Some of the more longtime groups choose the Housekeeping Plan and cook their own meals, Becker says.
"The housekeeping groups, they'll usually invite us over for dinner once or twice, and the American Plan groups we see every meal," Becker said. "So, after five years, we've really gotten to know some of the groups. We see these people more than we see some of our friends from high school and university-we see them for seven days at a time."
Proposed UNESCO site
Besides the fishing, Atikaki Provincial Wilderness Park and its rugged surroundings offer visitors the opportunity to see an array of wildlife they wouldn't often encounter. Woodland caribou make an occasional appearance, Becker says, and eagles, black bears, moose and numerous boreal forest songbirds add to the wilderness experience.
Atikaki also is part of a larger area of boreal forest on the Manitoba-Ontario border encompassing more than 11,000 square miles nominated in January for consideration as a UNESCO World Heritage Site
The Ojibwe call the land Pimachiowin Aki, "the land that gives life," and a corporation by the same name consisting of First Nations and provincial governments is working to achieve the World Heritage Site designation, the organization's website states.
UNESCO stands for United Nations Educational Scientific and Cultural Organization. Canada has eight cultural and nine natural UNESCO sites, and only about 1,000 sites globally have the designation, the Pimachiowin Aki website states.
Recognition as a World Heritage Site would help promote the area to people other than the anglers, hunters and paddlers who now most often visit, Becker says.
"It's one of the few pristine areas physically left in the world," Becker said. "There's no roads, there's literally ... you can only get there with floatplanes. It's very limited access so it's like if you walk 20 feet off the edge of the lake into the bush, you're lost, basically; no one's been there, potentially. It would sell that to the rest of the world. It would drive a whole different tourism industry."
On the Web:
shiningfallslodge.com.
pimachiowinaki.org.
travelmanitoba.com.
1
/
7:
Shining Falls Lodge also offers a couple miles of hiking trails with various kinds of moss and short pine trees adding to the wilderness view. (Joshua Komer/Grand Forks Herald)
2
/
7:
The DHC-3 Otter, such as this one at the Bluewater Aviation floatplane base in Bissett, Man., is a commonly used plane for transporting goods and people to remote locations throughout northern Manitoba and Ontario. (Joshua Komer/Grand Forks Herald)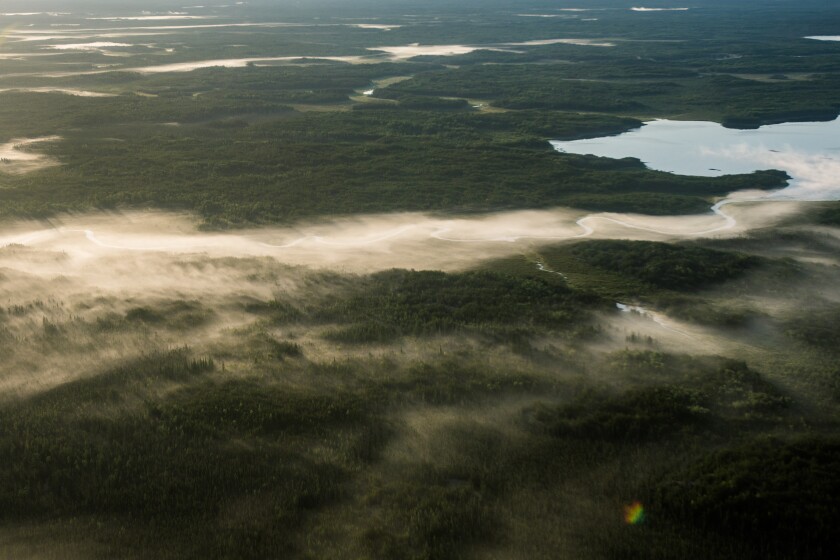 3
/
7:
Wisps of fog rise from Atikaki Provincial Park on the flight to Shining Falls Lodge just after dawn July 13. (Joshua Komer/Grand Forks Herald)
4
/
7:
Anglers enjoy a shore lunch July 16 at the top of Shining Falls on Manitoba's Pigeon River. American Plan guests at Shining Falls Lodge have shore lunch of fresh walleye each day at a different location. (Joshua Komer/Grand Forks Herald)
5
/
7:
Family Lake is cut off from anyone without a floatplane. The boaters have the lake mostly to themselves since Shining Falls is the only lodge in the area. (Joshua Komer/Grand Forks Herald)
6
/
7:
Tobias Becker plays with his son, Max, on July 16 during shore lunch at the top of Shining Falls Lodge. Becker and his wife, Ellen, own Shining Falls Lodge at the north end of Manitoba's Atikaki Provincial Wilderness Park. (Photo/ Brad Dokken, Grand Forks Herald)
7
/
7:
Named for the spectacular Shining Falls at the headwaters of the Pigeon River, Shining Falls Lodge is situated at north of Atikaki Provincial Park on Family Lake. (Joshua Komer/Grand Forks Herald)