UND ranked No. 24 this week in FCS poll; looks forward to bye week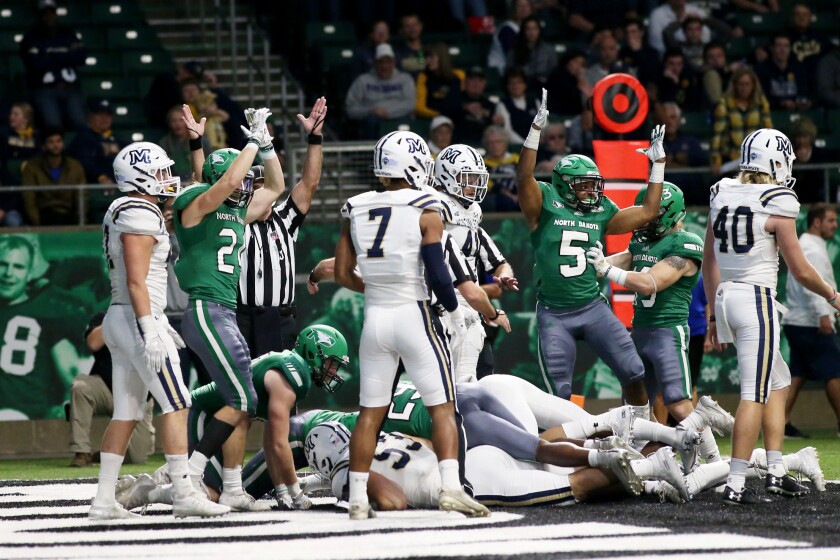 UND slipped into the national FCS polls on Monday, rankings that met with little fanfare at Memorial Stadium.
"I didn't even know about that," said UND cornerback Evan Holm. "I'm just focused on Weber State. They have a good team. If we can beat them, we'll worry about the future later."
UND is ranked No. 24 in the STATS FCS poll and No. 23 in the FCS coaches poll. It's the first time this season that UND has been ranked in the STATS poll.
UND's win over previous No. 9 Montana State on Saturday pushed the Hawks into the Top 25. It was the third UND win over a nationally ranked opponent this season.
UND's strength-of-schedule this season is among the most difficult in the FCS. Last week, UND's strength-of-schedule ranked No. 7 in the country.
National recognition is nice but the Hawks' focus this week is two-fold -- improved health and preparation for No. 3 Weber State on Nov. 9 in Ogden, Utah.
UND has its second bye week of the season. This bye week couldn't have come at a better time due to mounting injuries.
UND entered the Montana State game without two starting defensive linemen -- Mason Bennett and Jalen Morrison. Standout linebacker Jaxson Turner went down against Montana State on Saturday.
"Every team has a number of guys who are banged up and sore this time of the year," said UND coach Bubba Schweigert. "We feel like we can get some guys back."
A healthy team will be important as UND takes on Weber -- a team that has been ranked high all season. Weber, however, first has a showdown on the road Saturday against No. 6 Sacramento State -- perhaps the surprise FCS team of the season.
UND, meanwhile, may be this week's FCS surprise by making its way into the national polls after sitting 3-3 two weeks ago.
The win over Montana State was a big one since it puts the program in a good position for a possible FCS playoff berth as the Hawks enter the stretch run of the season.
After the Nov. 9 Weber State game, UND closes is regular season with back-to-back home games against Northern Colorado and Southern Utah -- teams that have combined for three wins.
"We feel like we can control a lot of things right now," said Schweigert. "But it's still going to be one day at a time. That's what we talked to our guys about this morning.
"Our meetings are important; our workouts are important and our rehabs are important. We can't be concerned about any of the outside noise because that can be distracting.
"We want to be a good team in November. The best teams across the country are good in November."