UND turns impressive start into win over rival Minnesota
Captain Mark Senden scored twice and added an assist as the Fighting Hawks improved to 10-5 overall.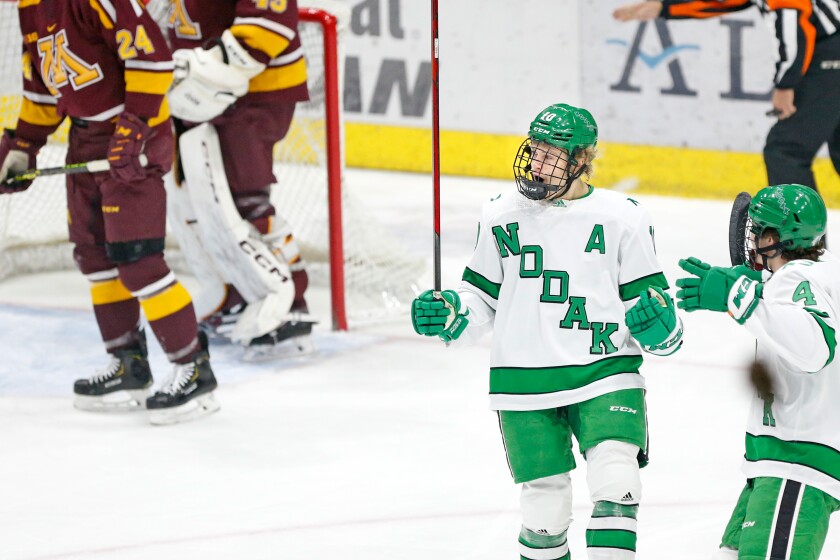 As UND finished its team meal Saturday afternoon in Ralph Engelstad Arena, equipment manager Dan Johansson began hanging the team's usual white home jerseys in the players' stalls.
Then, the players left and went home.
When they returned to the rink for the game, the old jerseys were gone. Johansson switched them out and, for the first time, hung up the new alternate white home jerseys that say 'NoDak' diagonally across the front.
"I know our guys were itching to wear them," UND coach Brad Berry said. "They wanted to wear them in the worst way. In the coaches' room, we're right next to the players' room. You could hear pretty loud hooting and hollering when they saw the jerseys.
"We've got the black jerseys on the road. Hopefully, these white ones can kind of do the same at home."
UND played as sharp as it looked Saturday night, holding Minnesota to just six shots through 40 minutes, opening a three-goal lead and hanging on for a 3-2 victory in front of 11,617 fans in Ralph Engelstad Arena.
Captain Mark Senden scored two goals and tallied three points, while linemate Gavin Hain scored once and rookie Jake Schmaltz had two assists to help the Fighting Hawks grab a series split.
"I'm super happy with how we responded as a group and battled back and we took ownership of our game yesterday," Senden said. "We knew we had to be better tonight. I'm happy with the guys and how they responded."
No. 6 UND improved to 10-5 overall and had an impressive answer after losing the series opener 5-1.
Despite missing leading goal-scorer Ashton Calder, who was injured Friday by a slash to his arm, the Fighting Hawks overwhelmed Minnesota in the first period. They scored just 3 minutes, 27 seconds into the contest, and during the game's opening 18 minutes, UND held a 19-3 edge in attempted shots and an 8-2 difference in shots on goal.
Minnesota registered only six shots in the first two periods and 13 for the game, its lowest since the 2019-20 season, when Notre Dame held the Gophers to 12.
"It was a really big game for us after last night," UND defenseman Cooper Moore said. "We didn't think we played our best. To respond the way we did, especially in this big rivalry, really meant a lot for us. It really showed our team a lot."
The Gophers (9-7) used a power-play goal by Ben Meyers and an extra-attacker goal by Chaz Lucius to make it a one-goal game. But after cutting UND's lead to one with 3:30 to go, Minnesota didn't get any shots on goal the rest of the way as the Fighting Hawks sealed the victory.
"Really good effort by a lot of guys," Berry said. "We were in here last night talking about, to a man, I don't think we played our best. Tonight, I don't think there were very many passengers, if any. That's what we needed.
"Last night, the first couple periods, we were slow and we didn't move. We were stationary. Tonight, we checked all over the ice. It started with our legs. A team like that, if you give them time and space, they generate a lot off the rush. Tonight, we skated and we checked a lot harder than we did last night."
UND had big contributions around the lineup:
One day after defenseman Tyler Kleven took a major penalty and game misconduct for cross-checking, Berry only used Kleven for a couple of shifts, instead opting to hand his minutes to freshman Luke Bast. The rookie turned in a solid performance against an explosive Gopher offense.
Defenseman Cooper Moore continued his ascent after blossoming last weekend in Jake Sanderson's absence. Moore led UND with four shots on goal and registered a plus-1 rating.
Senior center Connor Ford dominated in the faceoff circle, going 19-4, helping the Fighting Hawks' puck possession game.
Goalie Zach Driscoll was solid, stopping 11 of 13 shots and going a perfect 11-for-11 at even strength.
"We talked about what we needed to do all day today, and I think we came out and executed it," Hain said. "We played harder than yesterday, executed passes and executed our game plan. We forechecked hard. We got pucks deep like we wanted. We were executing passes. One of the biggest things was getting two guys on the forecheck, getting two guys on their D-men, so they turned pucks over."
It added up to a successful debut in the NoDak jerseys.
"I think they're awesome," Hain said. "We obviously have the black ones for on the road. We've had some good success in those. To have a business suit at home, it means business when we wear them."
Notes: Berry said Calder is unlikely to play next weekend against St. Cloud State. . . UND also played without second-line winger Matteo Costantini (ill) for a fourth-straight game and fourth-line winger Jackson Kunz (upper-body injury) for a fourth-straight game.
1
/
3:
UND's Jake Sanderson and goalie Zach Driscoll react to UND's 3-2 win over Minnesota Saturday, Nov. 27, 2021 at the Ralph Engelstad Arena. Eric Hylden/Grand Forks Herald
2
/
3:
UND great Dave Christian skates Saturday for "One Last Shift" before the start of UND's game with Minnesota at the Ralph Engelstad Arena. Eric Hylden/Grand Forks Herald
3
/
3:
UND's Ethan Frisch (15) and Nick Portz (20) compete for the puck with Minnesota's Matthew Knies Saturday at the Ralph Engelstad Arena. Eric Hylden/Grand Forks Herald
1
/
4:
UND's Jake Sanderson and goalie Zach Driscoll react to UND's 3-2 win over Minnesota Saturday, Nov. 27, 2021 at the Ralph Engelstad Arena. Eric Hylden/Grand Forks Herald
2
/
4:
UND great Dave Christian skates Saturday for "One Last Shift" before the start of UND's game with Minnesota at the Ralph Engelstad Arena. Eric Hylden/Grand Forks Herald
3
/
4:
UND's Riese Gaber and Minnesota goalie battle at the net in the third period Saturday at the Ralph Engelstad Arena. Eric Hylden/Grand Forks Herald
4
/
4:
UND's Ethan Frisch (15) and Nick Portz (20) compete for the puck with Minnesota's Matthew Knies Saturday at the Ralph Engelstad Arena. Eric Hylden/Grand Forks Herald