UND HOCKEY: 24 hours to a title
The inside story on everything that happened the day UND won its eighth NCAA national championship.
The lights had been out for two hours, but Bryn Chyzyk was wide awake.
He planned on falling asleep at 10:30 or 11 p.m., but that wasn't happening on this night. The clock said midnight and it was officially college hockey national championship game day.
Chyzyk's thoughts and daydreams were running wild. He knew this was going to be a day that he would remember for the rest of his life. He desperately wanted it to be a positive memory.
Although the team's motto all season long was to keep its eyes on the fight, not on the prize, human nature took over. Chyzyk couldn't help but think of what it would be like to win that trophy and bring it back to the rabid UND hockey fans, who hadn't celebrated a national championship in 16 years.
Chyzyk's road roommate, Shane Gersich, had fallen asleep. But he was one of the few who slept well that night.
At 2 a.m., Chyzyk got out of bed. He started the night with five Gatorades next to the nightstand. He finished off the third one and started pacing.
He walked to the door of the connecting room -- it had stayed open all week -- and peered in. Captain Gage Ausmus and freshman Hayden Shaw were both wide awake, too.
Down the hall on the ninth floor, the same thing was happening with Paul LaDue and Troy Stecher.
LaDue is a heavy sleeper. He usually falls asleep with the TV blaring and Stecher has to turn it off. But not on this night. LaDue turned it off himself.
Stecher tried to sleep for an hour, then gave up. He grabbed his phone and read social media for the next 45 minutes.
"When I shut my phone off to try to go back to bed, I could see the light from his phone on," Stecher said. "We were doing the same thing. Nothing was said, but we were both wide awake."
Everyone was eager to play -- and for good reason.
Earlier that night, the team was called into the Hilton's second-floor ballroom upon returning from dinner at Fleming's Steakhouse.
Legendary coach Gino Gasparini, who won three national titles at UND in the 1980s, walked into the room. Head coach Brad Berry called Gasparini five days earlier to ask if he would join the team on the charter plane and trip to the Frozen Four as a special guest. Gasparini cleared his schedule.
He had the full attention of UND's 27 players.
Gasparini told stories about his championship teams. He told the team that they were going into a fight on Saturday night and they had to get their hands up.
"If you do that," Gasparini said as he raised his fists, "you'll come out with one of these."
His national champion ring was on his finger. The players had goosebumps.
"I was ready to play right then," senior Coltyn Sanderson said.
But they had to wait.
After a 20-minute video session on Quinnipiac's tendencies, which heavily featured clips from the 2015 NCAA regional matchup against the Bobcats, the players were on their own the rest of the night.
Brock Boeser watched Grey's Anatomy on his computer, while his roommate, Nick Schmaltz, watched basketball on TV. Schmaltz told Boeser to expect a physical game from Quinnipiac.
Starting goalie Cam Johnson watched a motivational video on Facebook, then started cruising YouTube for more. Colten St. Clair watched highlights from the 1987 national championship team on YouTube.
Roommates Drake Caggiula and Joel Janatuinen both used the NormaTec inflatable recovery system on their legs as they watched TV. They each took half-hour turns using the device as they had done all year.
The junior class, which vowed as freshmen to get matching tattoos if they ever won a national championship, hung out in Stecher and LaDue's room.
Sanderson just needed to find a way to calm down. He felt he was too wound up for the semifinal game against Denver. He got caught up reading all of the good luck texts from friends and tweets from UND legends like Jonathan Toews, T.J. Oshie and Craig Ludwig. So, Sanderson decided to shut his phone off Friday afternoon and not turn it back on for 30 hours.
Then, he went for a long walk. Sanderson strolled along the Hillsborough River alone for 45 minutes, clearing his mind. He came across a homeless man, who asked for change. Although Sanderson usually doesn't give change to beggars, he reached in his pocket, pulled out a $5 bill and handed it over.
"I didn't want any bad karma," he said.
Eventually, he returned to his room and fell asleep.
Chyzyk still couldn't sleep, though.
He rolled around, trying to find different sleeping positions. He checked his phone. He tried to blank out his mind and not think about anything. None of it worked. It was 4 a.m. before he finally dozed off.
Wake-up alarms rang at about 8:30 a.m.
The team's buffet-style breakfast was at 9 a.m. in the same second-floor ballroom where Gasparini talked a night earlier.
Players wear their track suits to breakfast. Each has his own quirk.
Caggiula likes hash browns with ketchup. Cam Johnson always has exactly three strips of bacon. Chyzyk is allergic to eggs, so he eats ham instead.
When they finished their breakfast, they caught a 10:20 a.m. bus to Amalie Arena for morning skate.
Usually, morning skates are optional for the second day of a two-game series. But since there was a day off in between the semifinals and championship, everyone but Luke Johnson participated in this one. Johnson had injured his knee against Denver and was unable to play in the final.
UND had ice time from 11:20 a.m. until noon, but only used about 20 minutes of it. Practices and morning skates often get shorter come the end of the season. There were some snacks in the locker room to hold the players over until pregame meal.
The team's pregame meal is always exactly five hours before puck drop. Since the game wasn't scheduled to start until 8 p.m., the team didn't have its meal until 3 p.m.
The players had a couple of hours to settle in their hotel rooms.
St. Clair, who didn't play in any of the three previous NCAA tournament games, knew by this point that he would be going in for Johnson. Berry told St. Clair after the semifinal game on Thursday night to be ready
.It was the perfect way to end a tumultuous career.
Not only had St. Clair been injured in every season at UND, he also had to sit out an entire year because an online high school lost some of his records. It didn't dawn on St. Clair until a week later when he got a text from Rocco Grimaldi that he wouldn't have been on the team this season if not for that redshirt year.
To get mentally prepared, St. Clair returned to his room after morning skate and found last year's national semifinal loss to Boston University on YouTube. He watched the entire game.
"I wanted to put in the back of my mind how crappy it feels to lose the big ones," St. Clair said.
Caggiula went to his room and drank one can of Coke -- a game day routine since his freshman year.
Stecher and LaDue watched video from the Denver game. They each watched their own shifts on their own laptops. It was their Saturday afternoon routine on the road.
Berry went back to his room and tweeted: "UNITED IN GREEN!!!!!!!!" It's the same thing he had done before the previous NCAA tournament games -- always with exactly eight exclamation points. UND was going for its eighth national championship.
At 2:50 p.m. -- 10 minutes before game day meal -- there was a power-play meeting. At the end of it, Berry joked to Chyzyk to eat a couple of extra sides at pregame meal since he was being moved to the "Heavy Line" with Rhett Gardner and Austin Poganski.
At 3 p.m., it's dinner time.The pregame spread never changes. It's always pasta, chicken and sweet potatoes. The players sit by class. The seniors dish up first.
The pregame meal is always silent. The players don't speak, just eat. If there's something to be said, it's whispered.
At the end of pregame meal, Luke Johnson stood up and spoke to the team. He's not usually one to raise his voice in group settings, so his message resonated with the team. Wearing his UND track suit with a massive brace on his left leg, Luke told the team how badly he wished that he was playing and how much he wanted the team to win.
This was the first game that he was going to miss in his college career.
"You could tell in his face and in his eyes, it was killing him not to play," St. Clair said. "The guys were glued to him and listening to everything he said."
Then, the players retreated to their rooms, where they had about two hours before the bus left for Amalie Arena.
The calm before the storm
At this time, the Philadelphia Flyers were playing the Pittsburgh Penguins on NBC with a playoff berth on the line. Analyst Pierre McGuire interviewed Dave Hakstol on the bench about the game. He finished the interview asking: "Quick message for North Dakota tonight as they play Quinnipiac?"
Hakstol paused for a second, then answered: "Go Sioux."
The players all heard about it before they got on the bus to go to the game, but many missed it live because their pregame routine is to take a nap.
Caggiula got one more session in with his NormaTec. Then, his phone rang. It was his father, Sal.
Sal is your classic Canadian hockey guy. He played. He coached Drake during his childhood years. He loves the game in general.
He made it a point to get to as many games as possible during his son's senior season. He made trips all over from Maine to Vermont to Grand Forks to Kalamazoo to Colorado Springs to Cincinnati to watch Drake play.
He grew as attached to the UND program as his son.
But a week before the national championship game, he suffered a heart attack while napping at home in Whitby, Ont. He was taken to the cardiac center at the local hospital, where doctors put in a stent.
The first question he asked after the operation was if he could fly to Tampa. The doctor said no. Sal asked if he could drive. The doctor said no.
While the rest of his family made the trip to Tampa, Sal stayed back home and watched with friends. They had to calm him down after Schmaltz scored the game-winning goal in the semifinals against Denver two days earlier.
"I jumped out of my chair," Sal said. "Everyone was trying to settle me down. 'We don't need to be calling 911,' they said."
Sal went to the same friend's home to watch the championship game with the same people.
"He's my No. 1 fan," Drake said. "He's always there to support me. He holds a special place in my heart and UND has a special place in his heart. The thing that hurt him the most wasn't the heart attack, it was the fact that he wasn't able to travel to Tampa."
Drake told his father that the national championship game was for him.
Sal said: "No, Drake, this is for you, your teammates, your coaches, the city of Grand Forks and everyone who follows you guys. Do it for them."
After their pregame naps, the players shower, then change into the required suit and tie.
Some players are superstitious about their clothes.
Chyzyk wore a bright orange shirt.
"My mom always tells me how ugly it is," he said. "I wore it to both games in Cincinnati. I really didn't want to have to wear it to the red carpet, but I had to put the fashion aside and go with the lucky one."
St. Clair picked out his flashiest suit. He saved it for the championship game.
Boeser always wore the same stocking cap to the arena all season long. Even though they were in Tampa and it was 82 degrees outside, he still wore his stocking hat.
"It was a little weird," he admitted. "But I couldn't change it up."
The players started arriving in the lobby about 25 minutes before departure time. Many of them stood alone with their headsets on.
By 6 p.m., they were all on the bus, and it left for Amalie Arena.
It pulled up about six minutes later to a red-carpet entrance. Hundreds of UND fans surrounded the red carpet and roared as the team exited the bus and walked to the arena. The band played the school song in the background.
Some of the players took it all in.
"You get goosebumps," Cam Johnson said. "That's when you're starting to realize that we're really playing for something here. I remember all day trying not to think of the importance of the game and how big the game was. I was trying to approach it like any other game.
"But getting off the bus, looking around and soaking it all in, I was like, 'Oh my God, this is one of the coolest things I've ever been a part of.'"
Stecher was already sweating profusely. He walked with his head down all the way to the arena.
"I wanted to give the all-business look, but that really wasn't the case," he said. "I was freaking out already because of how much I was sweating and I didn't want to embarrass myself."
Caggiula had his headphones on. He has an audio track that mixes music with inspirational quotes. He was listening to that.
St. Clair pulled his headphones off of his ears to listen to the roar of the fans. He got chills.
"I've been through four red carpets now," he said. "I don't care who you are or how calm you are, that never gets old. My legs were shaking. I could do that 100 times in a row and it wouldn't get old."
Once the team got into the locker room, they had about five minutes to change into their shorts and warmup shirts. On the back of them, it says: "Believe it. Earn it. Raise it."
Then, associate head coach Dane Jackson led a penalty kill meeting. He showed some clips from Quinnipiac's recent power-play goals. He also reiterated his philosophy: "Snot and balls." That's what it takes to kill penalties.
After the penalty kill meeting, the players settled into their regular pregame routine.
Some played soccer. Caggiula grabbed his backup stick to tape. He walked outside the locker room. Radio play-by-play announcer Tim Hennessy was there, preparing to do his routine pregame interview with Berry.
Hennessy wished Caggiula good luck.
"I'm ready," Caggiula responded.
The players always have music pumping throughout the locker room speakers. Some hear it. Some are locked into their headphones.
The music ends 45 minutes before game time. Keaton Thompson is in charge of picking the last song. He chose 'In the Air Tonight' by Phil Collins.
After the music cut out, Berry gave the team his speech. He re-watched the Denver game in the afternoon -- like usual -- to pick out a few key points for his pregame talk.
He also re-stated the team's motto: Believe it. Earn it. Raise it.
Those words were written on the whiteboard in the locker room. Next to them, it said: "WE WILL BE KNOWN FOREVER BY THE TRACKS WE LEAVE BEHIND !!!!!!!!"Eight exclamation points.
UND skated onto the ice for warmups. Caggiula is always the last one out of the locker room and last one on the ice.
He doesn't allow himself to leave warmups until he either hits the crossbar or puts the puck in the corner with a shot from the dot.
It only took one attempt on that night.
After retreating to the locker room, they have about 10 minutes until they return to the ice.
This season, it was the assistant coaches who gave the final speech to the team. They had a pattern: Jackson or Matt Shaw would talk until the team lost a game. Then, they would switch it up and the other guy would talk until the team lost.
It was Jackson's turn during the NCAA tournament.
Jackson talked about the number of special players that have come through the program that never had the opportunity that's in front of the current team. He said it was a special group. And he said he wants to prove everyone wrong who says North Dakota can't win the big one.
Ausmus, Stecher and LaDue all chimed in.
Then, the team took the ice.
UND was the first team to be introduced. Stecher was still skating circles around the zone when he heard his name. He wheeled around and skated to the blue line. His teammates soon joined him.
Cam Johnson stood there confidently listening to the national anthem. Two days earlier, his knees were trembling before the game against Denver because he was so nervous. The nerves were gone.
UND 0, Quinnipiac 0, 20:00 left, first period.
North Dakota got off to a great start, dominating the territorial play.
But midway through the first period, Chyzyk thought he ruined that momentum.
He got slashed while entering the offensive zone by Quinnipiac's second-leading scorer, Travis St. Denis. Chyzyk slashed St. Denis back and heard the whistle blow.
"I was mad because I thought I took a bad penalty," Chyzyk said. "When I saw they took St. Denis, too, I thought that was a pretty good trade for us."
On the third shift of the 4-on-4, Boeser carried the puck behind his own net and started flying up the ice. He drove to the left side, where Quinnipiac forward Tanner MacMaster and defenseman Alex Minor-Barron forced him to chip the puck at the offensive blue line.
Gersich thought Boeser was going to drive wide, so he skated to the top of the crease. Boeser retrieved his chip-in and sent the puck back to Ausmus at the point, though.
Ausmus made a shoulder fake to get Minor-Barron out of the shooting lane, then wristed one to the top of the crease.
Quinnipiac goalie Michael Garteig made the initial stop but left the rebound there. Gersich and Boeser outnumbered the Bobcats down low and Gersich took a whack at the rebound. Garteig stopped that one, but kicked it out to the right side of the crease, where Gersich quickly threw it in the net with his backhand.
UND 1, Quinnipiac 0, 8:04 left, first period.
Gersich skated to the corner with his arms raised, but no smile. This was business and North Dakota wasn't done.
It was 37 years earlier that Gersich's uncle, Neal Broten, scored the game-winning goal in a national championship game for the University of Minnesota. It came against UND in Gasparini's first season as head coach, preventing Gasparini from being the first rookie coach in college hockey history to win a national championship.
Nearly four decades later, Gasparini, ironically, was giving an inspirational speech to Broten's nephew before a national championship game, watching him score from the stands and helping Berry become the first rookie coach in college hockey history to win a national championship.
It shocked many that Gersich came to UND in the first place.Three of his uncles -- Neal, Aaron and Paul Broten -- are Gopher legends. His father, Frank, also played for the Gophers in the 1980s.
But most didn't know that Gersich always quietly had an affection for North Dakota. He asked his parents for Sioux clothes for Christmas a couple times as a child.
When he committed in December 2012, he bought a Fighting Sioux sweatshirt for his grandfather, Newell, for Christmas.
Newell was a Gopher fan with his three sons playing there, but quickly converted. He attended almost all of UND's home games this season.
He was in his home in Roseau, Minn., watching the national championship game. When Shane scored, Newell was so happy that he cried.
Boeser strikes
Soon after UND went ahead 1-0, LaDue was called for tripping and Quinnipiac had the game's first power play.
With 1:19 left on the power play, Poganski won a battle on the wall and carried the puck out of the defensive zone, through the neutral zone and into the offensive zone. He tried to dangle defenseman Devon Toews, but Quinnipiac's best blue liner took him off the puck.
Garteig skated two strides out and swiped the puck to the wall.
St. Denis picked it up, but Poganski hustled back into the play and harassed the puck carrier as he left the zone. Boeser spotted this and attacked St. Denis. Just as Poganski lifted the stick of St. Denis, Boeser poke-checked the puck and it flew toward the net.
Boeser stepped around Toews, whose momentum was going the wrong way, and raced toward the puck. There were no Quinnipiac defenders between Boeser and the puck.
Trying to prevent Boeser from having a breakaway, Garteig raced about 25 feet out of his net to get there first. Garteig did win the race to the puck, but Boeser was bearing down on him, forcing Garteig to make a quick decision. He fired the puck on his forehand toward Toews on the wall. Boeser read it perfectly.
"He was kind of giving away which way he was going to shoot it," Boeser said. "I tried turning my body to get in front of it. It hit me in the side and popped up. I didn't want to play it with a high stick, so I waited for it to drop a little bit."
Boeser eventually settled it down.
"The puck was still upright when I shot it, but I made sure that I had full control," he said.He fired it into the open net as UND fans went wild.
UND 2, Quinnipiac 0, 5:44 left, first period.
On the bench, Stecher was stunned by what he saw.
He won a Junior A national championship with Garteig with the Penticton Vees in the British Columbia Hockey League and knew how good Garteig was at playing the puck. In juniors, Garteig often played pucks to his defensemen in the corners, instead of stopping them and leaving them behind the net because he was so good at it.
On the other side of the ice, Cam Johnson was starting to feel pretty good.
"Honestly, in my mind, there was no chance that I was letting in two goals," he said. "When Boeser put that one in, I was pretty pumped. They got me two. That's all I was asking for."
UND then started getting into penalty trouble.
Caggiula was called for cross-checking the goalie. Nine seconds later, Stecher was called for cross-checking Quinnipiac star Sam Anas.
Anas was injured coming into the game and appeared to re-injure his shoulder when he hit the boards. He left the ice for a while but eventually came back.
"I saw the replay," Stecher said. "It was a penalty."
The Bobcats scored just three seconds into the five-on-three. St. Denis won a draw back to Connor Clifton at the point. He sent a pass to his brother, Tim Clifton, in the left circle for a one-timer over Johnson's blocker.
UND 2, Quinnipiac 1, 1:07 left, first period.
UND was able to get through the remaining 67 seconds of Quinnipiac power-play time and get to the intermission.
The players hydrate during intermissions. Caggiula always fills up a glass of coconut water with salt before each game. He drinks a third of it before each period. He also has a carbohydrate pack that he eats between periods.
Tucker Poolman drinks twice as much fluid as everyone else on the team to replenish.
Berry walked in at the end of the intermission and talked about discipline.He told the team that they were dominating five-on-five. They just had to stay out of the penalty box.
It didn't really work.
Early in the second period, Caggiula was called for high sticking.
UND fans, agitated that power plays were 4-0 in favor of Quinnipiac, started chanting 'We want Shepherd," an ode to longtime official Derek Shepherd.
Shots evened out in the second period, but nobody scored.
Near the end of the second period, Denver coach Jim Montgomery tweeted, "Let's go @UNDmhockey @TheNCHC you are the better team!"
The buzzer sounded. Two periods were over. UND led 2-1, 20 minutes from a national championship.
Twenty minutes to a title
As the No. 1 overall seed, Quinnipiac got to use the Lightning locker room, the nicest in the building.
UND had the visitors' room, and it was hot, humid and muggy.
Early in the season, players did a study to see how much weight they lost during games. Chyzyk said he typically lost five pounds per game. He guessed that he lost at least eight during the semifinal against Denver because of the locker room.
Perhaps it's not a surprise that UND looked lethargic and fatigued in the third period against the Pioneers.
On Friday, UND operations director Pat Swanson went to Home Depot and bought an air conditioning unit. He set it up between the showers and the dressing room.
One NHL team told Berry that they do the same thing when they go to Tampa.
The players said it made a huge difference and it showed on the ice. This third period, they were fresh and dominant.
Before going back on the ice, Caggiula spoke up.
He told the team that this is what they had been waiting for all season.
"Embrace the moment, seize the moment," he said. "If we do that, we're going to go back to Grand Forks as champions and we'll be known forever."
Caggiula delivers
On the first shift of the third period, Caggiula delivered
.The play started when Boeser disrupted Toews behind the net, allowing his linemates to get in the zone.
Bobcat defenseman Kevin McKernan skated in to help out Toews and was just about to gain control of the puck when Schmaltz swooped in, lifted his stick and stole the puck in the corner. Schmaltz skated a stride up the boards and spotted Caggiula cutting to the net backdoor. He rifled a perfect pass between the sticks of Toews and St. Denis. It ended up right in Caggiula's wheelhouse.
Garteig quickly moved from post to post and was in perfect position to make the save, but Caggiula picked the corner of the net with a one-timer.
Sal and his friends cheered back in Whitby.
UND 3, Quinnipiac 1, 18:39 left, third period.
The CBS Line struck again on its next shift.
After a faceoff win in the defensive zone, LaDue grabbed the puck, circled the net and made a stretch pass all the way to the far blue line to Boeser, perfectly splitting the defensemen. McKernan dove to try to disrupt the pass, but missed the puck.
Toews made a nice play to bump Boeser off of his rush. Boeser curled, though, and spotted Caggiula cutting down the slot alone. McKernan took himself out of the play when he dove. Nobody was there to cover Caggiula.
Caggiula ripped the shot past Garteig's blocker for his second goal of the game and fourth of the Frozen Four. He jumped into the boards in front of the Quinnipiac fan section.
UND 4, Quinnipiac 1, 16:19 left, third period.
On the bench, the players went nuts.
"It was a blackout mosh pit," Stecher said. "Every time we scored, it turned into a mosh pit. It was so much fun."
Berry gave a fist pump.
Stecher and Ausmus, two of the team's captains, tried to keep their composure. But they looked at each other, gave a short smile and Stecher whispered, "We're getting tattoos."
UND wasn't done by any means.
It kept the throttle down and got another goal midway through the third.
Poganski made a couple of spin moves behind the net to lose Connor Clifton, then got the puck to Ausmus at the point. Gardner tipped his point shot and took a defenseman out of the play.
Clifton floated to the point and left Poganski wide open. He skated in to get the rebound and picked the corner of the net.
UND 5, Quinnipiac 1, 9:19 left, third period.
The players went nuts on the bench again.
Berry walked up and down trying to settle the players. There were still more than nine minutes remaining, but everyone knew where it was headed.
"Everyone in the building knew it was over," Cam Johnson said. "The drought was over. We were bringing it back to Grand Forks."
The years of heartbreak turned into euphoria in the stands.
Chants of "Let's go Sioux" and "Sioux forever" rang out during the final nine minutes. The players tried to keep composed and play the game, but the excitement kept building.
With 26.6 seconds left, there was a whistle. Berry put all four seniors on the ice. The fifth was LaDue, a junior who everyone knew was the most likely to turn pro.
Sanderson, a forward, lined up at the defense position.
He skated out to the faceoff dot and his mind raced through his four years at UND. He thought about being a healthy scratch for 117 of 126 games in his first three years at school. He thought about all of those nights when the team played on the road and he was by himself in The Hockey Academy shooting pucks to get better. He thought about the times when he wondered whether it would all work out.
"Then, you're lining up with a few seconds left about to win a national championship," Sanderson said.
The rest of the players on the bench were kicking the boards with their skates and banging their sticks to make noise and celebrate.
The final seconds ticked off.
John Buccigross yelled "Stick a Grand Forks in 'em!" on ESPN2.
UND 5, Quinnipiac 1, final.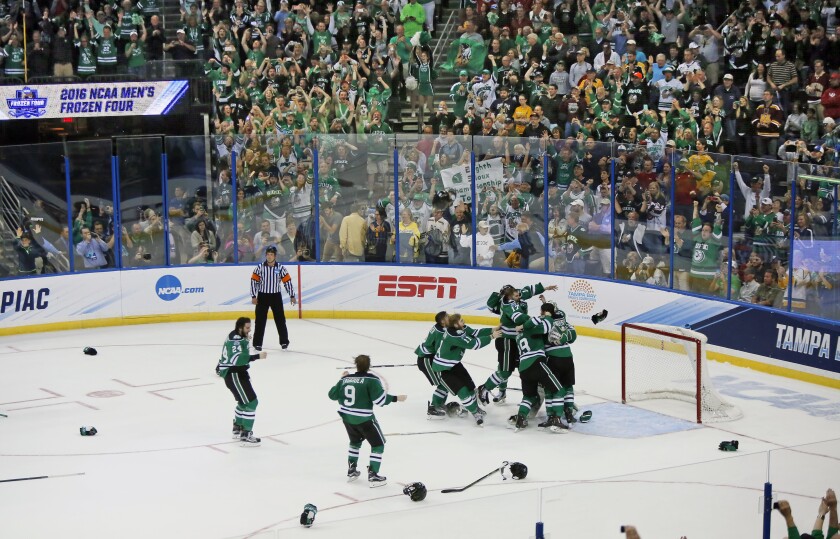 The helmet and gloves flew.
Berry hugged his coaching staff, later admitting that he was numb. It hadn't sunk in yet.The players piled around Cam Johnson. They sang the riff of 'Seven Nation Army' by White Stripes.
"It was surreal," Boeser said. "Is this really happening?"
"You come here to be a national champion," St. Clair said. "They recruit you to be a national champion. When you finally check that last box, I don't even know what to say. It was a surreal feeling."
After 30 seconds of celebrating, Stecher left the pile to grab the game puck. He also grabbed the game pucks after NCAA tournament wins against Northeastern, Michigan and Denver.
Luke Johnson waddled onto the ice to celebrate with his teammates.
Christian Wolanin and Cam Johnson gave each other a big hug behind the net. It was a special moment for two kids who grew up together in suburban Detroit. They were linemates on the very first organized team they played on. Their fathers were best friends and coached the team.
Cam's older brother, Brandon, rushed down to the bench area and tried to join them in celebration, but was stopped by security. Wolanin saw Brandon there and told security that Brandon was coming on the ice.He jumped the boards. Cam grabbed him a championship hat and they took a photo together with the national championship trophy.
It was an emotional moment for the brothers. The game was on the eve of the 10th anniversary of the day their father died of a sudden heart attack. Cam's helmet has a tribute to his father.
Cam's younger brother, Zach, and mother, Lori, were in the stands. They're a tight-knit family and Cam never lost a game that they attended all year long.
Chyzyk went into the seats to grab a Fighting Sioux flag from some fans. He brought it out on the ice to snap a picture with his fellow seniors, then returned it.
"I hope I don't get in too much trouble for it," Chyzyk said in the locker room afterward.
The players cut down the nets.
After more than 30 minutes of celebrating on the ice, they returned to the locker room. Wolanin hollered, "So, who do we play next?"
Berry started his postgame address. He thought everyone was there, but Chyzyk was still on the ice.
"I didn't want to leave," Chyzyk said. "I was standing there, looking around, taking it all in. It is a moment that I will remember for the rest of my life."
NCAA media coordinator Mark Bedics ran on the ice to inform Chyzyk that the postgame address was going on. Chyzyk walked in during the middle of Berry's speech.
"You believed it. You earned it. You raised it."
Early in the season, Caggiula told teammate Trevor Olson that if they win the national championship, he's bringing the trophy everywhere with him. He started by carrying it to the press conference. Ausmus wore the net around his neck.
Other players did interviews in the locker room.
While two TV crews and four reporters were surrounding St. Clair, his phone rang. It was his father, who was unable to attend.
"I have to answer this," he told the reporters. They filmed him chatting with his father.
When media availability ended, the players walked down the hall to a lounge area to meet up with family and friends.
Caggiula found a quiet area and phoned his father.
Sal told him, "I'm so proud of you."
Drake was named the Frozen Four's Most Outstanding Player, joining Lee Goren, Matt Henderson, Tony Hrkac, Phil Sykes, Doug Smail, Al McLean and Reg Morelli in the history books.
It wasn't until after 12:30 a.m. that UND finally boarded the bus back to the hotel. Poolman carried the trophy out to the bus.
When the team arrived at the Hilton, the lobby was filled with cheering UND fans. Chyzyk carried the trophy off the bus as the crowd roared. They eventually made it through the lobby, many stopping to meet with family.
Berry went up to his room alone. The first thing he did was call Hakstol.
They talked for about 20 minutes. Berry thanked Hakstol for everything he did to help make this national championship possible. Hakstol was able to watch the third period after traveling from Philadelphia to New York City for the Flyers' next game.
His impact on the roster was immeasurable. After Boeser had four points in the national title game, it was hard not to think back to the work Hakstol put in to get him in Grand Forks. Hakstol once traveled to Waterloo, Iowa, just to have a cup of coffee with Boeser. Then, he turned around and came right back home.
Eventually, Berry's wife, Suzanne, and son, Bauer, joined him in his hotel room. So did the rest of the coaching and support staff, including trainer Mark Poolman, team physician Greg Greek, sports info director Jayson Hajdu and Hennessy.
They drank a few beers and Berry ordered 10 pizzas. They reflected on the season as a whole and the championship game. Berry didn't go to bed that night until 4:30 or 5 a.m.
"It was a really neat night," Berry said. "It was a quiet night, but it was a special night, spending it with the people you go to battle with all year long."
The players retreated to their hotel rooms for a few minutes and changed. Many of them put on their national champions t-shirts and hats that were handed out on the ice.
They knew what they were going to do next.
Two days earlier, they all sat in the locker room and watched videos of Grand Forks bars going nuts during the team's thrilling semifinal victory over Denver. Some players had already seen photos of fans flooding the streets to celebrate the team's national championship on Saturday night.
The players wanted to be there with the fans.
And they knew that was possible in one spot in Tampa -- Ferg's Live.
Ferg's is an indoor-outdoor entertainment complex that opened a year earlier across the street from Amalie Arena.
The indoor area is a restaurant and bar with dining tables and 30 flat-screen televisions. The outdoor area is a large open space frequently used to host concerts.
It was a perfect spot for the UND Alumni Association to host its pregame parties: It could accommodate a large crowd, it was open to all ages, it served alcohol and fans could enjoy the 80-degree weather. It became the gathering place after games, too.
The players started making their way over
.Some took cabs. Some made the 15-minute walk. Some got rides with family members.
The first group that arrived included Chyzyk, Sanderson, Ausmus and LaDue. They had the trophy.
They worked their way up to the Stage in the Sky -- a second-level stage where the DJ was set up. It overlooked the open area below. Sanderson walked to the edge of the stage and held the trophy up for the fans to see. The crowd roared.
The DJ played 'Rock and Roll Part 2' by Gary Glitter, also known as 'The Hey Song.'
The song frequented the playlist in the late 1990s in the old Ralph Engelstad Arena. After the chorus of the song says 'Hey!' the UND fans used to inject, 'Go Sioux!'
Clearly, most of the fans in Ferg's were from that era. They had experienced the 15 years of close calls and heartbreaks at the national tournament. After finally seeing that drought end, they couldn't contain their joy. They belted out the song as loud as possible. Ferg's Live turned into the Old Ralph.
More players showed up. The DJ played anything they wanted.
There was 'The Hey Song. 'There was 'Chelsea Dagger.' They even played 'Sweet Caroline' and the fans sang it like they were at Fenway Park.
Cam Johnson, a proud native of the Detroit area, grabbed the microphone and rapped.
"Seeing that sea of green yelling and chanting was unbelievable," Cam said. "The feeling was setting in that we were the national champs. It was just such a surreal night. Everything was such a blur. I was just in awe."
None of the drunk revelers got out of control. There was too much pure joy.
Strangers hugged each other. Some fans were so happy that they bought large buckets filled with beer and ice and passed out free bottles of Coors Light to random fans. Most were already double-fisting drinks.
Ferg's sold so much alcohol that night, it had its biggest day of business ever. It made double the money that it typically does for Tampa Bay Lightning playoff games.
Soon, players' families arrived, too.
Luke Johnson put his arm around his father, Steve. They had just become the first father-son in college hockey history to win national championships at the same school. Steve was on the 1987 national championship team, perhaps the only squad in school history better than this one.
After a while, St. Clair left the Stage in the Sky to mingle with friends in the open area below. He could only make it a few steps at a time before another fan would ask to take a selfie.
"All the people were saying, 'Oh my God, thank you so much,'" St. Clair said. "I was like, 'No, thank you for always supporting us.' I'll never be part of something like that again in my life. I would torture my body and go through 100 more of those redshirt years just to have four more years at this place."
Stecher took the national championship trophy downstairs and let fans take photos with it, too. At 2:05 a.m., he reached into his pocket and grabbed his phone. He opened up Twitter and typed: "This is the greatest night of my life!"
Cam put his phone away for the night to soak up the moment. By the time he looked at it the next morning, he had 492 text messages.
The bar stopped serving at 3 a.m., but the crowds took more than a half hour to filter out.
At about 3:30 a.m., Chyzyk and Sanderson were still loitering in the area with fans. They noticed that they didn't see any teammates left.
They decided to start their 15-minute walk back to the Hilton. Chyzyk was carrying the trophy.
A couple of blocks into their walk, two men pulled over in a beat-up sedan from the 1980s. The men rolled down the window and asked Chyzyk and Sanderson if they needed a ride somewhere. One of them said he was a member of the ice crew at Amalie Arena, but neither player recognized him.
They took the offer anyway and jumped in the back seat with the trophy.
Chyzyk asked if the men could go to McDonald's for a late night meal.
"No, if you want late-night food, you want the Taco Bus," the driver said.
"We'll go to a Taco Bus," Sanderson responded.
Just before 4 a.m., they arrived at a place that's actually a gutted school bus that serves Mexican food. It was just about to close and nobody else was around, but the manager took their orders.
He gave them a strange look, noticing the national championship trophy, but didn't say anything about it.
Chyzyk and Sanderson both ordered the El Jefe -- a 2.5 pound burrito -- and ate it on a picnic table out front. The national championship trophy sat on the table next to them.
After eating, the two random men dropped Chyzyk and Sanderson off back at the Hilton.
Chyzyk got in the elevator and carried the trophy back to his room. His roommate, Gersich, was already sleeping.
Chyzyk looked at his empty bed. This is how his college hockey career was going to end, so drastically different than the beginning.
Four years earlier, Chyzyk moved into a dorm room with a random roommate -- the only freshman who didn't get paired with a hockey player. There were five rookies that season. One had to be the odd-man out.
Desperately wanting to be closer to his teammates, Chyzyk moved in a tiny dorm room with classmates Jordan Schmaltz and Zane McIntyre. He slept on a broken-down futon every night, stuffing his clothes underneath as a makeshift closet.
It wasn't a comfortable spot -- he had back pain by the end of the season because of the futon -- but the tight bond with his teammates grew.
On this night, an older, wiser Chyzyk had his own bed and a new friend to sleep by his side.
So, he pulled back the covers and climbed in. He placed the national championship trophy under the sheets next to him and put one arm around it.
This time, he fell asleep immediately.There was nothing left to dream.