UND equipment manager, Minnesota Duluth goalie lean on each other as they battle cancer
Since November, a bond has been formed between UND's Nate Bordson and Minnesota Duluth's Zach Stejskal, who are both fighting testicular cancer.
We are part of The Trust Project.
GRAND FORKS — When UND hockey assistant equipment manager Nate Bordson was diagnosed with testicular cancer in November, he didn't know what it meant.
"I was speechless," Bordson said. "I didn't know what was going to happen. When I heard it was cancer, I thought, 'Is this curable? How long am I going to be able to live?'"
Bordson was relieved when he found out testicular cancer has a high cure rate. The 22-year-old also found some comfort from an unlikely source — Minnesota Duluth goaltender Zach Stejskal.
About a week after having surgery at Ridges Hospital in Burnsville, Minn., Bordson returned to Grand Forks to participate in Hockey Fights Cancer weekend on Nov. 19-20. He was introduced alongside his parents on the scoreboard before the series opener.
The Fighting Hawks happened to be playing Minnesota Duluth that weekend. Word from Minnesota Duluth's side of the rink made its way to Bordson that Stejskal was recently diagnosed with the same thing, and that's why he wasn't in Grand Forks for the series.
Bordson sent Stejskal a message on Instagram the following night.
"I let him know, 'I'm here with you,'" Bordson said. "I said, 'I've got your back and I want to fight through this together. Let's get through these obstacles.'"
The two agreed to be there for each other as they battle testicular cancer. Since then, they've continued to exchange messages, provide encouragement and even some laughs for each other.
"Honestly, it's super special to have somebody who is your age who is kind of going through the same thing," Stejskal said. "Obviously, there are questions you want to ask if you're scared or whatnot. I was diagnosed a little before him. He kind of reached out to me and was wondering what I did, stuff that I went through. But it was helpful for the both of us to kind of talk through it."
This weekend, they'll be together in person for the first time since their diagnosis.
UND is traveling to Minnesota Duluth to take on the Bulldogs in a two-game series at 8 p.m. Friday and 7:07 p.m. Saturday. Bordson will be on the trip with the Fighting Hawks. Stejskal will be in AmsOil Arena, too.
"It's going to be something special," Bordson said. "I'm looking forward to seeing him."
Stejskal said he's looking forward to it, too.
"We have a lot to talk about," he said.
Their paths have actually crossed before.
Bordson spent part of his childhood growing up in Marquette, Mich., where he played for a youth hockey team. Once, they traveled to Bemidji, Minn., for a tournament. Bordson's team kept running into Stejskal's Grand Rapids team.
Bordson's family later moved to Apple Valley, Minn., where he played against Stejskal in peewees and bantams.
They never met in high school, though. Bordson led Eastview in scoring as a junior and senior, while serving as team captain. Stejskal led Grand Rapids to a state championship.
After graduation, Bordson enrolled at UND and joined the equipment staff under Dan Johansson in 2019-20. He worked with the back-to-back Penrose Cup champion teams.
"Nate's a big part of our team," UND coach Brad Berry said. "When you think of Nate, you think of family. There's always a smile on his face. He brings positivity and exuberance every day in our group here, and it can't be easy. I'm sure he's going through some tough times and some days where he's not feeling the best, but he doesn't let it show. He always has a smile on his face and guys love him.
"Anybody in that locker room — players, coaches, staff — would do anything for him. We're blessed and grateful he's in our group here, because he adds to our group tremendously."
After Bordson received his diagnosis, he returned home to the Twin Cities for a month for surgery and appointments.
"The staff and the guys reached out to me nonstop," Bordson said. "When I was home for a month, they were texting me and telling me they were looking forward to seeing me back. Now, being back around the guys and laughing every day gets me through it."
They're not the only ones who reached out.
Bordson got to know the Nashville Predators equipment staff from UND's destination game in Bridgestone Arena in October. When the Predators found out about his diagnosis, they sent him a jersey with his name on the back signed by the entire team as well as a Hockey Fights Cancer jersey.
Bordson recently received good news. At his three-month checkup, all of his bloodwork came back normal. He also had three scans that showed the cancer hasn't spread into his body. He will go back again in three months.
Stejskal, who went through chemotherapy, has returned to the ice, too.
Last Saturday at Denver, the sophomore entered the game in the second period because starter Ryan Fanti was ill. Stejskal, making his first appearance since his diagnosis, backstopped the Bulldogs to a win. It was the first time Denver had lost at home all season.
Bordson was following from afar.
"I was speechless," he said. "I was very happy to see that. It's unbelievable, honestly. What he's gone through, to now be playing at the D-I level against a top team in the country and making them lose at home for the first time all season. . . I was so glad to see him get the win."
Bordson said he's hoping Stejskal will get a start this weekend, too.
"It's going to be an awesome weekend," he said. "It will be special."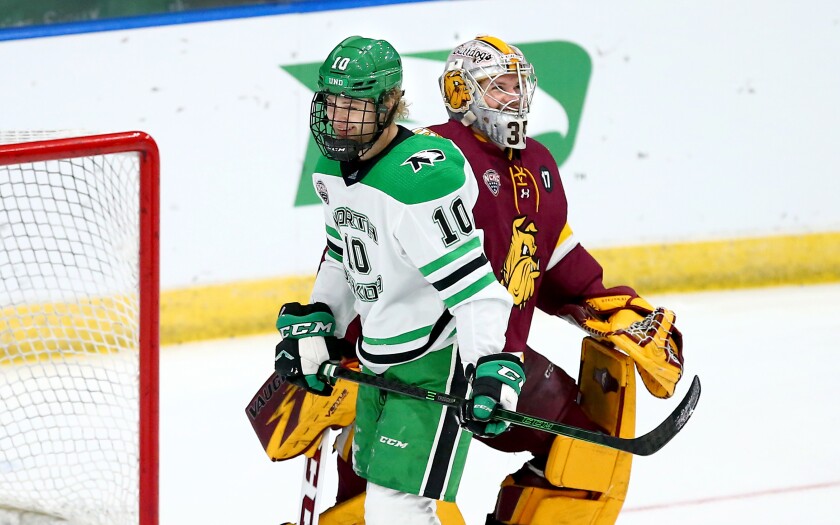 No. 9 UND at No. 7 Minnesota Duluth
When: 8 p.m. Friday; 7:07 p.m. Saturday.
Where: AmsOil Arena, Duluth, Minn.
TV: CBS Sports Network (GF Ch. 314/635 HD) on Friday; Midco Sports Network (GF Ch. 27/622 HD) on Saturday.
Stream: NCHC.tv on Saturday only.
Radio: The Fox (96.1 FM).