Travel journal: UND in Colorado Springs
Editor's note: For the second-straight season, Grand Forks Herald reporter Brad Elliott Schlossman is documenting life on the road with the UND hockey team through a travel journal. It is meant to be a behind-the-scenes look at what's happening o...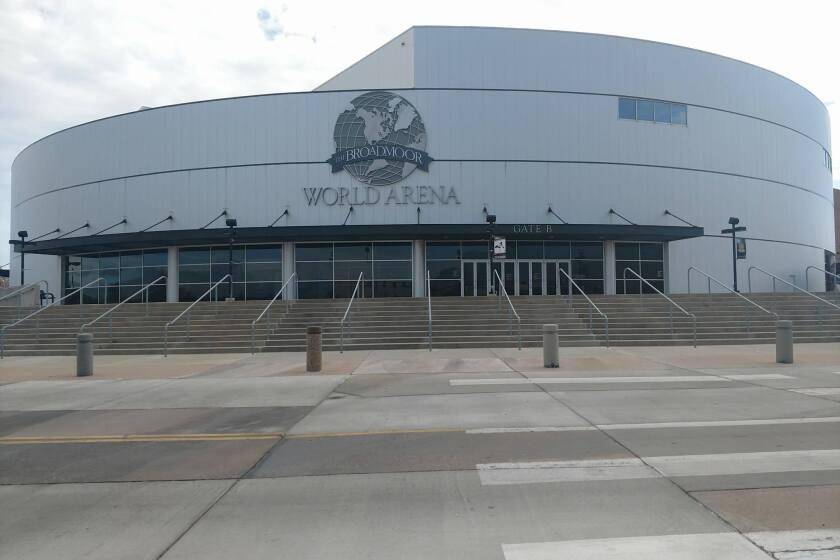 Editor's note: For the second-straight season, Grand Forks Herald reporter Brad Elliott Schlossman is documenting life on the road with the UND hockey team through a travel journal. It is meant to be a behind-the-scenes look at what's happening off the ice on UND hockey road trips. This season started with a trip to Anchorage, Alaska , and continues this weekend with a trip to Colorado Springs.
11 a.m. Saturday
UND lost to Colorado College 2-1 last night in a game where all of the coaching staff's fears about this series came true.
Read the details on that in my game story here .
I spoke to UND associate coach Dane Jackson after practice Thursday and he talked about the importance of changing lines on time and staying fresh in the altitude of Colorado Springs. World Arena is at 6,230 feet elevation.
I always find it interesting chatting with players about how the altitude affects them. Some players say that it's a huge challenge. Others seem not as affected by it.
UND got stuck on the ice for extended periods of time on both Tiger goals.
Colorado College only won a single home game last year -- a 3-0 victory over UND. And as those in the venue business will tell you, the following year is where you see the impact on attendance. There was an announced crowd of 4,525 last night, and the Tigers haven't topped 5,000 yet this season. Last season, they averaged 6,256.
A lot of those fans last night were in green and white, too.
After the game, I made my annual trip downtown to find my favorite hot dog vendor.
Now, it's time to relax a little bit and prepare to cover Game 2.
4 p.m. Friday
This is the 11th time that I've been to Colorado Springs with the Herald, and every time I go, I think about trying to get to the top of Pike's Peak. I've never done it. And finally decided it has to happen this time.
Midco Sports Network's Darren Lien and I went to Manitou Springs, which is adjacent to Colorado Springs at the base of the mountains, and took the Pike's Peak Cog Railway to the summit (there was a group of UND fans on our train, too).
The train travels a total of nine miles at a top speed of 9 mph. It took about an hour and 15 minutes to reach the top, with some incredible sights along the way.
By the time we got to the top, elevation 14,115 feet, temperatures were about 10 degrees with a windchill of about minus-10. But the view is pretty stunning.
Pike's Peak isn't the only 14,000-foot mountain in Colorado, but the others are generally clustered. Pike's stands alone, which makes it more prominent and makes for tremendous views. It was the inspiration for the song, 'America the Beautiful.'
There's a shop at the top of the mountain that offers some special doughnuts. They are cooked in a unique way, I'm told, because of the challenges of baking at high altitude. They are meant to be consumed only on top of the mountain, as the taste will change if you save it until you get to the bottom, apparently.
Unfortunately, because of icy roads, the workers had a tough time reaching the summit via car on Friday morning, so the doughnuts weren't ready yet by the time we got there.
We learned that the Pike's Peak Cog Railway folks decided yesterday to close the train for the winter beginning Sunday. It's the first time they've closed in the winter in a decade. So, UND made this trip just in time.
Upon returning to the base, I texted Andrew Towne, the Grand Forks Central graduate who summited Everest in May , that I finally climbed a mountain (with the help of a train). I'm sure he was very impressed.
One thing I couldn't help but think as I stood on the summit of Pike's Peak is that I was still 4,000 feet below BASE CAMP at Everest and that 14,115 isn't even HALF of the elevation of Everest (29,035) . Just incredible.
I'll think about "climbing" that one when I can take a train to 29,025, and walk the last 10 feet.
Photos: All three are from Pike's Peak. In the first one, you can see Kansas on the horizon. The second one is facing north.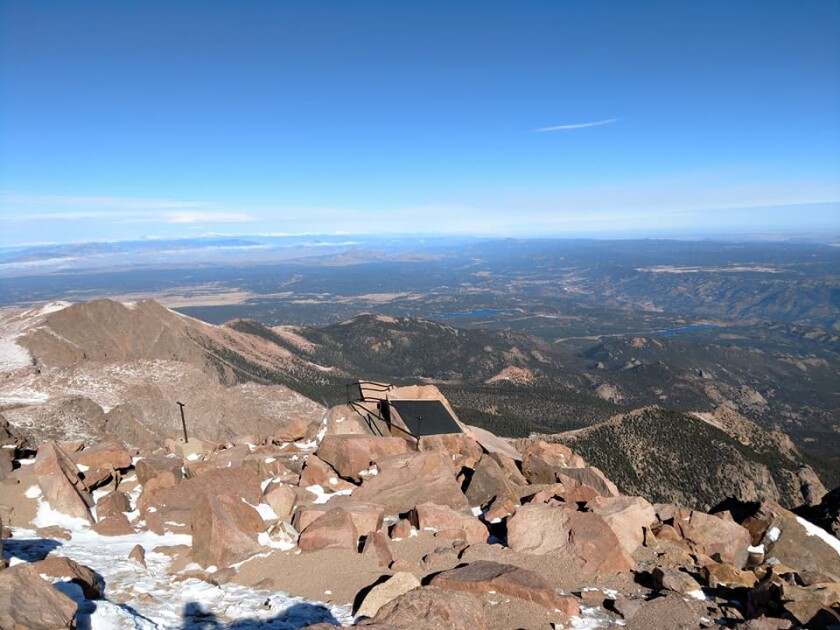 8 p.m. Thursday
After recording an early-morning podcast, I grabbed breakfast downtown at a place called King Chef Diner, which came high recommended. I had an omlette and it was terrific.
UND practiced at noon, which is an unusually early start on the road.
I believe I saw former UND forward Chris Wilkie, who transferred to Colorado College in the offseason, peek out of the tunnel for a bit. He's ineligible to play until next season because of NCAA transfer rules, but will surely be saying hello to his former teammates.
Thursday practice means it's time for the weekly shootout. Only four players advanced to Round 2 in the shootout -- Hayden Shaw, Jordan Kawaguchi, Collin Adams and Colton Poolman. Shaw won it in Round 2.
After practice, former UND standout Tyson Jost stopped by to say hi to his former teammates. He was going to try to join them at their team dinner Thursday night, too, I believe.
Jost currently plays for the Colorado Avalanche, but he's injured right now. Colorado Springs is about an hour away from Denver, which is where the Avalanche play.
I got a quick interview with associate coach Dane Jackson at the end of practice -- it's the Thursday custom on the road -- before heading out to lunch at a place called Panino's.
It was located in a strip mall and its specialty is basically a pizza wrapped up like a taco. Obviously, that's right up my alley.
Photos: 1. UND practicing in World Arena; 2. UND practicing in World Arena; 3. King Chef Diner; 4. Panino's.
11:45 p.m. Wednesday
A few hours before departing for Colorado Springs and this weekend's UND-Colorado College series, I read a news story about an emerging national sports website and its plans to break local newspapers.
There's no question newspapers are in a challenging time as they try to turn profits with the online product, but it got me to thinking of our paper, the Herald, and our commitment to sports coverage.
After doing some research, I figured out that this week was the eight-year anniversary of the last time UND played a hockey game that I didn't attend. It was a two-game series in Anchorage in October 2009.
Since then, I've been at 356 in a row (if my math is correct), going everywhere from Alaska to Maine to Florida to British Columbia. We've also covered every UND football game -- home and road -- during that same timespan.
I think that's pretty cool for a smaller paper like the Herald to have that kind of commitment to in-depth coverage, and I think it's thanks to a fan base that consumes a lot of content about UND teams and quite often makes sports coverage our most read on the website. North Dakota doesn't have any pro sports teams, so these are them. And we'll try to keep covering the teams like that.
Anyway, the flight was quick and uneventful.
Seeing the sun set behind the Rockies from 30,000 feet was an unbelievable sight. I tried to snap a photo of it, but it doesn't do it justice so I'm not going to bother posting it.
After checking into the hotel, I landed at the closest Chili's to devour chips and salsa while watching the end of a terrific World Series game.
Now, it's time to turn in and prepare for a busy Thursday.