The Herald's 2022-23 college hockey conference-by-conference preview
Predictions, a list of notable players and five things to know about each league entering the season.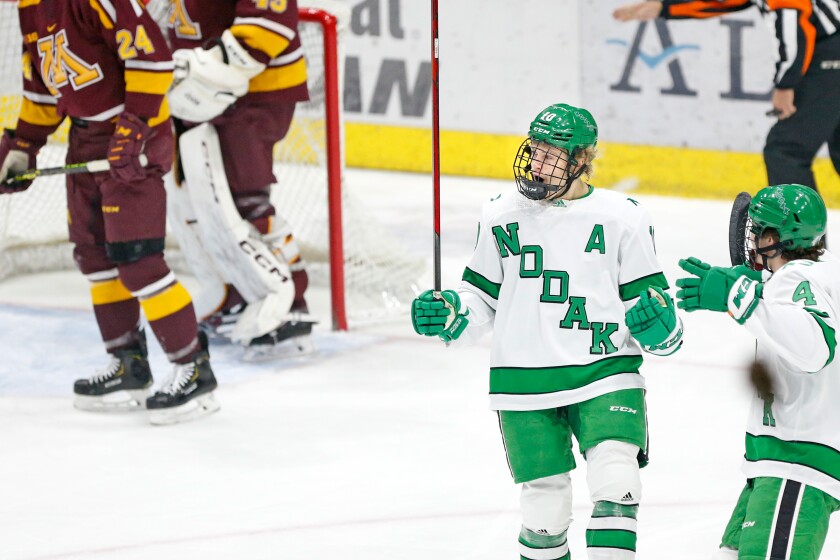 We are part of The Trust Project.
GRAND FORKS — This is a look at all six college hockey conferences and the independents heading into the 2022-23 season.
Herald predicted standings
1. Denver
2. North Dakota
3. Minnesota Duluth
4. St. Cloud State
5. Western Michigan
6. Colorado College
7. Omaha
8. Miami
THE BEST OF…
Best forward: Riese Gaber, North Dakota
Best defenseman: Sean Behrens, Denver
Best goalie: Ludvig Persson, Miami
Best freshman: Isaac Howard, Minnesota Duluth
Best transfer: Casey Dornbach, Denver
NORTH DAKOTA/MINN. SECTION 8
North Dakota: F Judd Caulfield (GF), F Jackson Kunz (GF), F Dane Montgomery (GF), F Ben Strinden (Fargo), D Tyler Kleven (Fargo), D Ethan Frisch (Moorhead), G Kaleb Johnson (GF)
Minnesota Duluth: F Cole Spicer (GF), F Kyler Kleven (Moorhead), G Zach Sandy (Fargo)
SCSU: F Mason Salquist (GF), D Brendan Bushy (TRF)
FIVE THINGS TO KNOW
1. There has been a seismic change in leadership in the NCHC this offseason, starting with commissioner Josh Fenton leaving for the Summit League. Fenton had been a major leader in college hockey and the NCHC's commissioner since Game 1 in 2013. He was replaced by Heather Weems, the former athletic director at St. Cloud State. Since the beginning of last season, five of the eight NCHC schools have changed athletic directors: Omaha (Adrian Dowell), Denver (Josh Berlo), Minnesota Duluth (Forrest Karr), Western Michigan (Dan Bartholomae) and St. Cloud State (TBA).
2. Only two of eight NCHC teams retained their No. 1 goaltender from last season — Denver (Magnus Chrona) and Miami (Ludvig Persson). Colorado College's Dominic Basse transferred to St. Cloud State. Minnesota Duluth's Ryan Fanti (Edmonton Oilers), Western Michigan's Brandon Bussi (Boston Bruins) and Omaha's Isaiah Saville (Vegas Golden Knights) turned pro early, while UND's Zach Driscoll and St. Cloud State's David Hrenak graduated and signed.
Hi everyone. Check back often for more preview stories. Here are a few for now...
Rivals North Dakota and Minnesota should be two of college hockey's best teams this season.
The Fighting Hawks will wear black Nodak jerseys when they face Arizona State on Oct. 29.
3. Six of the eight NCHC teams brought in transfer goaltenders. The only two who did not are Denver and Colorado College. UND nabbed Drew DeRidder from Michigan State, while Omaha picked up Jake Kucharski from American International, Miami added Carter McPhail from Ferris State, Minnesota Duluth got Matthew Thiessen from Maine, St. Cloud State signed Dominic Basse from Colorado College and Western Michigan picked up two — Cameron Rowe from Wisconsin and Kirk Laursen from Miami.
4. Colorado College is the only team in the NCHC that did not add a transfer in the offseason. Tigers coach Kris Mayotte wants to initially rebuild through recruiting freshmen. Miami barely dipped its toe in the water, adding only backup goalie Carter McPhail from Ferris State.
5. Three captains will remain the same in the NCHC because they're back as fifth-year seniors — Mark Senden at UND, Bryan Yoon at Colorado College and Spencer Meier at St. Cloud State. This is Meier's third year wearing the 'C' for the Huskies. He will join Jimmy Schuldt as the only Husky players to be captain for three years. It's Senden's third year wearing a letter at UND (one year as an alternate, two as captain). He's the first UND player ever to wear a letter for three years.
Herald predicted standings
1. Minnesota
2. Notre Dame
3. Michigan
4. Ohio State
5. Wisconsin
6. Penn State
7. Michigan State
THE BEST OF…
Best forward: Matthew Knies, Minnesota
Best defenseman: Luke Hughes, Michigan
Best goalie: Erik Portillo, Michigan
Best rookie: Logan Cooley, Minnesota
Best transfer: Chayse Primeau, Notre Dame
NORTH DAKOTA/MINN. SECTION 8
Minnesota: F Aaron Huglen (Roseau)
FIVE THINGS TO KNOW
1. Michigan will be entering the season with an interim head coach in Brandon Naurato after the Wolverines fired Mel Pearson just prior to the start of fall camp. Pearson had been under investigation by the school for nearly an entire year. At age 37, Naurato will be the fourth-youngest Division-I coach this season behind Long Island's Brett Riley, DU's David Carle and Alaska's Erik Largen.
2. Michigan State will have a new coaching staff behind the bench this season. Adam Nightingale replaces Dalton Cole at the helm of the program. Nightingale brought Jared DeMichiel, a national champion assistant at UMass, to East Lansing, too. They've had immediate success in recruiting, but it might take a season or two for that to pay dividends.
3. One of the most intriguing transfers to follow will be Notre Dame defenseman Drew Bavaro. The 6-foot-2, 198-pound Floridian played at Bentley, where he had nine goals and 27 points last season. The Fighting Irish won a big recruiting battle with some other prominent schools to get Bavaro. But he's not a sure thing. Prominent transfers from Atlantic Hockey haven't always panned out in tougher conferences.
4. There was an inter-conference assistant coaching change this offseason as Minnesota coach Bob Motzko lured Ohio State's Steve Miller to Minneapolis. Miller won NCAA national titles as an assistant at Denver and Providence. The Buckeyes went and grabbed Clark Cup-winning coach Luke Strand from Sioux City as a replacement.
5. Former UND forward Ashton Calder will play his fifth and final collegiate hockey season at Penn State. Calder, who has 100 career points, will try a new number this season. After wearing No. 16 for three years at Lake Superior State and one at UND, he will wear No. 26 for the Nittany Lions.
Herald predicted standings
1. MSU-Mankato
2. Bowling Green
3. Bemidji State
4. Northern Michigan
5. Michigan Tech
6. Lake Superior State
7. Ferris State
8. St. Thomas
THE BEST OF…
Best forward: Brendan Furry, MSU-Mankato
Best defenseman: Jake Livingstone, MSU-Mankato
Best goalie: Blake Pietila, Michigan Tech
Best rookie: Dalton Norris, Bowling Green
Best transfer: Simon Kjellberg, Northern Michigan
NORTH DAKOTA/MINN. SECTION 8
BSU: F Kirklan Irey (Bismarck), F Aaron Myers (TRF)
Northern Michigan: D Colby Enns (Minot), D Luke Gramer (Moorhead)
FIVE THINGS TO KNOW
1. Minnesota State lost its Hobey Baker Award winner, goalie Dryden McKay, after four record-setting seasons. But all is not lost for the Mavericks in net. They're bringing in the USHL's Clark Cup champion netminder in Alex Tracy from Sioux City.
2. Last summer, Bemidji State was the only CCHA team that didn't bring in any transfers. This summer, the Beavers nabbed three — Mitchell Martan from Canisius, Kaden Pickering from St. Lawrence and Jackson Jutting from Colorado College. Bemidji State also is bringing in an excellent recruiting class featuring USHL 20-goal scorers Adam Flammang and Lleyton Roed, and Clark Cup champion Kirklan Irey of Bismarck.
3. While Minnesota State is the heavy favorite to win the MacNaughton Cup for a sixth-straight year, there should be a tight battle between Bowling Green, Northern Michigan, Bemidji State and Michigan Tech for that second-place spot, which has rotated during the Mavericks' current run. Michigan Tech finished second last season. Before that, it was Bowling Green and Lake Superior State in 2020-21, Bemidji State in 2019-20 and Northern Michigan in 2018-19.
4. Grand Forks native and Northern Michigan head coach Grant Potulny had a busy summer. Not only was he active in the transfer portal, where he pulled in four key players led by Devils draft pick Artem Shlaine and Rangers pick Simon Kjellberg, he also served as an assistant coach for the U.S. World Junior Team in Edmonton.
5. Former NHL All-Star Dwayne Roloson has joined Lake Superior State as the program's goaltending coach and director of player development. Rolson played goalie in college for UMass Lowell before embarking on a 14-year NHL career with the Calgary Flames, Buffalo Sabres, Minnesota Wild, Edmonton Oilers, New York Islanders and Tampa Bay Lightning.
Herald predicted standings
1. Northeastern
2. Boston University
3. Providence
4. UMass Lowell
5. UMass
6. Boston College
7. UConn
8. Merrimack
9. Vermont
10. New Hampshire
11. Maine
THE BEST OF…
Best forward: Aidan McDonough, Northeastern
Best defenseman: Domenick Fensore, Boston University
Best goalie: Devon Levi, Northeastern
Best rookie: Jeremy Wilmer, Boston University
Best transfer: Gustavs Grigals, UMass Lowell
NORTH DAKOTA/MINN. SECTION 8
Maine: F Cole Hanson (GF), D Brandon Holt (GF)
Vermont: F Jens Richards (Detroit Lakes)
Five things to know
1. Two of Hockey East's traditional powers will have new coaches at the helm. Greg Brown is the new coach at Boston College, replacing Jerry York, who was with the Eagles for 28 years. Jay Pandolfo, meanwhile, is the new coach at Boston University. He replaces Albie O'Connell, who was let go in the offseason.
2. UConn will have the youngest player in college hockey this season in 17-year-old forward Matthew Wood, who could be a first-round pick in the 2023 NHL Draft. Wood was a dominant player for Victoria in the BCHL last season.
3. Merrimack will be bringing in one of the best finds of this year's rookie class in defenseman Zach Bookman. Last season, Bookman dominated the AJHL, racking up 21 goals and 102 points in 55 games for the Brooks Bandits. Other schools were interested in trying to flip his commitment, but Bookman remained loyal.
4. This could be the Year of the Goaltender in Hockey East, which is loaded with high-end puck stoppers. Devon Levi, who won the Mike Richter Award last season, leads the way, but Boston University's Drew Commesso and UMass Lowell's Gustavs Grigals enter the season with pretty good pedigree.
5. Three schools dug into the Division-III ranks to grab transfers this summer, including New Hampshire. The Wildcats nabbed Babson's leading scorer, Ryan Black, who had 39 points last season, while notably not taking a single penalty. The other D-III transfers are Babson's Mike Egan to Niagara, Wisconsin-Eau Claire's Ryan Ouellette to Niagara and Skidmore's Austin Rook to Long Island.
Herald predicted standings
1. Quinnipiac
2. Harvard
3. Clarkson
4. Cornell
5. Colgate
6. Union
7. Dartmouth
8. St. Lawrence
9. Yale
10. RPI
11. Princeton
12. Brown
THE BEST OF…
Best forward: Matt Coronato, Harvard
Best defenseman: Zach Metsa, Quinnipiac
Best goalie: Yaniv Perets, Quinnipiac
Best rookie: Sam Lipkin, Quinnipiac
Best transfer: Chris Theodore, Union
NORTH DAKOTA/MINN. SECTION 8
None
FIVE THINGS TO KNOW
1. The only new head coach in the ECAC is Josh Hauge at Union. Hauge previously was an assistant at Clarkson and he spent one year in Fargo as an assistant for the Force. He replaces Rick Bennett, who was fired midseason.
2. Two ECAC teams — Quinnipiac and Dartmouth — will join a pair of Hockey East squads (UMass and UMass Lowell) in the Friendship Four in Belfast, Northern Ireland, this season. It will be the first time the Friendship Four has been played since 2019. It was canceled in 2020 and 2021 due to the COVID-19 pandemic. Quinnipiac (2016) and UMass Lowell (2015) previously played in it.
3. More than a quarter of Quinnipiac's roster will be fifth-year seniors. The Bobcats are bringing back five seniors for a fifth year, including many of the team's most impactful players — defenseman Zach Metsa (37 points), forward Ethan de Jong (32), forward Michael Lombardi (27), forward/defenseman T.J. Friedmann (23) and forward Desi Burgart (17). They also added two fifth-year seniors through the transfer portal in Lake Superior State defenseman Jacob Nordqvist (16) and RPI defenseman Jake Johnson (16).
4. Harvard has quickly rebuilt after the program was shut down for one year (2020-21) due to the coronavirus pandemic. It boasts more NHL Draft picks than any team in the country (15) — Ian Moore (ANA), Henry Thrun (ANA), Mason Langenbrunner (BOS), Ryan Healey (MIN), Joe Miller (TOR), Alex Laferriere (LAK), Matthew Coronato (CGY), Sean Farrell (MTL), Jack Bar (DAL), John Farinacci (ARI), Austin Wong (WPG), Aku Koskenvuo (VAN), Kyle Aucoin (DET), Zakary Karpa (NYR) and Mitchell Gibson (WSH).
5. Former UND forward Brendan Budy will play his senior season at RPI in Troy, N.Y. Budy played two seasons for the Fighting Hawks, tallying five goals and 10 points in 50 games.
Herald predicted standings
1. American International
2. Sacred Heart
3. Army
4. Air Force
5. Niagara
6. Canisius
7. RIT
8. Bentley
9. Mercyhurst
10. Holy Cross
THE BEST OF…
Best forward: Blake Bennett, AIC
Best defenseman: Brandon Koch, Air Force
Best goalie: Gavin Abric, Army
Best rookie: Alexander Malinowski, AIC
Best transfer: Casey Carreau, Niagara
NORTH DAKOTA/MINN. SECTION 8
AIC: F Aaron Grounds (Jamestown)
Army: F Lucas Kanta (GF)
Bentley: D Tucker Hodgson (GF)
Canisius: F Grant Loven (EGF)
Niagara: F Carter Randklev (Moorhead)
FIVE THINGS TO KNOW
1. American International has won four-straight Atlantic Hockey regular-season titles. In order to win No. 5 in a row, it will have to do so with a revamped roster. The Yellow Jackets lost seven of their top eight scorers from last year's team and its top three goalies. To address it, American International added eight transfers — four forwards, one defenseman and three goalies. Outside of Alaska Anchorage, which is re-starting its program, no school picked up more transfers than AIC this summer.
2. The Yellow Jackets weren't the only Atlantic Hockey team to dip into the portal. No college hockey conference had more transfers per team this summer than Atlantic Hockey (3.2 per team). Canisius was second in the country with seven transfers. One of them is East Grand Forks Senior High graduate Grant Loven, who played at St. Thomas last season.
3. Sacred Heart is scheduled to open its new home, Martire Family Arena, with a game against Boston College on Jan. 14. The on-campus arena was designed by JLG Architects of Grand Forks and is expected to be one of the nicest in college hockey. Sacred Heart has been playing home games in Bridgeport, Conn., which is adjacent to its home of Fairfield, Conn.
4. Mercyhurst's Rick Gotkin is entering his 35th season at the helm. He is the longest-tenured head coach in college hockey (Ferris State's Bob Daniels is second; he's entering his 31st season). Gotkin also leads all of college hockey in wins with 588, though Quinnipiac's Rand Pecknold (581) is on his heels.
5. Most of Atlantic Hockey's first-team all-conference squad from last season is back in college hockey, but most are no longer in the league. AIC defenseman Zak Galambos transferred to Western Michigan. Bentley defenseman Drew Bavaro transferred to Notre Dame. AIC forward Chris Theodore transferred to Union. RIT forward Will Calverley transferred to Merrimack. Canisius goalie Jacob Barczewski is the only one back. Army forward Colin Bilek graduated.
Herald power rankings
1. Arizona State
2. Alaska Fairbanks
3. LIU
4. Alaska Anchorage
5. Lindenwood
THE BEST OF…
Best forward: Josh Doan, Arizona State
Best defenseman: T.J. Lloyd, Alaska
Best goaltender: T.J. Semptimphelter, Arizona State
Best rookie: Charlie Shoen, Arizona State
Best transfer: Robert Mastrosimone, Arizona State
North Dakota/Minn. Section 8 connections
ASU: F Cade Stibbe (Fargo)
UAA: D Carson Kosobud (Moorhead)
FIVE THINGS TO KNOW
1. Perhaps no team in the country will be as positively impacted by transfers as Arizona State. The Sun Devils are bringing in five of the biggest names to hit the portal — second-round Red Wings pick Robert Mastrosimone (BU), former USHL superstar twins Ty and Dylan Jackson (Northeastern), all-around center Lukas Sillinger (Bemidji State) and goalie T.J. Semptimphelter (Northeastern), who had a .934 save percentage last season.
2. Coltan Wilkie is a freshman defenseman at Lindenwood. He is the younger brother of former UND forward Chris Wilkie. Coltan was once committed to Colorado College.
3. This will be Alaska Anchorage's first season back after a two-year hiatus. Coach Matt Shasby is a former Seawolves player who had been teaching seventh- and eighth-grade social studies in Anchorage. Shasby grabbed 13 players out of the transfer portal to fill in his first roster.
4. All of the independents have scheduled games against each other — ASU-Fairbanks (4 times), ASU-LIU (2x), ASU-Anchorage (4x), ASU-Lindenwood (2x), Fairbanks-LIU (4x), Fairbanks-Anchorage (6x), Fairbanks-Lindenwood (2x), LIU-Anchorage (3x), LIU-Lindenwood (2x) and Anchorage-Lindenwood (2x).
5. Arizona State will open its new venue, Mullett Arena, with a game against Colgate on Oct. 14. The Sun Devils will share the arena with the NHL's Arizona Coyotes. Both teams will have their logo at center ice.