5 matchups to watch in the UND-Arizona State game
The Fighting Hawks will take on the Sun Devils in the U.S. Hockey Hall of Fame Game in Las Vegas.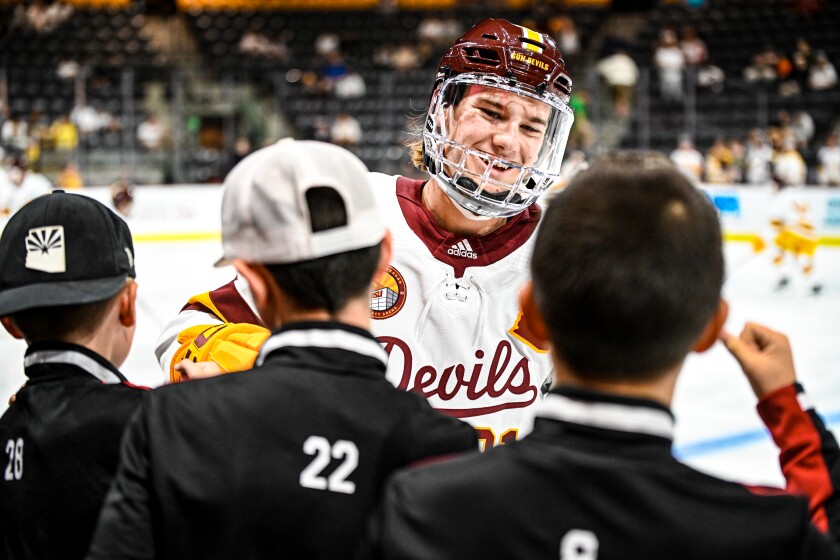 We are part of The Trust Project.
LAS VEGAS — UND and Arizona State are set to play the 2022 U.S. Hockey Hall of Fame Game at 9:07 p.m. Central on Saturday night in T-Mobile Arena.
Here are five key matchups to watch:
The goaltender battle is expected to be a couple of transfers going head-to-head.
UND picked up fifth-year senior Drew DeRidder out of the NCAA transfer portal during the offseason, and he was excellent last weekend in 3M Arena at Mariucci against Minnesota, stopping 72 of 79 shots to help the Fighting Hawks split with the top-ranked Gophers.
Arizona State will start T.J. Semptimphelter, who served as a backup to Mike Richter Award winner Devon Levi at Northeastern last season. Semptimphelter was outstanding filling in for Levi when he was at the Olympic Games. When Levi opted to return to school instead of sign with the Buffalo Sabres, Semptimphelter entered the transfer portal.
He's started all eight Sun Devils games this season, posting a .933 save percentage and two shutouts. One of the shutouts was a 40-save performance at Bemidji State.
"He's been unbelievable," Sun Devils coach Greg Powers said. "We knew he was really good. I don't think anyone knew he was this good. He's been lights out. We have 13 new faces and getting them dialed into our identity and how we want to play is always a process. He's been the rock that's helped us get through it. He gives us a chance to win every night. He's an awesome kid and we're thrilled to have him."
2. ASU's top line vs. a checking line
Arizona State has a prolific top line, centered by second-round NHL draft pick Josh Doan, the son of former Arizona Coyotes captain Shane Doan. His wingers are Detroit Red Wings second-round pick Robert Mastrosimone and Bemidji State transfer Lukas Sillinger, the son of 18-year NHL veteran Mike Sillinger.
That trio is in a three-way tie for the team lead in scoring with six points.
Mastrosimone, a Boston University transfer, is the best finisher of the group with a rocket of a wrist shot. He has four goals in six games.
"Mastro could easily have double the goals," Powers said. "He's hit posts, missed breakaways."
Because this is UND's home game, the Fighting Hawks will have last line change, which could enable UND coach Brad Berry to match lines. If Berry chooses to do so, the most likely matchup is putting Mark Senden, Gavin Hain and Louis Jamernik V on the Sun Devils' top scorers.
3. Penalty issues vs. a top power play
The area Arizona State has struggled the most is discipline.
The Sun Devils rank third in college hockey in penalty minutes with 140. That's an average of 17.5 per game. Arizona State has been called for a major penalty in four of the last five games.
Taking penalties has not been a good idea against UND this season.
Hi everyone, check out some other stories from Vegas...
Arizona State's Matthew Kopperud and UND's Tyler Kleven are two of their teams' best players. Their fathers were Grafton Spoilers teammates in the 1980s.
The Fighting Hawks have adjusted their itinerary for the destination game after last year's loss to Penn State in Nashville.
A behind-the-scenes look at what's happening in Vegas, where UND will play Arizona State in the U.S. Hockey Hall of Fame Game.
The Fighting Hawks rank No. 2 in college hockey in power-play percentage at 35.5. Last Saturday, UND scored three power-play goals against Minnesota.
"It's been one of the lifebloods of our group here of having some success," Berry said of the power play. "Karl Goehring has done an outstanding job of preparing our guys, whether it's through pre-scout or whether it's through each and every day going on the ice and working on a component of the power play — and these guys buying into whatever comes at them."
Goehring, the power-play coach, has thrown different looks at opponents by moving Jackson Blake (three power-play goals) and Riese Gaber (four PPGs) to opposite flanks at times.
"It's a situation where, if a team is keying on one person on the power play, you want to try to maybe move them into a different spot and maybe catch them," Berry said.
It will be a big stage with a big environment at T-Mobile Arena. Officials are expecting around 16,000 fans for the U.S. Hockey Hall of Fame Game.
There's always a question of how players will react to playing in that type of an environment.
UND got a little taste of playing in an intense atmosphere last weekend in the North Dakota-Minnesota rivalry.
Arizona State has never played in front of a crowd as large as it will see Saturday night, but it has played in front of sold-out buildings this month as it opened its new home, Mullett Arena.
"Obviously, it's an experience we've never had — any of us — since we've been Division I," Powers said of Saturday's expected environment. "So, it's going to be an experience we're going to take in and enjoy and embrace. Our building, the last four games, has been raucous, loud and crazy. While 5,000 isn't 16,000, the atmosphere and level of intensity — and guys learning how to control emotions in front of fans — will hopefully help translate into that environment. Our guys understand what they're going into."
One Sun Devils player who has played in a big environment is Semptimphelter, who stopped 41 of 42 shots at the Beanpot last season to beat Boston College 3-1 in front of 15,535 fans in Boston's T.D. Garden. A week later, Semptimphelter stopped 28 of 29 against Boston University in front of 17,850.
Arizona State actually has played a pair of games in T-Mobile Arena.
The Sun Devils won the Ice Vegas tournament in the home of the NHL's Golden Knights in January 2018. They beat Northern Michigan 7-3 and Michigan Tech 3-2 en route to the title. No players from that Arizona State team are still in college hockey, but the Sun Devils will try to channel some good history in the building.
5. Shots allowed vs. shooting percentage
Arizona State is allowing an average of 37.2 shots on goal per game.
The Sun Devils have attempted to keep them from the outside and let Semptimphelter do the rest. That's been successful so far, but if that trend continues Saturday night, something will have to give.
UND is currently finishing the highest percentage of its shots of anyone in the country — 15.3 percent. That's tied atop the leader board with UMass. If UND maintained that shooting percentage and had 37 shots on net, that would be 5.6 goals.
The Fighting Hawks are averaging 26.2 shots on goal per game.