UND hockey set to launch new beginning in the place last season ended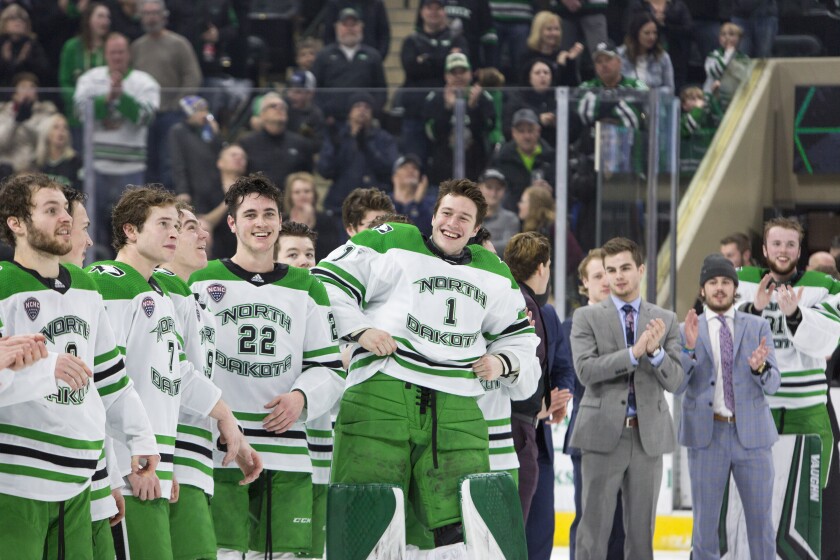 OMAHA, Neb. -- UND hockey players walked out of Baxter Arena nine months ago in a jovial mood, because the first trophy of the season was theirs to keep.
They had just won the Penrose Cup outright with a 5-0 victory over Omaha. The Fighting Hawks would not have to share it with Minnesota Duluth.
They were already thinking about what was going to happen in the next month.
Senior Westin Michaud walked out of the locker room and simply said, "CC," a reference to the fact that UND earned a first-round playoff matchup against his old team, Colorado College. That was just one stop along the journey they hoped would end with the team's first-ever NCHC playoff title and, more importantly, a ninth NCAA national championship.
They had the No. 1 Pairwise Ranking. They were in position to have last line change through the duration of the NCAA tournament, an advantage that netted UND a 18-1 record during the season. And they had an .800 winning percentage. Only three other UND teams had accomplished that and two won the national title.
This team did not.
It did not have a chance.
The magical season came to a screeching halt when the coronavirus pandemic wiped out the entire playoffs and shut down American sports for several months.
UND goalie Peter Thome said the what-ifs haunted him for a few months. Surely, there were others, too.
But the Fighting Hawks banded together and decided nobody was leaving school early to sign a pro deal.
Not Jordan Kawaguchi, who was a Hobey Baker Hat Trick finalist and had several NHL offers.
Not Matt Kiersted, who became one of college hockey's most coveted free agents.
Not Jacob Bernard-Docker, a first-round pick of the Ottawa Senators.
Not Shane Pinto, a second-round pick of the Ottawa Senators who was named the league's rookie of the year.
Not Grant Mismash. Not Collin Adams. Not Thome. Nobody.
They all wanted to come back to finish what they started last season.
That time has finally arrived. After a delay to the start of the season, UND will walk right back through those Baxter Arena doors where they left in March, with such high hopes, and try to pick up where they left off, aiming at finishing off those goals they didn't get a chance to last spring.
"Our biggest thing is having a focus," UND coach Brad Berry said. "Obviously, being the No. 1 team in the country, that's going to be motivation enough of trying to defend that on a weekly basis. We know how tough that's going to be and we know the target that's going to be on our back. Our guys know that. That's a challenge and a motivation in front of us.
"For me, I believe we have a very strong group in our locker room. It's a very close group that's led by a lot of experienced seniors with a great captaincy group and a lot of very good freshmen. Our guys are excited about getting going."
UND opens the season at 3:35 p.m. today with a game against Miami in Baxter Arena as part of the NCHC's season-opening Pod. It will be the first of 10 games in 19 days for the Fighting Hawks.
It will come with no exhibition or nonconference games to warm up.
"We've got to jump right into it," Kawaguchi said. "We have to mimic what we did last year with our mentality and how we play. We have to find our identity real quick."
And they hope to bring some of the same magic they had last year.
"You know we have some unfinished business from last year because of how the season ended," UND junior forward Mark Senden said. "Everyone has that as motivation. Basically, we have to prove ourselves again this year. We have unfinished business from last year so we definitely all use that as motivation to make sure we excel this year as well."