UND football hopes for more Alerus Center magic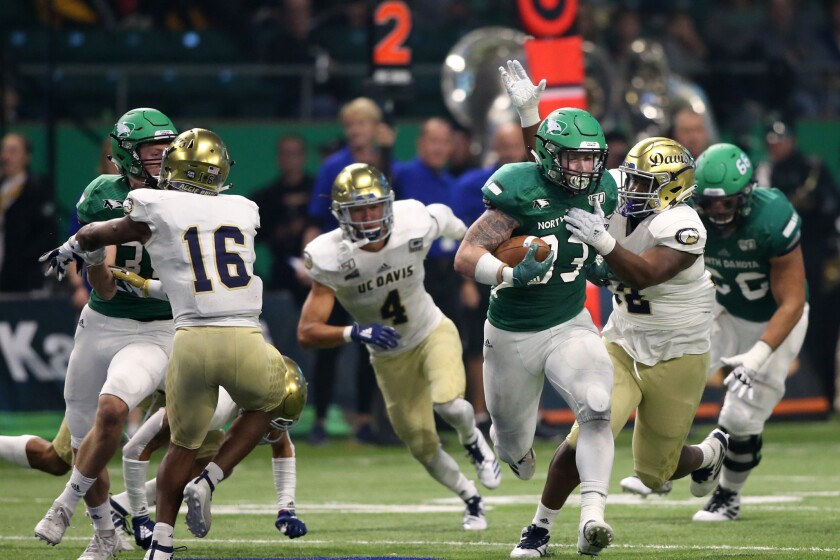 Montana State football coach Jeff Choate wasn't focusing on UND's road losses at Idaho State and Eastern Washington.
He was zeroing in on the Fighting Hawks' home wins against Top 25 teams Sam Houston State and UC Davis.
"They're playing very well at home," Choate said. "It's almost like watching two different teams at times. (At home), they play fast, confident and they feed off that crowd. It's an impressive-looking group."
The Hawks (4-3) hope that Alerus Center-factor will help tilt the scales at noon Saturday against No. 9 Montana State in a matchup that could go a long way in deciding UND's postseason fate.
UND has played Montana State in three of the four years Choate has been at the helm in Bozeman.
"You have that student section right behind you," Choate said. "I know it's an 11 (a.m. Mountain Time) kick, but they'll be in the parking lot, starting at 6 a.m., shotgunning beers and doing whatever is they do over there. You better have some ear plugs in. I got called some new names, and I've been called a lot of names."
The Bobcats enter the matchup with the 10th-ranked rushing offense in the FCS, netting 247.0 yards per game. Montana State, which operates with multiple wildcat looks, is averaging 5.5 yards per carry.
For the second-consecutive week, UND will face a ground-oriented offense. Although UND only allowed 95 passing yards in a win at Cal Poly last Saturday night, the Mustangs ran for 268 yards.
The win against Poly -- UND's first road win of the year -- was costly. Two UND starting defensive lineman -- standout defensive end Mason Bennett and nose guard Jalen Morrison -- suffered first-half injuries in San Luis Obispo and didn't return.
Bennett is expected to be out of the lineup against Montana State, while Morrison is a game-time decision.
UND's defensive line entered the season as a position of concern due to depth, and the Fighting Hawks will likely play a number of true freshmen along the defensive front against the Bobcats.
Montana State, which comes to Grand Forks off a bye week and a loss to Sacramento State two weeks ago, is aiming for a Big Sky Conference title and a potential high seed in the FCS playoffs.
"I know they're a really physical team, and we're going to have to bring our game up front," UND defensive end Jaelen Johnson said. "We just have to play our most physical game yet."
UND, meanwhile, also has playoff aspirations. Sitting at 4-3, the Hawks' remaining schedule hints at the Montana State matchup being an important result.
Likely needing seven wins to make the postseason, UND has a second bye week after the Montana State game before finishing the year at No. 4 Weber State, then at home against 1-7 Northern Colorado and 1-7 Southern Utah.
"It's a super-important game for us," UND running back James Johannesson said. "It's going to help us get in the playoffs, so we have to take it really seriously and start preparing."