UND basketball sees great opportunity in matchup at Kentucky
LEXINGTON, Ky.--UND has played a number of Power 5 men's basketball programs since the program went Division I in 2008. On Wednesday night, UND finally gets a chance to play one of the Blue Bloods of college basketball. The Fighting Hawks will me...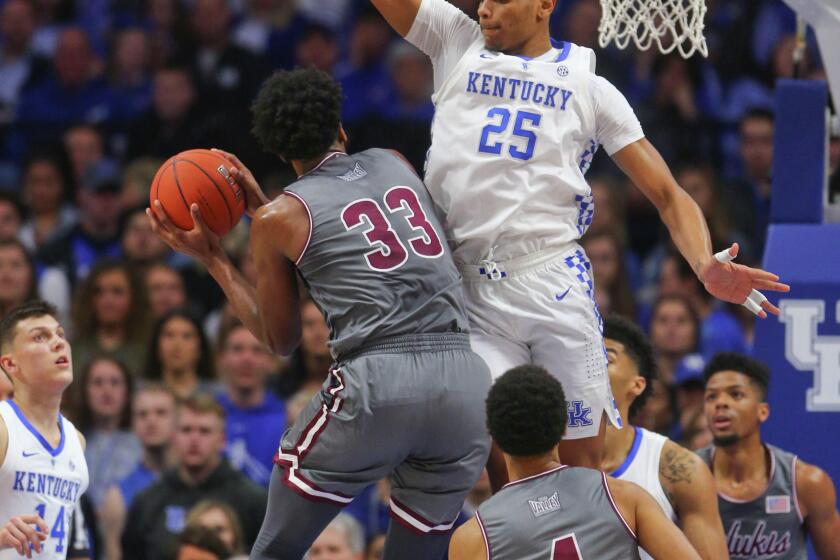 LEXINGTON, Ky.-UND has played a number of Power 5 men's basketball programs since the program went Division I in 2008.
On Wednesday night, UND finally gets a chance to play one of the Blue Bloods of college basketball. The Fighting Hawks will meet No. 10 Kentucky at Rupp Arena, a 23,000-seat arena that is an icon of men's basketball.
"I think it will be a good experience," said UND senior Cortez Seales. "We'll see where we're at mentally and how we'll handle things in a game like that. It's every kid's dream to play in an environment like that."
UND, with 11 new players on its roster, is 2-0, which includes a road win against Milwaukee of the Horizon League.
Kentucky, meanwhile, is 1-1. But there is concern in Lexington after the Wildcats, who entered the season ranked No. 2, were blown out last week by Duke. Also, Kentucky had to rally to beat Southern Illinois at home last Friday.
UND will enter Rupp Arena with no pressure. The Hawks are decided underdogs but the chance to play at the highest level of college basketball against a program that annually has one-and-done players headed to the NBA is too great to pass up.
It's not easy to get games against a college Blue Blood, either.
"We're grateful for the opportunity to play Kentucky," said UND coach Brian Jones. "It's our job as coaches to give our players the opportunity to know the history of the game. The more we can expose our players to programs like Kansas, UCLA and Kentucky, so much the better."
Also, youth can be an advantage for UND against the Wildcats. "This group is pretty fearless," said Jones. "What they don't know, they don't know. Sometimes, that's a good thing."
Early in the season, UND will be led by their two seniors-Seales and Conner Avants.
Both came up big in UND's road win at Milwaukee on Saturday. But tonight's opponent is an entirely different beast.
"My freshman year, we played in Madison against Wisconsin and we played at Iowa in my sophomore year," said Avants. "But it will be amazing to play against a program like that. It will be special."
Kentucky basketball drives that state. And the Hawks likely will receive the royal treatment in Lexington.
Southern Illinois coach Barry Hinson said his team's treatment during its short stay in Lexington last week was special.
"Our basketball team has been in this community for a little over 24 hours," said Hinson during his postgame media conference. "I can't tell you-I've been coaching 38 years­-I don't remember a time that I have been in a community that we were treated better than the treatment we have received in Lexington. That's a compliment to not only this university, but also this region and to the people, specifically in this day and age where we try to draw a line in everything.
"But I cannot even begin to tell you, wherever we went to eat, wherever we went, people were wishing us good luck. I was telling them they were a bunch of liars. But, people were really, really nice and we want to thank you for the hospitality."
And the payday nonconference teams receive from Kentucky is nice as well.
UND will receive just over $100,000 for the game plus motel rooms.
Had Kentucky not lost to Duke last week, the Wildcats would have been the highest-ranked team UND has faced in the Division I era.
The highest-ranked team UND has met since 2008 is believed to have been Arizona in the opening round of the 2016 NCAA Tournament. Arizona was No. 5 when the Hawks met the Wildcats in Salt Lake City.
Last season, UND nearly pulled off a major upset when it had No. 12 Gonzaga on the ropes in Spokane before falling 89-83 in overtime.
Tonight, however, UND will play against one of the most storied programs in the country.
"This will be a game of learning, growing and focusing on the process," said Jones.
North Dakota at Kentucky
When: Wednesday, 8 p.m.
Where: Rupp Arena, Lexington, Ky.
TV/Radio: SEC Network, 100.3 FM
Records: UND 2-0; Kentucky 1-1
Of note: During his career, Kentucky coach John Calipari has guided six of his teams to the Final Four. His programs at UMass, Memphis and Kentucky produced 46 NBA draft picks and one national championship.
UND vs. the best
UND has played a number of games against ranked Power 5 programs in its Division I era, including the following:
• No. 12 Gonzaga, Dec. 18, 2017. Gonzaga won 89-83 in overtime
• No. 5 Arizona, March 16, 2016. Arizona won 100-82.
• No. 17 Wisconsin, Nov. 17, 2015. Wisconsin won 78-64
• No. 12 Wisconsin, Nov. 19, 2013. Wisconsin won 103-85
• No. 17 Kansas, Dec. 31, 2011. Kansas won 84-58
• No. 25 Wisconsin, Nov. 16, 2011. Wisconsin won 85-53