Tuesday's local scoreboard for April 25
Featuring local prep tennis results, area prep softball and baseball scores, boys golf results and much more!
Tuesday's results
Red River 7, Fargo North 6
Fargo Davies 10, Devils Lake 9
West Fargo Sheyenne 25, Valley City 1
West Fargo 16, West Fargo Horace 1
Thief River Falls-Goodridge 8, Dilworth-Glyndon-Felton 6
Detroit Lakes 8-6, Park Rapids 2-16
Mahnomen-Waubun 16, Red Lake County 2
Red Lake Falls 10, Badger-Greenbush-Middle River 7
Moorhead 3-11, Bemidji 0-1
Fergus Falls at Perham, postponed
Hillsboro-Central Valley 10, Northern Cass 0
N-C 000 000 X --0 2 0
HCV 313 003 X --10 13 0
WP: Serrina Klose; LP: Eleise Sand
Highlights -- HCV: Ellie Vice 3x3, RBI, 2B, Sanna Kritzberger 2x3, 3 RBI, 2B, Klose 14 SO; NC: B. Hoiland 1x3, O. Olson 1x3
Warroad 12, Crookston 5
WAR 421 020 3 --12 11 1
CRO 010 021 1 --5 6 7
WP: Tayanna Cole; LP: Dani Kresl
Highlights -- CRO: Reese Swanson 3x4, 2R, 2 RBI, 2 2B, Shayla Azure 1x3, RBI, Isabel Pahlen 1x4, Kresl 5 SO; WAR: Cole 8 SO, Kate Johnson 2x4, R, RBI, HR, 2B, Abby Chamernick 3x5, 2R, 2 RBI, 2B, 3B, Abbey Reule 2x2, 2R
Monday's results
EGF Senior High vs. Red Lake Falls, postponed
Sacred Heart vs. Red Lake County Central, postponed
West Fargo Horace 27, Maple River 1
Dilworth-Glyndon-Felton 10, Fergus Falls 1
Hawley 10-10, Perham 0-11
Pine River-Backus 17, Bagley 3
Lake of the Woods at Red Lake, postponed
Badger-Greenbush-MR 1, Northern Freeze 0
N-F 000 000 0 --0 1 1
BAD 000 001 X --1 5 0
WP: Kinsley Hanson; LP: Kaydence Augustine
Highlights -- NF: Rylie Fredrickson 1x2; BGMR: Sierra Westberg RBI, Teagan Landsrud 2x3, Savannah Anderson R, Kinsley Hanson 8 SO
Tuesday's results
Thief River Falls-Goodridge at EGF Senior High, postponed
Sacred Heart at Warroad, postponed
West Marshall 7, Red Lake County 4
Fertile-Beltrami 10, Bagley 1
Rocori 4-9, Fergus Falls 1-6
Moorhead 5-4, Bemidji 4-13
Hawley 10, Lake Park-Audubon 2
Fosston 4, Ada-Borup 3
Red River 3, West Fargo Horace 1
RR 001 110 0 -- 3 10 1
WFH 000 000 1 -- 1 1 2
WP: Mason Stroh; LP: Carson Borchardt
Highlights -- RR: Stroh 2x4, Adrian Gonzalez-Rodriguez 2x4
Thompson 5, Hillsboro-Central Valley 1
THO 001 202 0 --5 7 1
HCV 100 000 0 --1 4 4
WP: B. Wolfgram; LP: G. Beliles
Highlights -- T: Wolfram 2x4, R, 5 SO, D. Overby R, T. Schumacher 2x3, R, RBI, R. Berberich 1x4, R, RBI, W. Welke 1x3, RBI, S. O'Hearn 1x4, RBI, J. Muhs R; HCV: Beliles 4 SO, C. Hebl 1x2, R, RBI
Roseau 10-12, Crookston 3-2
ROS 117 10 --10 12 0
CRO 000 30 --3 4 2
WP: A. Wensloff; LP: B. Melsa
Highlights -- R: A. Wensloff 2x4, R, 4 SO, N. Urness 1x2, 2R, 2 RBI, A. Klint 2x3, R, RBI, C. Flaig 2x4, 2R, 3 RBI, G. Jensen 2x3, R, RBI, E. Wensloff 2R, T. George 2x3, R, RBI, O. Jaenicke 1x3, RBI; CRO: Melsa 5 SO, G. Widman 2x3, 2 RBI, E. Boll R, J. Doda R, C. Coauette R, E. Trudeau 1x1, RBI
ROS 140 70 --12 7 0
CRO 020 00 --2 3 1
WP: Jaenicke; LP: T. Giese
Highlights -- R: Urness 2x3, 2R, RBI, Jensen 1x3, R, A. Wensloff 2x2, 3R, 3 RBI, Flaig 1x2, R, 2 RBI, E. Wensloff R, RBI, J. Halvorson R, George 1x2, R, RBI, A. Ballard R, RBI, C. Bachleitner RBI, Klint R, RBI; CRO: E. Boll 1x2, R, J. Demarais 1x2, RBI, M. Conteras R
Win-E-Mac 11, Mahnomen-Waubun 1
M-W 010 000 --1 2 0
WEM 100 631 --11 9 1
WP: B. Hamre; LP: L. Adams
Highlights -- MW: J. Refshaw R, E. Bevins 1x3, RBI, Adams 9 SO; WEM: Hamre 3x3, 3R, RBI, 13 SO, N. Spry R, RBI, B. Howard 2x4, 2R, 4 RBI, W. Davis 2x4, R, RBI, C. Below 2x4, 3 RBI, B. Sander R, RBI
Monday's results
Sacred Heart vs. Red Lake County, postponed
Wahpeton 11, Breckenridge 1
Moorhead 8, Perham 0
Pine River-Backus 14, Bagley 2
West Marshall at Kittson County Central, canceled
Red Lake at Lake of the Woods, postponed
Dilworth-Glyndon-Felton at Fargo Davies, canceled
Tuesday's results
GF Central 2, Red River 0
West Fargo Sheyenne 2, West Fargo 1
Fargo South 1, Fargo North 0
Fargo Davies 2, Fargo Shanley 1
RELATED: Grand Forks Central earns first win of spring, outlasting Red River 2-0
Tuesday's results
Fargo Davies 9, Wahpeton 0
West Fargo Sheyenne 9, West Fargo 0
Valley City 8, Fargo North 1
GF Central 9, Fargo South 0
Singles
1. Madi Stauss def. Ruby Hawley 6-3, 6-0; 2. Magdalene Spicer def. Reese Aarestad 6-2, 6-3; 3. Gianna Blue def. Emma Powers 6-0, 6-1; 4. Sydnee Lemieux def. Cassie Youngquist 6-2, 6-4; 5. Jennifer Wang def. Abby Heggen 6-3, 6-0; 6. Lauren Tran def. Katie Hopp 6-1, 6-1
Doubles
1. Stauss/Spicer def. Hawley/Aarestad 6-1, 6-1; 2. G. Blue/Lemieux def. Powers/Youngquist 6-1, 6-2; 3. Stella Blue/Alli Wilhelmi def. Heggen/Della Phillips 6-1, 6-1
Monday's results
Valley City 9, West Fargo 0
Fargo Shanley 9, Fargo South 0
Tuesday's result
Thief River Falls 4, EGF Senior High 3
Singles
1. Reece Janisch, TRF, def. Carson Knutson 6-0, 7-5; 2. Jett Cornelius, TRF, def. Thomas McMahon 6-2, 6-1; 3. Nolan Meulebroeck, EGF, def. Andy Dagg 6-4, 6-3; 4. Luke Hanson, EGF def. Noah Burkel 6-1, 6-0
Doubles
1. JJ Cornelius/Rhett Janisch, TRF, def. Ryan McMahon/Trey D'Heilly 6-2, 6-2; 2. Geran Gonsorowski/Lucas Rantanen, TRF, over Tate Steenerson/Bauer Walter 6-2, 6-0; 3. Austin Kovar/Jeb Haaven-Farstad, EGF, over Ike Olson/Mathias Carlson 6-1, 6-4
EGF Senior High head coach Kyle Hanson: "What a great day to have some tennis. We finally got to play a match outside and for most of it the sun was shining. Might've been a touch cool for the fans, but the players didn't mind. Even the 3-4 loss to Thief River Falls doesn't seem so bad when they are ranked seventh in the state.
Our team played very well. At times it was our athleticism shining and then other times it was our shot making. The top of the TRF lineup are some of the best in the section. But I liked what I saw at our top spots as they didn't back down and forced their opponents to make plays.
It's looking more and more like we have some depth. We still have many unknowns so we tried guys in different positions. Nolan Meulebroeck was lights out running around the singles court. He had a year off from tennis and is better than I remember. He was keeping his opponent moving, but was also getting to balls and forcing action by coming up towards the net.
Luke Hanson at fourth singles also played extremely well. He limited his mistakes and yet kept putting pace on the ball. This forced his opponent to overswing and commit errors. All our singles players did a very good job of hitting the ball deep into the court.
Our other win was Jeb Haaven-Farstad and Austin Kovar at third doubles. Jeb communicates so well and is analytical in his approach of what is working and what isn't. He did a great job of finding spots and keeping opponents off balance even with a lob. Austin was serving quite well today and got to some tough balls. He also did well at the net, but overall was consistent. Finally, congratulations to Luke and Austin for winning their first varsity matches! They are only freshmen and have worked hard out at Choice to improve. This is the first of many!"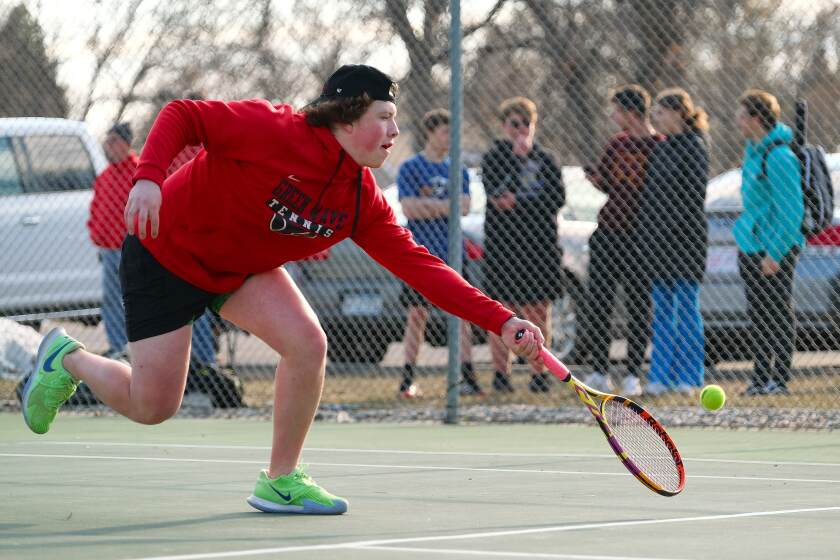 1
/
4:
East Grand Forks Senior High's Thomas McMahon runs down a drop shot from Thief River Falls' Jett Cornelius, not pictured, during a Minn. Section 8A boys tennis singles match in East Grand Forks on Tuesday, April 25, 2023.
2
/
4:
Thief River Falls tennis player Jett Cornelius connects with the ball during a Minn. Section 8A singles match at East Grand Forks Senior High School on Tuesday, April 25, 2023.
3
/
4:
Green Wave tennis player Nolan Meulebroeck nails a forehand shot during a Minn. Section 8A singles match versus Thief River Falls' Andy Dagg, not pictured, during a home boys tennis match at East Grand Forks Senior High School on Tuesday, April 25, 2023.
4
/
4:
Thief River Falls' Andy Dagg charges the net to return a drop shot from East Grand Forks Senior High freshman Nolan Meulebroeck, not pictured, during a Minn. Section 8A boys tennis match in East Grand Forks on Tuesday, April 25, 2023.
West Fargo Sheyenne Invite
At Madison Country Club (S.D.), Tuesday
Team totals
West Fargo Sheyenne 318, GF Red River 335, Fargo Shanley 339, Fargo North 339, Fargo South 342, Fargo Davies 346, West Fargo 357, GF Central 366, West Fargo Horace 379, Wahpeton 393, Valley City 408
Top 5 individuals
1. Zach Skarperud, Shanley, 71; 2. Andrew WIlhelm, WFS, 76; 3. Chase Swenson, WFS, 78; 4. (tie) Porter Seidel, Davies, 80; Evan Booth, South, 80
Red River scorers
Carson Skarperud 83, Saylor Kuenzel 84, Jack Miller 84, Ross Koerner 84, Grant Gardner 84
GF Central scorers
Ryder Rivard 90, Cole Wilber 90, Trevor Anderson 93, Evan Panzer 93
Tuesday's results
Minnesota 9-7, Wisconsin 0-0
Minot State 3-1, MSU Moorhead 2-5
Northern State 2-2, UMary 1-4
St. Cloud State 8-5, Bemidji State 0-1
MSU Mankato 6-4, Winona State 5-2
Mayville State 8-7, Valley City State 4-15
MAY 431 000 0 --8 11 1
VCS 101 100 1 --4 7 1
WP: Courtney Boll; LP: M. Zander
Highlights -- MAY: Boll 6 SO, Sam Shumway 1x3, 2R, Mackenzie Hughes 2x4, R, RBI, Erika Howell 1x4, R, 2 RBI, Brooke Roeges 3x4, R, RBI, Miquela Pino 2x3, R, RBI, Mackenzie Iverson 1x3, R, Alyssa Avila 1x4, 2 RBI, Desiree Lawrence R; VCSU: M. Hawkins 1x4, RBI, 8 SO, A. Copinga 2x4, R, A. Diemert RBI, R. Perryman 1x3, R, RBI, Zander 1x3, R, RBI, A. Rodriguez 1x3, R
MAY 403 000 --7 12 4
VCS 820 032 --15 12 0
WP: Zander; LP: Aimee Fafard
Highlights -- MAY: Shumway 1x2, R, RBI, Hughes 2x3, R, 3 RBI, Howell 1x4, R, Roeges 1x3, 2R, 2 RBI, Pino 3x4, R, Isis Johnson 1x4, R, RBI, Avila 3x3; VCSU: J. Lamontagne 4 SO, Copinga 1x2, 2R, 2 RBI, 2 BB, A. Diemert 1x3, 3R, 2 RBI, Perryman 2x5, R, RBI, Hawkins 2x4, 2R, RBI, S. Crocker x4, 2R, 2 RBI, A. DePoorter 2x3, 2R, 4 RBI, M. Stone R, RBI, S. Forseth 1x2, R, RBI, Rodriguez 1x4, R, 2 RBI
Monday's results
N.D. State 6, St. Thomas 2
MSU Moorhead 3-8, Concordia-St. Paul 2-0
Augustana 11-5, Bemidji State 2-0
Minnesota Duluth 9-2, Southwest Minnesota State 1-3
St. Cloud State 6-7, Sioux Falls 3-1
MSU Mankato 4-2, Northern State 1-4
Northern Sun Intercollegiate Conference
NSIC athletes of the week
Pitcher -- Lexi Lander, Augustana
Player -- Kennedy Buckman, Augustana
North Star Athletic Association
NSAA athletes of the week
Pitcher -- Katie Cunningham, Bellevue
Player -- Sami Reding, Bellevue
Tuesday's results
N.D. State 10, Minnesota 3
Valley City State at Jamestown, postponed
Monday's results
Minnesota Crookston 2-3, Northern State 1-2
Minnesota Duluth 3, Minot State 2
St. Cloud State 6, UMary 5
MSU Mankato 16, Sioux Falls 6
Northern Sun Intercollegiate Conference
NSIC athletes of the week
Pitcher -- Jake Dykhoff, Minnesota Crookston
Player -- Sam Riola, St. Cloud State
North Star Athletic Association
NSAA athletes of the week
Pitcher -- Grant Svikulis, Dakota State
Player -- Gavin Daniel, Viterbo
Northern Sun Intercollegiate Conference
NSIC athletes of the week
Track -- Robynn Rolle-Curry, MSU Moorhead
Field -- Brooklynn Chipps, Wayne State
North Star Athletic Association
NSAA athletes of the week
Track -- Wrenzi Wrzesinski, Dickinson State
Field -- Kaitlyn McColly, Dickinson State
Northern Sun Intercollegiate Conference
NSIC athletes of the week
Track -- Micade Shumway, Sioux Falls
Field -- Logan Moeller, Wayne State
North Star Athletic Association
NSAA athletes of the week
Track -- Jalen Anderson, Viterbo
Field -- Conner Tordsen, Dakota State
North Star Athletic Association
NSAA athlete of the week
Tylah Saifoloi, Bellevue
North Star Athletic Association
NSAA athlete of the week
Thomas Houdayer, Waldorf