Unlikely hero comes through to deliver East Grand Forks Sacred Heart to state baseball tournament
Larson's two-run, two-out home run were the go-ahead runs for the Eagles, who beat Ada-Borup West 3-2 in the section championship.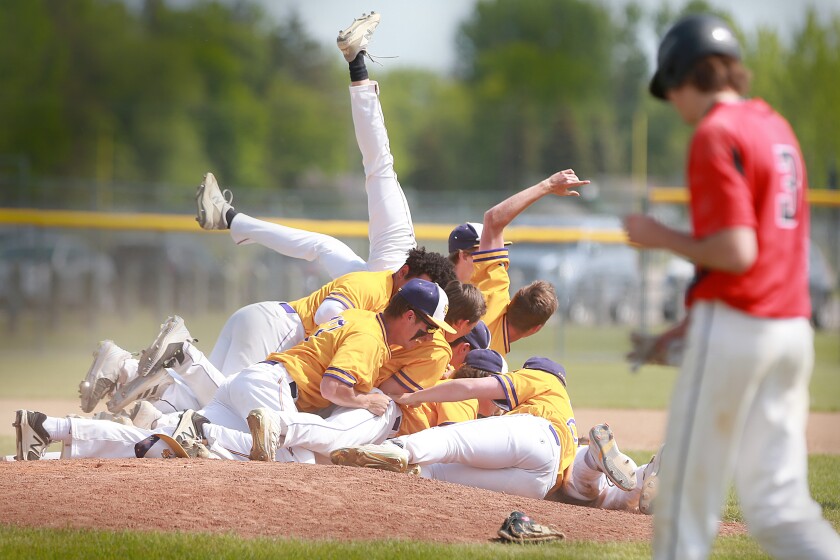 We are part of The Trust Project.
THIEF RIVER FALLS — The East Grand Forks Sacred Heart baseball team's season has been defined by a veteran roster, comprised largely of the same group that carried the Eagles to their first state basketball tournament this winter.
But on Thursday afternoon, it was a freshman catcher, who plays hockey in the winter, batting in the No. 9 spot in the batting order who delivered the Eagles to the state baseball tournament.
David Larson, who started the season on the junior varsity and had no home runs coming into the day, ripped a two-out, two-run home run to lead Sacred Heart to a 3-2 win over Ada-Borup West in the Section 8A championship.
"We've seen (the power) a little in practice," Sacred Heart coach Paul Bethke said. "I have been waiting, actually, the last couple of games because he's getting more comfortable."
Larson's home run was the key play in a three-run fourth inning for Sacred Heart, which turned a 1-0 deficit into a 3-1 advantage by the time Larson's hit cleared the fence. His ball didn't clear by much as the Cougars' outfielder appeared to be drifting under the ball before his back ran into the chain-link fence.
"I had struck out in my last at-bat, so I was kind of down, and I knew I had to bounce back because I hadn't been hitting well in the playoffs," Larson said. "The pitch was right over the plate. Fastball over the middle, and I took him.
"I thought it felt good right off the bat. I didn't think it would go gone, but I'm glad it did."
Sacred Heart, which improved to 21-3, would have needed to be beaten twice Thursday in the double-elimination tournament.
The Eagles advance to next weekend's state tournament in St. Cloud, with a bracket to be announced after a coaches' seeding meeting Saturday.
The Eagles rode the pitching of starter Sam Gapp, who threw two outs into the sixth inning before needing Ethan Arntson to enter the game to get the last four outs.
When Gapp exited in the sixth, Arntson inherited a one-run game and two base runners.
Trenton Sip, the Cougars' No. 9 batter, singled to center off Gapp to score Ryan Hoven, who made it 3-2.
That's when Arntson entered to face ABW leadoff hitter Beau Fetting, who smashed a one-hop liner to Sacred Heart first baseman Breck Bloom, who smothered the ball and touched first to end the threat in the sixth. After the game, Bethke called it the play of the game.
In the seventh, two defensive gems by Sacred Heart third baseman Parker Erickson prevented a Cougar comeback.
"It's such a great group of seniors, eight of them on the team, and they've seen ups and downs through their careers," Bethke said. "They've had so much success across their sports this year, so they were really mature about all of this and how it goes. They know it isn't always easy."
The Eagles last advanced to the state tournament in 2018 and 2019. Prior to those two seasons, Sacred Heart's only other two appearances were 2005 and 2006.
Minn. Section 8A tournament
Thursday's championship
In Thief River Falls
ABW 001 001 0 – 2 7 3
SAC 000 300 x – 3 4 2
WP – Sam Gapp; LP – Austin McRaven
Highlights – SH: David Larson 1x3, 2-run HR, Breck Bloom 1x2, RBI, Nick Brundin 1x3, run, Isaac Zavarol 1x2, run; ABW: Ryan Hoven 2x3, run, Baron Odden 1x2
Arason joins Ryan Todhunter (2009) as the only other Red River boys athlete to win the award. Previous Red River female winners include Shelby Frank (2018, 2019), Ashley Rone (2015), Briona Reynolds (1998, 2000, 2001) and Stephanie Wigness (1995).