Grand Forks Central falls to Fargo Davies 2-1 in season opener
The Eagles led the game in shots 34-12 and had goals from Jack Bullinger and Grant Matter.
There were unknowns heading into the season for reigning North Dakota state champion Grand Forks Central.
Some of them were answered on Tuesday, as a younger and lighter group was on display for the Knights season opener against Fargo Davies at Purpur Arena.
Fargo Davies, ranked third in the coaches' poll, worked its way to a 2-1 win over the No. 2 Knights and outshot Central at an impressive tally of 32-11. The Knights, currently going through a roster transition, saw their squad chasing the Eagles for the majority of the night.
"We were a step slow and a few pounds lighter and that's what we learned about ourselves tonight. They beat us to pucks and they were a little bit stronger and savvier with the puck. That's the point we want to get to," Central coach Grant Paranica said following the loss.
A good portion of Central's scoring last year came from its senior class, particularly Braden Panzer, Chase Spicer and Joey Kennelly. The three topped the state in scoring with a combined 190 points and have since moved on, leaving a large opportunity for the next crop of forwards.
This year's three senior forwards, Connor Litzinger, Brady McGarry and Hunter Anderson, are going to be relied upon to set the tone for the offense while the younger skaters get their feet wet.
"We're going to have to rely on them for sure, especially in the early going," said Paranica. "They have the experience and they are the guys that are going to have to push the pace in practice. We're certainly expecting our younger players to contribute but early on here we're looking at our senior leaders to lead the way."
There would be no scoring in the first period as both sides slowly shook off the rust from the summer and got back into game pace. The Eagles would see the momentum swing their way by taking an early shot count lead 11-4, but a power play in the waning minutes of the opening period left Paranica and the Knights with a place to leave off coming out for the following frame.
"There were some bright spots. I think we learned a lot about ourselves. Playing at that pace isn't something we've been doing and some of our young guys got caught with their eyes open a little bit," he said.
The Eagles kept pressure following the break. The majority of play took place in the Knights' end and shift after shift ended with goalie Jaxon Washburn making a save. By the end of the period, they stretched their lead in shots to 22-6
It would be Jack Bullinger who finally put Davies on the scoreboard. His power-play rebound off a shot from Barron Stibbe gave the Eagles the lead with eight minutes left in the period.
Shortly after, Grant Matter was able to sneak one through sophomore goaltender Washburn again and put his team up by two in time for the third period.
Despite the two goals allowed, Washburn was able to keep the Knights in the game. He came up with key stop after key stop while the offense tried to develop an answer. Being a sophomore it was quite the stage.
"It was kind of nerve-wracking, but in the first period I was able to shake it off and feel the game a little more," Washburn said after his 32 save performance. "I've come a long way from being a freshman to a sophomore starting on varsity."
Physicality in the important areas allowed Davies to collect turnovers all period long and keep the Knights from developing anything on the other side of the ice. It was a similar situation in the first game of the year for the Eagles. They were able to limit shots of Fargo South-Shanley in a 1-0 win. Trent Wiemken stopped 17 then and stopped 11 in this matchup.
Penalty trouble came at the start of the third for Central. A checking from behind major on Rylen Hoffman and a high sticking minor on Kyle Fulton created a full two-minute five-on-three power play for Davies and kept the Knights from setting anything up to start the period.
Again, Washburn was able to deny any chance of the Eagles extending their lead.
"Our goaltender played great. That was a question mark for us, but if he can do that and give us a chance to win I feel really good about that," Paranica said of the sophomore netminder. "He's been earning the spot in practice, so we felt comfortable with him going in. He doesn't have any varsity experience, so there was a thought to see how he reacts and he made some really good saves."
Then with four and a half minutes left, Hunter Anderson and Colton Bjorge found a two-on-one break. Anderson fed Bjorge who potted the first goal of the year for Central. Their 10th shot on goal would be their only shot to find twine.
In the coming games, Central will host West Fargo and Fargo South-Shanley with a chance to find an offensive touch and get everyone on the roster involved. It is something that Paranica expected while viewing the first few weeks of practice.
"We figured we would get scoring from each line. We don't have the dominant players that we had last year, so we're looking to get contributions from all four of our lines," he said.
West Fargo will come to Purpur Arena on Nov. 30 followed by South-Shanley's visit on Dec. 3rd.
Fargo Davies 2,
GF Central 1
Second period – 1. FD, Jack Bullinger (Barron Stibbe) 7:33; 2. FD, Grant Matter (Luke Lorenz) 12:16
Third period – 3. GFC, Colton Bjorge (Hunter Anderson, Connor Litzinger) 12:38
Goalie saves – GFC: Jaxon Washburn 11-9-12--32; FD: Trent Wiemken 4-2-5--11
1
/
2:
Fargo Davies forward Grant Matter celebrates his second period goal with the Eagles bench during the season opening game against Grand Forks Central at Purpur Arena on Tuesday, November 23, 2021. Nick Nelson / Grand Forks Herald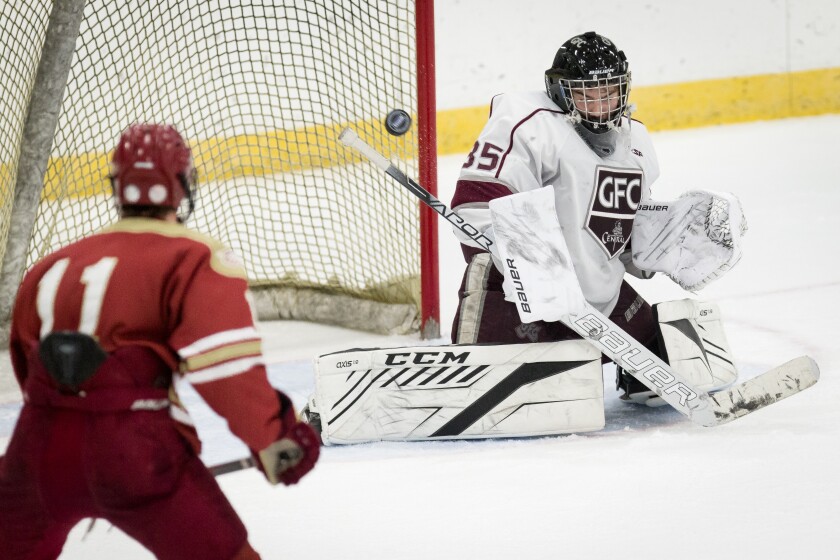 2
/
2:
Grand Forks Central goaltender Jaxon Washburn deflects a shot from Fargo Davies' Cam Bullinger (11) in the third period of a N.D. East Region boys hockey game at Purpur Arena on Tuesday, November 23, 2021. Nick Nelson / Grand Forks Herald