Girls basketball: Grand Forks Red River pulls away from West Fargo down the stretch to remain unbeaten
University of North Dakota commit Jocelyn Schiller dropped 29 points for the Roughriders while West Fargo's Miriley Simon broke a school record
We are part of The Trust Project.
WEST FARGO — If there's a list of players who are able to contain Jocelyn Schiller and Miriley Simon it's probably a short one.
Schiller is the leading scorer in the Eastern Dakota Conference for unbeaten and second-ranked Grand Forks Red River. West Fargo's Simon isn't far behind in that category.
So when the Roughriders and Packers met for a two-point EDC showdown on Tuesday night, fans who attended knew they'd be in for a treat.
Schiller did what Division I commits do. The junior guard and future North Dakota Fighting Hawk dropped in 29 points to lead the Roughriders to a 66-55 victory over the Packers at West Fargo High School.
Red River moved to 11-0 on the year to remain atop the EDC standings.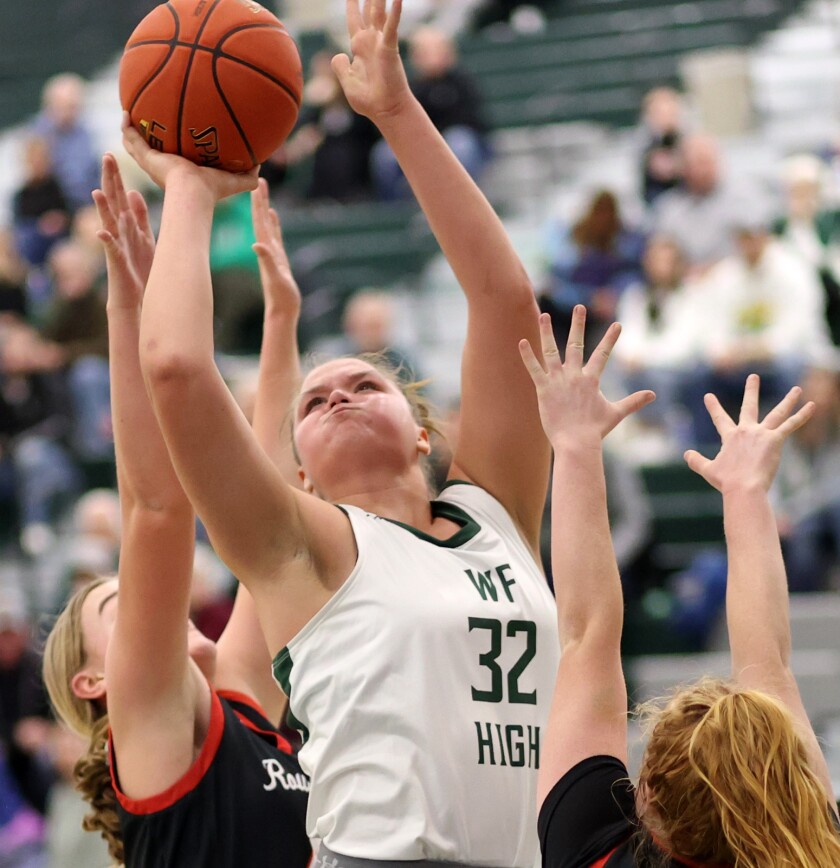 On the flip side, it was Simon, the senior forward and North Dakota State recruit, leading the Packers with 21 points. Senior guard Chloe Pfau added 20 as West Fargo dropped to 8-3.
"I feel like that was a very good team we played," Roughriders head coach Kent Ripplinger said. "I thought it was a great team effort from any kid who was on the bench or on the floor — we did it together. I'm pretty proud of their effort and proud of how we played together.
"Trying to contain Miriley Simon is not an easy task. You can only try to contain her, you can't stop her and I thought we did a pretty good job (tonight)."
Schiller added seven assists and five rebounds. Ripplinger said Schiller's success stems from a combination of attitude and leadership.
"One, she's a competitor," Ripplinger said. "Two, she's got a great attitude. She works her tail off and she's a great teammate. You put all three of those together, and you're going to have a good player."
The game was in a 31-31 deadlock at the half after Schiller hit her fourth of six triples with 10 seconds remaining in the first frame.
The Packers kept it close throughout the second half, down by just one point with under five minutes to play and the score 51-50.
However, the Roughriders managed to hit three shots from range down the stretch, the first coming from senior forward Cassidy O'Halloran to make it 54-50. After Schiller added a layup, she hit a 3 on the next Red River possession to suddenly make West Fargo's deficit nine.
With 2 minutes, 44 seconds left, junior guard Rylie McQuillan joined in on the fun, hitting another 3 to make it 62-53.
Coupled with solid defense, the hot night from beyond the arc allowed the Roughriders to pull away.
"We got a couple of stops in a row and then we knocked a couple of threes down," Ripplinger said. "Then all of a sudden you look up and it's an eight or nine or 10 point game. Luckily it happened on our end and it wasn't them getting the stops and the shots. It was a back-and-forth game and we just happened to make a couple more stops and make a couple more shots down the stretch."
In all, Red River finished with 13 3-pointers and shot 34 percent from range.
Schiller recorded 17 points in the first half, a key factor in the Packers' loss along with running on fumes at the end, Packers head coach Mike Benson said.
"I think it was a little bit of running out of steam. (Red River) is a well-conditioned team," Benson said. "Joci Schiller had an incredible first half and kind of loosened everybody up. I think that was key and they just out-hustled us on the offensive glass at the end of the game there and they were able to capitalize."
Not all was bad for the Packers, with one player further cementing her legacy in the school history books. Simon finished with eight rebounds to move into first on West Fargo's all-time rebounding list with 792.
"To be the all-time leading rebounder is a pretty incredible thing," Benson said. "We're really proud of her. She probably doesn't feel too happy about that happening tonight because she's a competitor, but it's something she should be really proud of."
The Packers shot 43 percent from the field, hitting 20 of 46. The Roughriders went 25-of-67 (37 percent).
Red River won the board battle, outrebounding West Fargo 40-34. O'Halloran and freshman forward Ella Speidel led the Roughriders with nine boards each while the Packers' Pfau finished with 13.
Red River's O'Halloran finished with 12 points while junior forward Hannah Litzinger and junior guard Morgan Hartze both scored six points.
Senior guard Taylor Van Winkle and junior guard Brylie Peterson added four points each for the Packers.
Pfau added five assists for West Fargo while Schiller had four steals.
West Fargo hosts Devils Lake (2-8) on Thursday at 7:30 p.m. while Red River visits Fargo South on Friday (0-10) at 7:15.
"One of the things in our program is 'next play,' " Benson said. "We've got to come back, have a good practice and get ready for Devils Lake on Thursday. Two-point game there and another two-point game after that. So we've got a little bit of wiggle room to move up in the standings.
Halftime: Grand Forks Red River 31, West Fargo 31
RR: Schiller 29, O'Halloran 12, Litzinger 6, Hartze 6, McQuillan 5, Speidel 4, B. Bergeron 4.
WF: Simon 21, Pfau 20, Van Winkle 4, Peterson 4, Seymour 3, Jackson 3.