Fargo Davies escapes with 72-71 win over Grand Forks Red River in state Top 5 showdown
Davies sophomore Mason Klabo scored a game-high 33 points including the winning free throws with 17 seconds left.
We are part of The Trust Project.
GRAND FORKS — Grand Forks Red River and Fargo Davies entered a Thursday afternoon matchup tied for the No. 3 ranking in North Dakota Class A boys basketball, a lofty designation fueled by the high-scoring abilities of the Roughriders' Reis Rowekamp and the Eagles' Mason Klabo.
In the decisive moments, though, Rowekamp was forced to sit on the sidelines with an ice bag, while Klabo put the finishing touches on a comeback victory.
Klabo, a 6-foot-1 dynamic sophomore guard, finished with a game-high 33 points including the winning free throws with 17 seconds left to lift Davies to a 72-71 win in the Red River gym.
"We were dead in the water — let's be honest," said Davies coach Bart Manson, who was head coach at Red River from 1998 to 2007. "We were down 66-60 and there wasn't much time left, but we made plays. It came at the perfect time to get a couple of stops. It was a gritty win for us. We probably didn't deserve this win on the road, but we'll take it. Red River is a very good team."
Rowekamp, who averages more than 25 points per game, missed the final 17 minutes of the game. Despite his absence, Red River — behind the inside play of 6-7 senior center Carter Byron, the driving ability of Pearce Parks and the shooting of Zachary Kraft, led most of the second half and by as many as nine with just under 10 minutes to play.
The Riders led 70-64 with 1:45 remaining when Byron hit a basket in the lane over the Eagles' smaller frontcourt. The Davies defense, though, sparked a comeback.
Davies senior Raymond Brown hit two free throws to cut the lead to four with 1:32 left, Cole Callies had a steal and basket to trim the lead to two with 1:13 to play and Klabo connected on a drive to the rim with 48 seconds to go to tie the score at 70-70.
On Red River's next possession, Parks was fouled on a drive and hit 1-of-2 from the line for a 71-70 Red River lead with 34 seconds to go. With 17 seconds left, Klabo was fouled by Parks on the perimeter. Klabo hit both from the line, where he was 10-for-11 on the game.
On Red River's final possession, Kraft was pinned at the baseline and had the ball knocked out of his hands with 2.2 seconds to go. The ensuing inbounds pass resulted in a jump ball with the possession to Davies.
"With (Rowekamp) on the bench and Kraft in foul trouble in the second half, we played together as a team and had good looks," Red River coach Kirby Krefting said. "I thought we did an excellent job help-defending. We did an excellent job rebounding. It was just that Klabo made a couple of plays at the end."
Klabo, who missed the first three games of the season with an injury, was 10-for-20 from the field and 3-for-6 on 3-pointers. Callies (11) and Brown (10) were also in double figures.
Kraft led Red River with 25 points on 9-for-17 shooting and 4-for-10 shooting from the 3-point line. Parks added 17 points, while Byron had 15 points and 10 rebounds. Rowekamp had 12 points, all in the first half.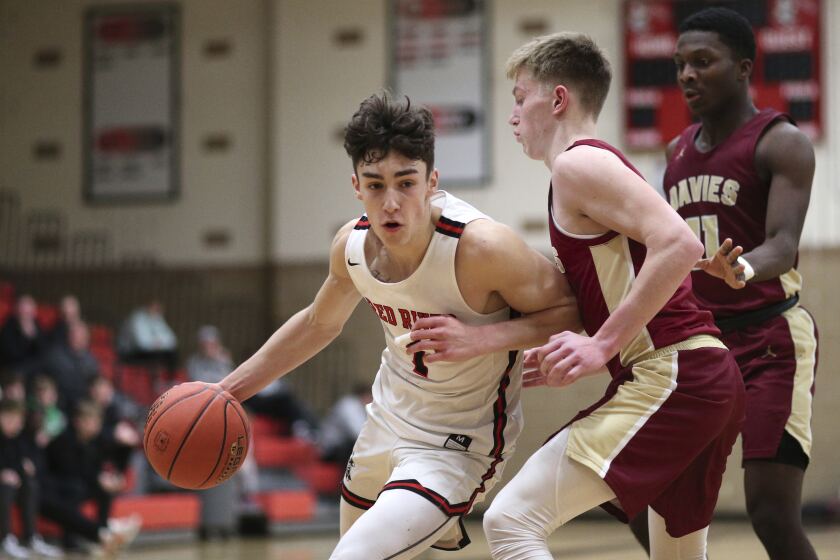 The Riders were 13-for-21 from the foul line, while the Eagles were 18-for-21.
It was Red River's first loss of the season (4-1) and Davies remains unbeaten in EDC play (5-0) with a non-conference loss to Moorhead.
Krefting said Rowekamp will have the injury evaluated further this weekend.
"He's a tough kid," Krefting said. "We'll have to look at it day-to-day."