East Grand Forks falls 7-6 to Dilworth-Glyndon-Felton as game comes down to final seconds
Check out the Herald's video to see the last-second two-point conversion play that everybody will be talking about.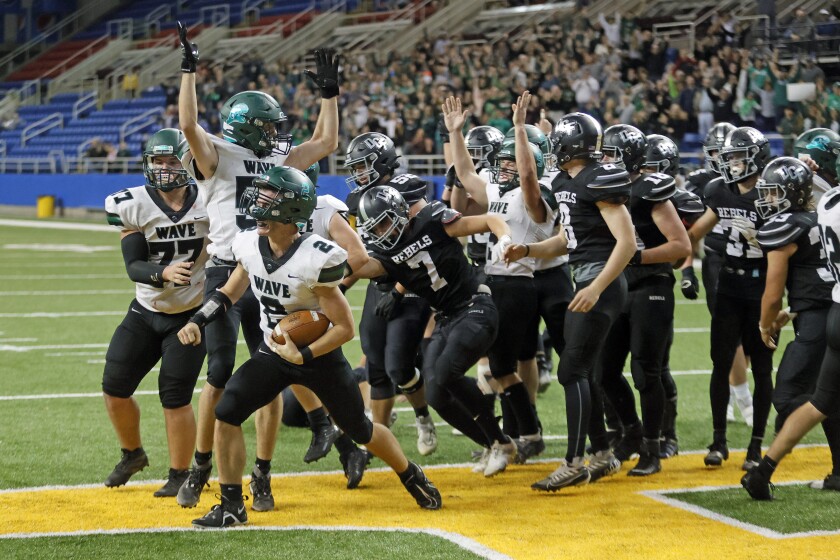 We are part of The Trust Project.
FARGO – East Grand Forks Senior High scored a touchdown with 8 seconds to play to cut Dilworth-Glyndon-Felton's lead to 7-6 in the Minnesota Section 8AAA title game here Thursday.
EGF coach Ryan Kasowski said he momentarily considered kicking a PAT to tie the game and send it to overtime.
Green Wave players, however, felt differently.
"When they called the timeout, I brought them over and I just said, 'what are we thinking here? Are we thinking (going for) one?' And it was a resounding 'nope.' It wasn't even a question or a thought," Kasowski said. "It was great. We had driven that ball down the field. ... We played to win — not to lose — and I like that."
But the Green Wave's pass attempt fell incomplete in the left corner of the end zone on a tough defensive play that several hundred EGF fans felt was pass interference. After securing the football on EGF's ensuing onside kick attempt, unbeaten DGF – ranked second in the state – escaped with yet another close playoff win and now advances to the Class AAA state tournament.
East Grand Forks ends its season 6-5 after opening with a 1-3 record.
"It was a very hard-fought game. My hat's off to East Grand Forks," said DGF coach Anthony Soderberg. "East Grand Forks stuck with who they are and they played their brand of football. It was a slugfest and, you know, in a championship game, what more could you ask for?"
Indeed.
Early on, it looked like DGF might have an easy time of it. The Rebels held the ball throughout the first quarter – East Grand Forks only ran three offensive plays in the opening 12 minutes – before scoring early in the second quarter on a 7-yard run by Jordan Summers. The ensuing PAT kick – seemingly inconsequential at the time – proved to be the difference.
East Grand Forks had its chances, though. Shortly before halftime, the Green Wave moved the ball to the DGF 7 before senior Owen Leach picked off an East Grand Forks pass at the goal line.
In the third quarter, East Grand Forks moved to the DGF 26 and, on a fourth-down play, threw into the end zone. The pass was broken up by defensive back Brody Friend.
Also in the third quarter, EGF again drove to the 26, but this time attempted a halfback pass that was again intercepted by Leach.
In the fourth, East Grand Forks forced a DGF punt with seven minutes to play, setting up the memorable finish. Runs by Clyde Anderson, Drew Carpenter and Caleb Schmiedeberg moved the ball to the DGF 11-yard line.
With 3:02 to play, Carpenter – the Green Wave quarterback – converted a fourth-and-1 with a short run. The Green Wave let the clock tick as they started a first-and-goal from the 9.
A Carpenter run was stopped for no gain, followed by a sweep play to John Anderson for a short gain. Carpenter then hit John Anderson for an 8-yard pass inside the 1-yard line.
With 12 seconds left and facing fourth-and-goal, Clyde Anderson pushed through the line to make it 7-6. That's when the Green Wave players and coaches decided to use that momentum to try to earn the upset win.
But Carpenter, rolling left, tossed a pass to Clyde Anderson that fell to the Fargodome turf. Some wanted a pass interference call, but it didn't come, ending East Grand Forks' impressive late-season run.
"At halftime, we were talking about how we have to come back in the second half and battle as hard as we can. We had to find a way to make plays and we came really close there at the end. It just didn't fall our way. I have no doubt that we played with our best effort the whole way this year," said East Grand Forks center Caleb Zejdlik, who anchored the front of the Green Wave line and also had a key second-half sack. "We worked so hard all season as a team – battling right to the end of the game. There was never a point where we gave up. I couldn't be more proud of our guys. We battled."
East Grand Forks had 174 yards of offense, with Carpenter gaining 38 yards rushing and 55 yards passing.
Dilworth-Glyndon-Felton had 171 yards, but fewer than 20 yards in the second half as EGF dominated time of possession with a slow, measured approach.
After the game, Kasowski was proud of the way the team played, but was hurting for his seniors.
"They're a very special group and have really worked their tails off," he said. "They came up just a little bit short. I'm really proud of that group – how they fought the entire game."