Despite missing two months battling COVID-19, Langdon-Edmore-Munich coach has team back in state tournament
The Cardinals have shifted offenses after a key player was hurt during the volleyball season, then dealt with their head coach missing two months battling COVID-19.
LANGDON, N.D. — First, Langdon-Edmore-Munich's Cora Badding, an athletic 6-foot post, was injured during the volleyball season so the Cardinals' girls basketball team quickly shifted gears to rework their offensive scheme.
Then, head coach Rob Scherr spent two months away from the sideline recovering from a scary battle of COVID-19.
So with the Cardinals back at the North Dakota state Class B girls basketball tournament this weekend in Grand Forks, this might be the most surprising of Langdon-E-M's five-straight trips to state.
At the very least, it hasn't been an easy path for a state tournament blue blood.
The Cardinals play Mohall-Lansford-Sherwood on Thursday in the state quarterfinals at approximately 2:45 p.m.
"I think it surprised a lot of people, but I don't think it surprised our girls," Scherr said. "I think people thought you can't lose a 6-foot center who can run and jump like that. She was a nightmare matchup offensively. She can shoot the three, shoot it mid-range and post up. People thought there was no way to cover those things we lost. But we had all year to do it. And not only did it come together and we made (state), but we did it as a (No. 3) seed and put together that good of a resum´e."
Right before the season was about to start, Scherr was hospitalized with COVID-19.
He was struggling to breathe and doctors told Scherr if he waited another day to go to the hospital, he might not have made it.
Scherr went to Cavalier Pembina County Hospital but was air-flighted to St. Alexis in Bismarck where he spent the next couple of weeks.
"There was a lot of unknowns when or if he'd be back," Langdon-E-M forward Morgan Freije said. "Us as players, and the two coaches still with us, were still figuring out what would work for us. There were definitely some ups and downs early but we learned from those (losses)."
Former UND and Montana State star Fallyn Freije was one of the two coaches (along with Morgan Titus) to keep the Cardinals on track in Scherr's absence.
The elder Freije, fresh off a professional basketball stint overseas, was a key pickup during the offseason, Scherr said.
"Even as a veteran coach, you have to keep an open mind and Fallyn has a different way of doing things," Scherr said. "She brings new ideas and new drills."
In order to navigate the obstacles, it helps that the Cardinals have some of the most battle-tested athletes in the state. Langdon-E-M is 114-15 in the last five years.
Morgan Freije, for example, is not only playing in her fifth state basketball tournament, but she's playing in her 11th state tournament if you include the volleyball season.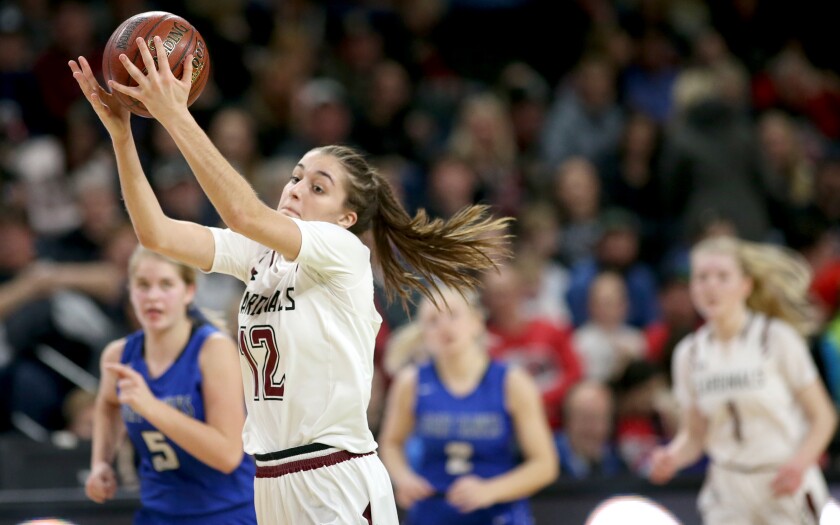 "That's huge," Scherr said of his experienced roster. "You can't teach what they've learned from what they've went through."
With Badding out of the lineup, the Cardinals transitioned from a two-post offense to a four-guard offense — utilizing the mix of driving skills and 3-point shooting, which is balanced by Freije in the middle.
The offense is run by Jaya Henderson, a sophomore, who's playing in her fourth state tournament. Henderson was the Cardinals' sixth player as a seventh-grader and eighth-grader.
The new-look offense has predictably had its ups and downs.
"When we get movement and spread the floor and give Morgan space inside, she can hit the open shooter," Scherr said. "Some games it works well and other games we stand around too much."
That puts the onus on Langdon-Edmore-Munich's defense, which was the key to a run at the Region 4 championship, which culminated in a victory over a strong Four Winds-Minnewaukan program.
"Our defense is going to be our main thing we need to do this weekend," Henderson said. "Our offense will come but we need really good defense."
Langdon-Edmore-Munich at a glance
Coach: Rob Scherr.
Record: 19-3, No. 3 seed.
Quarterfinal opponent: Mohall-Lansford-Sherwood, 21-3. Game is set for approximately 2:45 p.m. Thursday at the Betty Engelstad Sioux Center in Grand Forks.
Regular rotation: Soph. Jalynn Swanson 6.6 points, 3.3 rebounds, 2.2 assists, 2.2 steals; sr. Marlee Hetlevedt 3.5 ppg, 2.7 rpg, 2.1 apg, 1.6 spg; sr. Whitney Pankratz 7.5 ppg, 2.6 rpg, 1.3 apg, 1.3 spg; sr. Morgan Freije 13.0 ppg, 8.9 rpg, 2.3 apg, 2.3 spg; soph. Jaya Henderson 12.6 ppg, 5.8 rpg, 3.0 apg, 1.6 spg; jr. Halle Jabs 5.5 ppg, 2.1 rpg, 2.1 apg, 1.4 spg; fr. Meredith Romfo 5.6 ppg, 3.9 rpg, 0.6 apg, 1.3 spg
State tournament history: Langdon-Edmore-Munich is making a fifth-consecutive appearance at the state tournament, winning a title in 2020 and finishing fifth in 2018, 2019 and 2021. Langdon won a state championship in 2005, as well.
Coach Scherr says: "We have to really defend. We have offensive lapses at times, and we have to defend to cover those lapses. We have to get turnovers down to like 13 a game. We have to make free throws, too. We need good movement on offense but the defense has to be there every game."