Champs again: Davies girls earn EDC 3-peat with win over Red River
Eagles clinch East No. 1 seed at Class A state tournament behind 22-point nights from Ashton Safranski and Ava Wild
We are part of The Trust Project.
FARGO — The Fargo Davies girls basketball team is on top of the Eastern Dakota Conference for a third straight year.
Holding third-seeded Grand Forks Red River to 12 points in the first half, the top-seeded Eagles defeated the Roughriders 78-34 at Scheels Center at Sanford Health Athletic Complex on Saturday night to clinch the EDC tournament crown for the third time in as many seasons.
The Eagles (21-2) will now head to Bismarck as the East's No. 1 seed in the North Dakota Class A state basketball tournament, set to begin Thursday and conclude Saturday at the Bismarck Event Center. The Roughriders (18-5) will represent the East as the No. 2 seed.
Sophomore guard Ashton Safranski and senior forward Ava Wild scored 22 points apiece to put the Eagles in cruise control for the entire night.
"It feels very good," Wild said of the three-peat. "Obviously it's a bit more special being a senior this year, so the three-peat feels really good."
Wild said her high-scoring performance is a credit to the team as a whole.
"It's rewarding of course, but it's a team effort," she said. "The whole thing is."
Davies head coach Tonah Safranski said her team accomplished what they set out to do from the beginning of the season.
"I feel like we did what we wanted to come and do in this tournament," she said. "And that's attributed to our kids. They went to work and they were focused and they did what we asked them to do and I think they had some fun doing it."
Davies led 35-12 at halftime, with 14 points coming from Safranski and 13 from Wild. The Roughriders hit just four field goals on 26 attempts through the first 18 minutes.
"That's been our thing all year," Tonah Safranski said. "We want to set the tone defensively and come out and take teams' strengths away and what they do well, and I thought we did that."
Davies finished the game 32-of-53 shooting for 60%. Red River finished 11 of 53 for 20%.
The Eagles were 9 of 12 on free throws, while the Roughriders went 9 of 13 at the stripe.
Davies picked up 41 rebounds to Red River's 19. Safranski collected 12 boards for the Eagles, while junior guard Cassidy O'Halloran picked up seven for the Roughriders.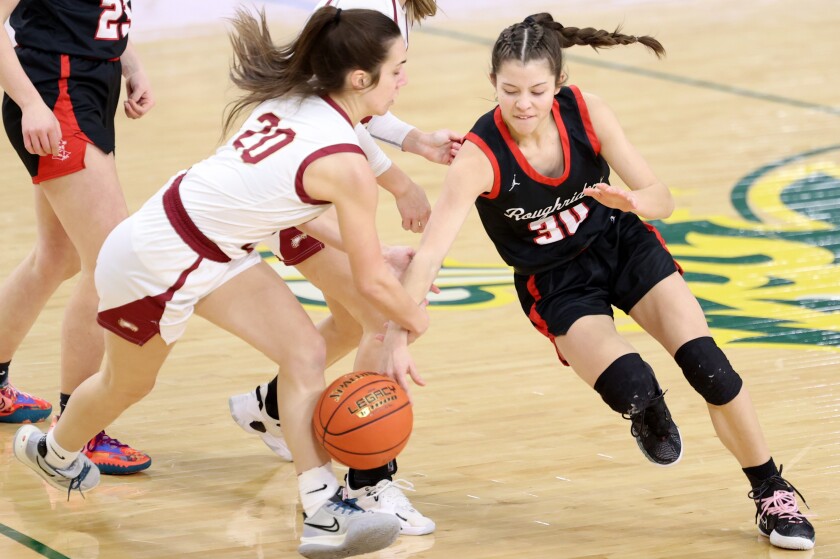 Trailing Safranski and Wild in scoring was senior guard Marissa Burian with six points. Red River was led by sophomore guard Jocelyn Schiller with 12 points, while sophomore forward Hannah Litzinger added eight.
Safranski also spread the ball around, adding five assists on the night.
At the conclusion of the EDC girls tournament, All-Conference awards were presented, with Safranski, Wild and sophomore guard Karley Franks all named to the EDC All-Conference team for the Eagles. Schiller and sophomore guard Rylie McQuillan earned All-Conference honors for the Roughriders.
Red River head coach Kent Ripplinger also received EDC Coach of the Year honors.
Davies will face West No. 4 seed Bismarck Legacy (12-10) to open state tournament play at 5 p.m. Thursday at the Bismarck Event Center. Red River will take on West No. 3 seed Bismarck (18-4) at 3 p.m. Thursday.
The Eagles are seeking their first state championship in program history. The Roughriders last won the Class A crown in 1988.
"We'll celebrate this and then when we come back to practice on Monday, we'll get focused on what we've got next week," Tonah Safranski said.
"Tonight we celebrate, tomorrow we feel good, and then on Monday we're back at it," Wild added.
To view the full bracket for the ND Class A girls state basketball tournament, click here .
Halftime: Fargo Davies 35, Grand Forks Red River 12
RR: Schiller 12, Litzinger 8, McQuillan 7, O'Halloran 3, Speidel 2, Nowatzki 1, Hendrickson 1.
FD: A. Safranski 22, Wild 22, Marissa Burian 12, Franks 6, Wacha 5, Wheeldon 4, Passanante 3, Vettel 2, Thull 2.