Carson Pilgrim's big season fueling Warroad's undefeated run
The Warriors junior has 45 goals and 84 points headed into the Minnesota boys hockey state tournament.
WARROAD, Minn. — Prior to this season, Warroad boys hockey coach Jay Hardwick sat down with Carson Pilgrim, Jayson Shaugabay and Murray Marvin-Cordes.
Hardwick explained he planned to reunite the trio — who played together in Pee Wees five years ago — on a line for this varsity season.
"When I found out, I was really excited," Pilgrim said. "I knew we had potential to be one of the top lines in the state and put on a show for people."
They've done just that.
Warroad's top line has combined for 219 points in 28 games this season.
They've led the Warriors to a 27-0-1 record and a Minnesota Section 8A boys hockey title. Warroad will open the state tournament against St. Cloud Cathedral at 6 p.m. Wednesday in St. Paul's Xcel Energy Center.
Shaugabay, a senior finalist for Mr. Hockey, has been an offense driver for Warroad since his freshman year, but the emergence of Pilgrim this season has been key for the Warriors.
In the past, Shaugabay has often had a high-end linemate.
As a freshman, Shaugabay played with Northern Michigan-bound forward Grant Slukynsky. Last season, he played with Clarkson-bound forward Daimon Gardner. But Gardner graduated, leaving a void on Shaugabay's line.
Pilgrim, who had 31 points in 31 games last season as a sophomore, ended up being a perfectly complement.
While Shaugabay is the primary setup man and state's leader in assists, Pilgrim has become the finisher.
Pilgrim's production has jumped to 45 goals and 84 points this season.
"I knew it was always there," Hardwick said. "Last year, he had a good year, but it wasn't anything close to what he's doing this year. He had a really good spring and summer. He got to play in some very high-level hockey. That really helped him open his eyes to see players out there that he can be a part of if he wants to. That really helped raise the level of his game."
Pilgrim currently is tied for third in the state in goals. No player at the state tournament has scored more.
"His release is very good," Hardwick said. "He's always had that knack for scoring goals. He continues to do it this year. The biggest change I see this year is his speed. Last year, it wasn't bad. But it's noticeable this year that he's playing the game at a whole different speed."
Division-I programs have started recruiting Pilgrim this season.
"It's definitely been a cool experience talking with all these people who are interested," he said. "Hopefully, I'm going to go on some visits this summer."
The third member of the big line, Marvin-Cordes, has 23 goals and 47 points.
"The biggest thing with Murray is his motor and how he plays the game," Hardwick said. "He's going 100 mph all the time. He's relentless all the time. Jayson and Carson might slow it down and take ice and think around people. Murray is going to blow right by them. You can't fault the kid's effort any shift. He's going to give you everything he's got."
Warroad will carry the No. 1 seed into the tournament, which notably features No. 2 seed Hermantown and No. 3 seed Mahtomedi — the two teams who knocked Warroad out of its last two state tournaments.
In 2020, Warroad lost to Mahtomedi in the semifinals; last season the Warriors lost to Hermantown in the final.
"We're definitely excited," Pilgrim said. "We're definitely looking to get a little bit of revenge from last year. I know everyone is excited to go down there and play in front of everyone."
Coach: Jay Hardwick.
Record: 27-0-1.
Road to state: Beat Park Rapids 8-0 in Section 8A quarterfinal, topped Thief River Falls 6-1 in the semifinal and beat East Grand Forks Senior High 5-1 in the section final.
State history: Warroad has won four Class A state titles — 1994, 1996, 2003 and 2005. The Warriors have finished runner-up at state twice since winning the 2005 title, including last year, when they lost to Hermantown 3-2 in the state championship game.
Top players: Sr. F Jayson Shaugabay 31 goals, 57 assists, 88 points, jr. F Carson Pilgrim 45-39—84, jr. F Murray Marvin-Cordes 23-24—47, jr. D Ryan Lund 18-25—43, sr. D Erick Comstock 7-26—33, soph. F Taven James 7-16—23, sr. F Garrett Hennum 6-5—11, jr. D Will Hardwick 1-9—10, sr. G Hampton Slukynsky 26-0-1, .947 save percentage, 1.28 goals-against average, nine shutouts.
Quarterfinal game: vs. St. Cloud Cathedral, 6 p.m. Wednesday, Xcel Energy Center.
Coach Hardwick says: "I told the team, 'When we play hard, when we do things the right way, we're a very good team.' I think we've shown we can beat anybody. I think I said, 'If we don't play that way, we can be a real average team.' I know which way I want to play. I hope the boys feel the same way. If we play the way we can play, we can hopefully keep winning hockey games."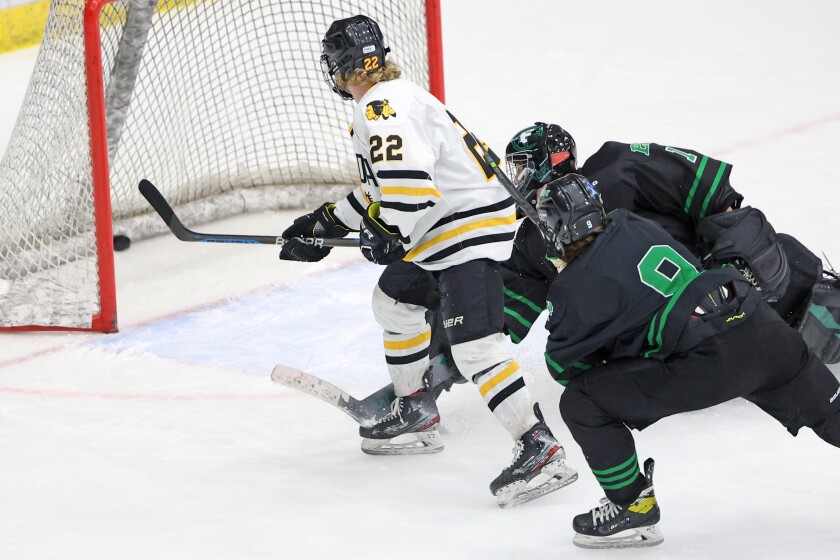 Minn. Class A boys state tournament
In Xcel Energy Center
Wednesday's quarterfinals
11 a.m. — No. 2 seed Hermantown vs. Luverne
1 p.m. — No. 3 seed Mahtomedi vs. Alexandria
6 p.m. — No. 1 seed Warroad vs. St. Cloud Cathedral
8 p.m. — No. 4 seed Orono vs. No. 5 seed Northfield