Owners of Ballard's Black Island fishing camp on Lake of the Woods make the best of a challenging summer
Fishing might have been tough in the preceding days, but apparently these walleyes hadn't gotten the memo. We enjoyed walleye action that was nearly nonstop on this balmy Thursday in August.
We are part of The Trust Project.
MORSON, Ontario – August walleye fishing had been tough, Gary Moeller said, an unfortunate turn of events after the fast start anglers on this part of Lake of the Woods had enjoyed most of the summer.
"It's been a struggle for the last two weeks," Moeller said in an Aug. 8 email, doing his best to lower expectations. "High water, (cruddy) weather patterns. … It can only get better."
Boy, did he get that one right.
A partner in Ballard's Black Island, a fishing camp a short boat ride from the small Lake of the Woods community of Morson, Moeller has been on the water most days this summer, guiding resort guests in pursuit of the big lake's walleyes, muskies, smallmouth bass and pike.
He'd done his penance, and now it was time to reap the rewards.
I made the switch from a gas to lithium battery ice auger way back in 2016, and I haven't looked back.
So it went last week, when Ron Nies of Minneapolis and Scott Jensen of St. Anthony, Minnesota, joined me for two days with Moeller on a Canadian fishing trip we'd set up back in April.
Fishing might have been tough in the preceding days, but apparently these walleyes hadn't gotten the memo. Pulling spinners tipped with frozen shiners or paddle tails dipped in garlic juice – "they love-a the juice," became a mantra – along a shoreline in 15 feet of water, we enjoyed walleye action that was nearly nonstop on this balmy Thursday in August.
So fast was the action that we soon lost count of how many walleyes we'd caught, all of which were released. We'd kept a half-dozen fish that morning for a scrumptious noontime shore lunch on a nearby island, but this afternoon was about the pure joy of catching one walleye after another after another after another.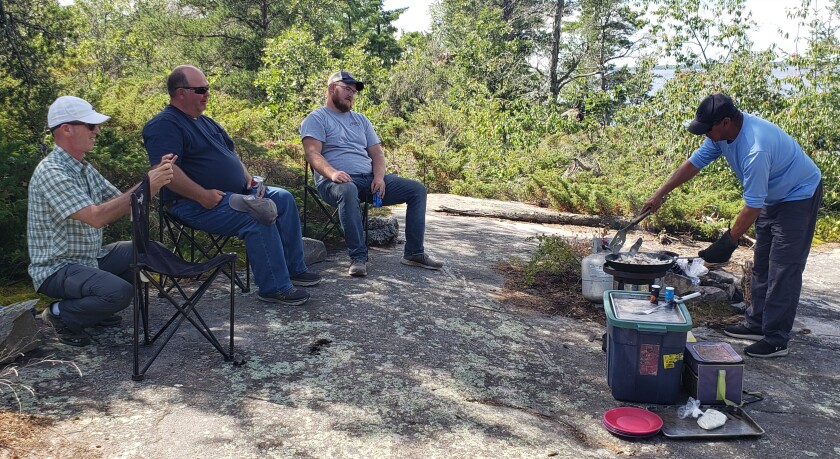 There wasn't another boat in sight, and we seemed to have the big lake to ourselves.
It's been that way a lot this summer, Moeller says, although business at Ballard's Black Island is back to about 70% of its peak in 2019. That's not bad after a two-year shutdown and Canada's continued requirement that visitors be fully vaccinated against COVID-19 before entering the country.
It's been a challenging summer for Ballard's Black Island and other resorts on the Ontario side of Lake of the Woods. COVID and border issues aside – Moeller spent much of October 2021 getting the camp back in shape – resorts in the border country this year are coping with near-record water levels, severe weather and prolonged flooding.
Moeller and his partners in Ballard's Resort on the Minnesota side of the lake purchased the Black Island camp in 2011.
Under normal conditions, Ballard's Black Island has a spacious sand beach with ample room for volleyball and a fire pit surrounded by wooden chairs for evening bonfire gatherings.
This year, the sand beach is just beginning to reappear, and water surrounds the fire pit.
Lake levels are slowly dropping from near-record highs, but most of the resort's crib docks remain submerged. It's a familiar dilemma this year for both resorts and private cabin owners. Temporary walkways placed on top of the docks and weighted down with barrels of water, along with a floating dock hauled in from a cabin on the other side of the island, provide access without getting wet feet.
The lake has been high since the ice went out in early May, Moeller says.
"Right from the get-go when we got here, the water was already level with the crib docks, and there was barely any beach showing," he said. "It was literally high the day we got here. I have some pictures of when we started putting those temporary walkways on tops of the cribs. We started that immediately when we got here, because the water was already at the top of the docks.
"There was no time to spare."
The flooding lake forced the camp to close for 12 days in early June. Two severe storms that hit Black Island in the wee hours of Sunday, July 17, and the afternoon of Tuesday, July 19, added to the challenge.
The first storm hit from the northwest, Moeller says, taking down a tree that landed on the roof of the already-flooded boathouse. An insurance claim will offset the costs of putting up a new metal building on the site, but the storm was scary, Moeller says, and left a path of snapped-over trees in its wake.
"It hit the island perfectly and just mowed right through the middle of it – almost like a tornado," Moeller said. "I've never seen such a display of lightning in my life. It was like daytime outside with green and purple (flashes).
"I literally was laying in my bunkhouse listening to those trees snap off and thinking, 'This is it – we're done.' I thought it was a twister."
Less than 48 hours later, another storm pummeled the camp, Moeller says, this time from the southeast. The hurricane-like wind toppled trees in front of the lodge, and the roots from one of those trees ruptured an underground propane line.
Miraculously, no one in camp was hurt or on the water when the afternoon storm hit.
"It pretty much just came out of nowhere – not expected at all," Moeller said. "It had been thundering and lightning in the area for a while and raining a little bit, but when it hit, I'm going to say it lasted maybe 2 minutes. It was just one isolated cell; it just dialed right in on us.
"That was the one when I thought, 'I'm done – I can't do this anymore,'" he added. "It's been one catastrophe after another."
August brought a much-needed improvement in the weather, and conditions were near-perfect during our recent visit. That likely played a role in the improved walleye action we enjoyed, which was as good as it had been in a few weeks, Moeller says.
Fishing was more of a grind on day two, and while a stiff southeast wind put the kibosh on the previous day's hotspot, pulling spinners along weed lines that were out of the wind still produced plenty of action.
"This time of year, it seems like (the walleyes) move around a little bit more," Moeller said. "I don't know – it's all based on the weather. I've never been a fan of southeast wind.
"The biggest thing is the (bad) weather days, those are the days that make you get into these little nooks and crannies and fish different areas," he added. "Then you're like, 'Oh, there's fish that live in here. We don't have to fish the same stuff that we always do.' Get off the beaten path and find some fish."
For newbies, getting off the beaten path to find some fish could easily mean getting lost among the myriad islands on the Ontario side of the lake. There's no substitute for experience and time on the water when it comes to learning Lake of the Woods, Moeller says.
"I fished a lot of this stuff years ago, before we had Black Island," he said. "It's like anything – the more you run around, the more you figure it out."
The main ingredients for day two shore lunch secured, Moeller decides to close out the morning by shifting from spinners to jigging the edge of a deep reef. The pattern is successful, and Nies finishes the morning with a 24-inch walleye, his biggest of the trip.
There would be more of the same after lunch, when Moeller lands a 27-inch walleye that absolutely clobbered a crayfish-looking soft plastic bait he threaded on to a jig.
It just goes to show: You never know.
The best fish story of the day, though, came from Dewey Kuehl of Atlanta, who was making his first trip to Black Island in three years with his son, Erick. The elder Kuehl topped off their weeklong stay by landing a 46-inch muskie while trolling crankbaits for walleyes with Black Island fishing guide Reuben Gibbins.
"I thought we were snagged," Kuehl said, recalling his battle with the big muskie. "Next thing you know, the line is just zinging off my reel."
It took about 6 minutes to land the muskie, Kuehl said.
"I was thinking back on the experience and was impressed by what a team event landing a fish of that size is," he would say later. "My son put all the seats down and got other items out of the way, and Reuben our guide was instrumental in giving pointers about letting the fish run and netting the fish.
"Crazy times!"
A better ending to the fishing trip would have been difficult to script.
"We've had a great time," Kuehl said. "How can you complain about going up north with your son to Canada fishing? It's been good."
Indeed it was.
Ballard's Black Island is about a 15-minute boat ride from Morson, Ontario, a small Lake of the Woods community located about 40 minutes northeast of Baudette, Minnesota, and about 4 hours northeast of Grand Forks. Guests park at Gill's Morson Marina, where they're met by Black Island staff for the boat ride to camp.


Ballard's Black Island on Lake of the Woods near Morson, Ontario, is seen Thursday, Aug. 11, 2022.

Brad Dokken/Grand Forks Herald

The camp is a full American Plan establishment, meaning all meals are included. Beverages, including coffee, bottled water, soft drinks, lemonade and ice tea are included with each meal. Guests are responsible for bringing their own alcoholic beverages.
The camp has five cabins and can accommodate up to 24 guests at full capacity.
Visitors can either fish on their own in 18-foot boats with 50-horse tiller outboards or hire guides for an additional $250 per day to reach prime fishing spots. Resort boats are equipped with electronics, including depth finders, GPS with a Lake of the Woods map chip and electric bow-mount trolling motors. Docking is available for visitors who prefer to bring their own boats.
All fishing gear and tackle is provided, although visitors can bring their own if they would prefer.
Info: blackisland.com.
– Brad Dokken