Northern Minnesota experiment attracted some fishers — and other critters, too
Female fishers didn't nest in them, but they used the boxes that seemed to be a curiosity to some wildlife.
DULUTH — For the past three years scientists at University of Minnesota Duluth's Natural Resources Research Institute have been building houses for Minnesota's largest member of the weasel family, then attaching them to trees across Northland forests.
NRRI researchers and their partners erected more than 100 den boxes for fishers in an experiment to see if they would be used by the critters, especially to raise their kits.
The answer is an unequivocal yes. And no.
"Fishers used 41% of the boxes we put up," said Michael Joyce, the NRRI wildlife ecologist who heads the project. "But not for raising their kits."
The fisher den box project was intended to help find out why Minnesota's fisher population crashed in recent decades, from an estimated 17,000 to just 7,000. Wildlife managers believe a lack of big, old trees with nesting-size cavities may be a factor. The human-made boxes, some speculated, might help make up for the lack of old trees.
The average age of trees used by fishers to build their nests here is over 100 years and they are bigger than 20 inches in diameter, with aspen their favorite old, rotting tree to nest in. But there are simply very few trees left in the woods that are old and big, fewer than 2%, according to forest surveys.
A shortage of big trees to nest in may be one factor in the big decline in Minnesota's fisher population over the last decade.
But if female fishers were desperate for nesting places then they should have used some of the boxes.
"It would seem that if the lack of natural nesting cavities was a major limiting factor for the fisher population, then the boxes probably would have been used more for that," Joyce said.
"We had fishers in about the same percentage of boxes as an earlier study in British Columbia. But they had 15% of their boxes used for raising kits. And we really didn't have any," Joyce added. "Females used the boxes to cache their food … and as a place to hide from males during the mating season. They used them to hold out and choose what males they wanted to mate with. Some of them brought kits into the boxes, but not until summer, and then just to rest for a while."
John Erb, wildlife research biologist for the Minnesota Department of Natural Resources who specializes in fur bearing species like fishers and martens, said it's too soon to say that nesting sites aren't an issue limiting the fisher population.
"All we really know is that they didn't use the boxes" to nest in, Erb said. "Maybe they just didn't like the boxes? Maybe they were in the wrong places?"
Another explanation for the lack of nesting could be that there were simply few if any fishers near many of the boxes that had been placed at sites based on fairly old data of where fishers might be living in northern Minnesota. After all, 59% of the boxes never saw a fisher at all.
The NRRI fisher den project used high-tech thermometers in the dens, sticky strips to grab hair for DNA and more than 100 motion-activated trail cameras to see what was visiting the boxes and when.
The project discovered that fishers provide a unique temperature fingerprint whenever they entered the boxes, meaning that there's now an easier way to determine if fishers have been around other than setting up cameras at each site and constantly returning to check their memory cards and change batteries.
"We have to go back three or four times a year to replace batteries and cards in the cameras. But we could go in once a year for the (thermometers) and get really good data to know if fishers had been in that box," Joyce noted.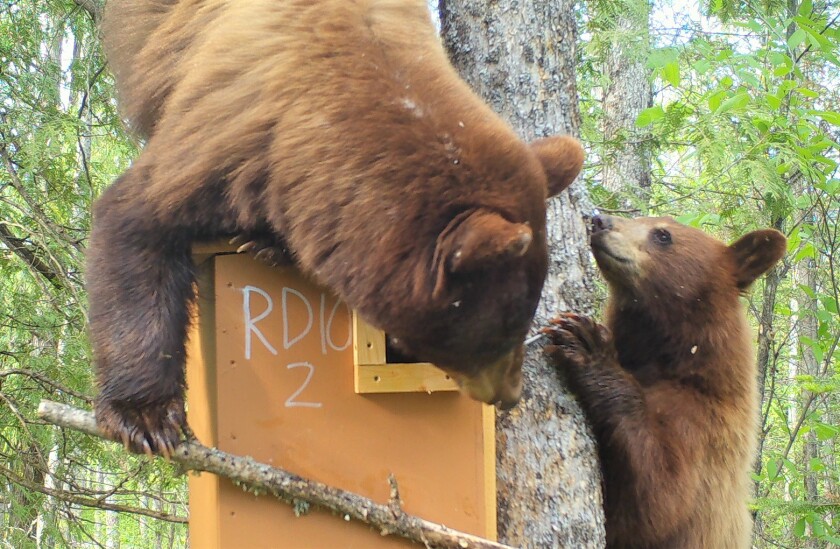 But all those cameras did take some really interesting photos, more than 3.3 million images in all, of which project organizers have viewed nearly 30%.
So what was on all those images, other than a few fishers? Many tree branches waving in the wind, but also an amazing potpourri of forest critters — including martens (fishers' smaller cousin) red squirrels (the primary food for fishers) flying squirrels (both northern and southern varieties) gray squirrels, short-tailed weasels, white-footed mice, eastern chipmunks and bats.
Other critters that came up to the boxes to inspect them include porcupines, black bears, raccoons, moose and bobcats. The cameras also captured wolves, deer, badgers, gray foxes and snowshoe hares in the vicinity of den boxes and 36 species of birds on or near the boxes.
Few of the birds went inside, however, except owls and hawks.
"We saw a lot of saw-whet owls keying in on the rodents at the boxes," Joyce noted.
Fishers, bobcats get GPS collars
Predators are playing a role in the fisher decline, researchers say, and bobcats are the largest predator of fishers. Because bobcats tend to like young aspen forests for their hunting, the more aspen that's cut, the more bobcats prevail. Bobcat numbers exploded from about 2,000 in the 1980s and '90s to more than 7,500 by 2010. There was a short dip in the bobcat population a decade ago, but their numbers are back up to about 7,000 now, Erb said.
Erb said forest management and the increase in younger forests has likely played a direct role in bobcat increase, which then had additive impact on fishers and martens. He said that fishers and martens appear to have bottomed out a few years ago and that their numbers have stabilized in recent years, "but we're still way down near the bottom of the modern curve for fishers."
Erb's previous research found that so many bobcats are killing so many female fishers that the population of fishers may not be able to sustain itself in northern Minnesota.
Joyce's crew is capturing both species and fitting bobcats and fishers with GPS collars to track their overlap "to look at how both species are using the shared landscape."
Female fishers are by far the most vulnerable to bobcats, Erb noted, and Joyce notes the female fishers are most susceptible to predation by bobcats from late winter through early spring, when they are giving birth and caring for young.
Fishers might be picking nest sites too close to where bobcats are common, Erb speculated, meaning where old trees are left standing near logging sites, not just how many, may be a key factor.
"We hope we can get data that shows us where these adult female fishers are, what kind of habitat they are using, when they are so vulnerable to bobcat predation," Erb said.
Partners in the NRRI den box project include the Leech Lake Band of Minnesota Chippewa, the 1854 Treaty Authority, Vermilion Community College and UPM-Blandin Paper Co. The project was funded through a $190,000 grant from the Minnesota Environment and Natural Resources Trust Fund, the state's profits from lottery sales.
The fisher-bobcat GPS collar project also is on target to be funded from the trust fund through a $400,000 grant with the project continuing through 2024.
Fishers are the largest member of the weasel family in Minnesota, resembling a very large mink. They weigh as much as a red fox but have much shorter legs. Fishers are extremely agile and active predators. Excellent tree climbers, they can out-climb martens and red squirrels.
Fishers prey upon red squirrels, snowshoe hares, mice and voles and are the only natural predator of porcupines. Fishers will also eat insects and berries. Despite its name, the fisher does not catch or eat fish.
The fisher is a medium-sized, long-shaped predator that belongs to the weasel family. Adult fishers are 24-30 inches long, including their long, bushy tail. Female adults weigh 6-8 pounds; males weigh up to 18 pounds. Their fur is a grizzled dark brown, blackish on the rump and tail, with a white or cream-colored bib on their chest.
Roller-coaster population
Fishers have had an up-and-down century or so in Minnesota. They were trapped and logged nearly out of existence by the early 1900s, considered extirpated from Minnesota forests. But by the late 1950s, as forests grew back and aged, fishers started to show up again. By the 1970s, Minnesota was allowing trappers to kill a limited number of fishers each year. Then that harvest got too high, topping 3,000 in 1979, leading the DNR to close the season entirely by 1980.
Fisher numbers built again, peaking in the early 2000s at more than 16,000.
Again, trapping increased, to a high of 3,251 killed in 2006 during a 16-day season with a five-fisher limit. The population dipped again to just 6,000 and by 2018 the DNR had cut the fisher trapping season to just six days, with a two-fisher limit, and only 510 were killed.
Erb said the northern Minnesota population appears to have stabilized at the lower level now, much like Minnesota moose, with an estimated 7,000 fishers across the landscape.
A U of M study is looking for collision hotspots and how deer accidents can be reduced.
Fishers expanding south and west
While their numbers are flat now after a steep decline in the north, Erb notes fishers continue to push south and west in Minnesota, and have sustained populations in agricultural areas, especially in hardwood forests of southeastern Minnesota. Fishers also are re-colonizing the Red River Valley area of northwestern Minnesota, Erb said.
The Minnesota Department of Natural Resources allows a short trapping season on fishers and their smaller cousins, pine marten, this year set for Dec. 17-25. The season limit is two of either combined.
Like most members of the weasel family, female fishers have what is called "delayed implantation." Females get pregnant in spring, just 10 days after they have given birth. For the next several months, the young exist as tiny embryos. Then, two months before being born, the embryos develop into fetuses.
One to five young fishers are born in a hollow tree, log or rock cavity. Within days after giving birth, the female will seek out a new mate. Young fishers stay with their mothers for just a few months. The young leave the female in early fall to find their own home territory.
Fishers prefer large areas of continuous forest, particularly older timber stands. They are adaptable, but avoid open areas. They prefer the edges of conifer stands when these are adjacent to stands of deciduous trees. Hollow trees are their primary denning sites, but they occasionally den in rock crevices, abandoned beaver lodges in dry ponds and old porcupine dens.
Lawmakers must act to put a constitutional question on the 2024 election ballot or the trust fund expires.