Fishing tournaments, shooting sports events coming up on Outdoors Calendar
To get an event in the Outdoors Calendar, contact Brad Dokken at (701) 780-1148, (800) 477-6572 ext. 1148 or by email at bdokken@gfherald.com. Deadline is 5 p.m. Wednesdays.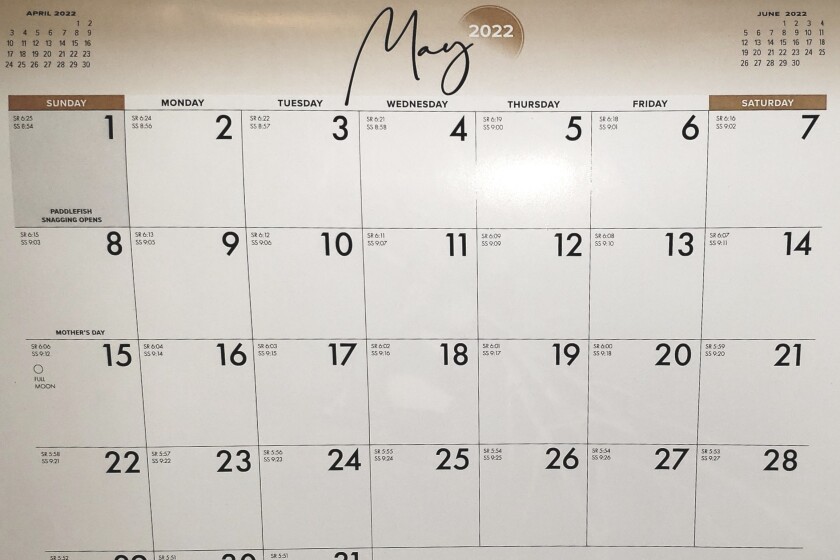 We are part of The Trust Project.
To get an event in the Outdoors calendar, contact Brad Dokken at (701) 780-1148, (800) 477-6572 ext. 1148 or by email at bdokken@gfherald.com . Deadline is 5 p.m. Wednesdays.

June 3-5: Agassiz Environmental Learning Center 30th anniversary celebration, Agassiz Environmental Learning Center, 400 Summit Ave. S.W., Fertile, Minnesota. Info: aelcfertile.org/calendar .
June 25-26: Scheels Boundary Battle Catfish Tournament, Red River in Grand Forks and East Grand Forks. Limited to 50 two-person teams, the tournament currently is sold out. Teams wishing to get on a waiting list can contact tournament director Brad Durick at (701) 739-5808.
July 9: Scheels Catfish Classic, 7 a.m. to 3 p.m., Red River in Moorhead. Entry fee $120, limited to 50 two-person teams. Info: i29classic.com or tournament director Brad Durick, (701) 739-5808.
July 16: Pembina Catfish Tournament, Red River near Pembina, North Dakota. Entry fee $100 per boat before June 16 and $125 per boat after that. Minimum of 2 anglers per boat, and shore fishing is allowed. More than $5,000 in prizes. Boat launch and registration from 8 to 9:30 a.m., and fishing will continue until 5 p.m.; teams must be back at the staging area or boat ramp by 5:30 p.m. Info: pembina.catfishing@gmail.com or the Pembina Catfish Tournament Facebook page .
July 29-30: REEL'M IN high school fishing tournament, Devils Lake. Each two-person student team fishes with a boat captain. To qualify, students must be involved with a fishing club, organization or their school's fishing team, have fished in a tournament such as the Angler Young Angler series, the Minnesota Fishing Challenge or other charity fund-raising tournaments. Points will be awarded for longest walleyes, white bass, northern pike and perch/crappies. Students on the first-place team each will win $500 scholarships to Lake Region State College in Devils Lake. Second- and third-place teams will be awarded $300 and $200 scholarships, respectively. Rules meeting is July 29, and tournament is July 30; walleye pro, fishing guide and outdoor communicator Johnnie Candle is running the tournament; entry fee $40. More info: https://bit.ly/royalreelmin ; or contact Candle at (701) 371-9431 or by email at johnnie@gondtc.com .
July 29-31: Cats Incredible Catfish Tournament and Dock Dogs competition, LaFave Park on the Red River in East Grand Forks. Tournament rules meeting at 7 p.m. July 29, with fishing hours from 7 a.m. to 4 p.m. July 30 and July 31. Info: catsincredibletournament.com , facebook.com/catsincredible , iafflocal3423@yahoo.com or by phone at (218) 399-3474.
Aug. 12-13: Catfish Capital Challenge, Red River in Drayton, North Dakota. Fishing hours 7 a.m. to 3 p.m. both days, with a rules meeting at 7 p.m. Aug. 11 at Johnny Bravos in downtown Drayton. Entry fee $300 per two-person team. Info: catfishdrayton.com .
June 10-12: Bemidji Hangfires' 46th annual rendezvous, 9179 Beltrami Road, Bemidji. Info: Keith Johnson, (218) 751-9433, (218) 368-7482 or keith@greatriverforge.com.
June 16-17: Bearclaw Muzzleloaders of Northern Minnesota annual rendezvous, Height O'Land Sportsman Club, 15 miles east of Detroit Lakes, Minnesota, off state Highway 34. Info: Allan Witthoeft, (218) 841-7096; or Dale Bellefy, (218) 694-2994.
June 19-25: 2022 High Plains Regional Rendezvous, 9179 Beltrami Line Road SW, Bemidji. Info: hprr.org .
Aug. 6-7: Coon 'N Crockett Muzzleloaders black powder match, East Grand Forks Rod and Gun Club, 12923 480th Ave. NW, East Grand Forks. Info: (701) 922-1813; or coonncrockett@gmail.com; or egfgunclub.org .
Aug. 19-21: Lake Country Mountaineers Black Powder Club 42nd annual rendezvous, Pioneer Grounds near Perham, Minnesota. Info: lakecountrymountaineersbpc@yahoo.com.
Sept. 23-25: 49th annual Plainsmen Black Powder club shoot and rendezvous, original Hudson Bay Trading Post site near Georgetown, Minnesota. Directions/info: Mark Roster, president, (701) 799-0980; Dave Zaeski, vice president, (701) 367-6811; or plainsmenblackpowderclub@gmail.com.
The Minnesota Department of Natural Resources is continuing its series of hunting, fishing and outdoor learning webinars this spring. The webinars, which are free, begin at noon Wednesdays, and pre-registration is required at mndnr.gov . Webinars also are recorded and available online. Upcoming webinars are as follows:

May 18: Walleye fishing for beginners. Pro angler and bait shop owner Nancy Koep will cover the basics of walleye fishing. She will also provide information on her Become an Outdoors Woman walleye fishing weekend set for July 2022.
May 25: Youth fishing leagues. DNR fisheries manager and bass fishing expert Eric Altena will share ideas and resources to help young anglers connect with Minnesota's increasing number of high school fishing leagues and clubs.