Audubon Dakota announces new conservation program, Deer license apps due June 2 etc.
producers can apply for the Conservation Forage Program starting June 7 and continuing through Aug. 6.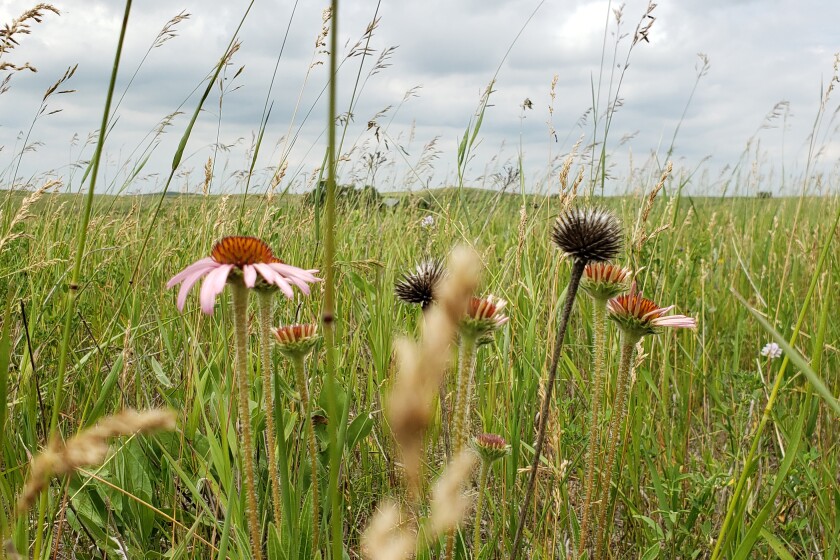 Audubon Dakota offers new conservation program
A new program from Audubon Dakota offers incentives for North Dakota landowners and producers interested in establishing conservation practices on their working lands.
In a news release, Audubon Dakota said producers can apply for the Conservation Forage Program starting June 7 and continuing through Aug. 6. Audubon Dakota and partners have scheduled a one-hour informational webinar for Tuesday, June 1, to guide interested producers through an overview of the program , cost-share options and application steps. Register for the webinar at https://act.audubon.org/a/conservation-forage-program-webinar .
Landowners selected for enrollment in the program will receive technical assistance and cost-share for planting forage seed crops and developing grazing infrastructure. Additionally, the Conservation Forage Program offers establishment incentive payments for three years during the land-use transition.
RELATED STORIES:
"The ability to provide establishment payments is the critical element that really makes the Conservation Forage Program work for landowners who are interested in keeping their lands working to produce food, for the world and for wildlife," Marshall Johnson, executive director of Audubon Dakota, said in a statement. "We know North Dakota landowners love their land, and so do birds. By acknowledging and investing in the financial commitment of converting marginal lands to grassland, this program can be a win-win for the agriculture and conservation communities. After years of collaborating and planning, we are thrilled to finally offer the Conservation Forage Program to producers."
Program partners include the North Dakota Outdoor Heritage Fund, North Dakota Farm Bureau, Natural Resources Conservation Service, North Dakota Soil Conservation Districts, Partners for Fish and Wildlife, North Dakota Game and Fish Department, Delta Waterfowl, North Dakota Natural Resources Trust, Ducks Unlimited and the North Dakota Wildlife Federation.
More info: dakota.audubon.org/conservation-forage-program .
– Herald staff report
N.D. deer license apps due June 2
Wednesday, June 2, is the deadline to apply for a North Dakota deer gun license, the Game and Fish Department said in a reminder to hunters.
Applicants for regular deer gun, gratis, youth and muzzleloader can apply on the Game and Fish website at gf.nd.gov .
Applicants should note that a general game and habitat license is required when applying for a regular gun, youth or muzzleloader deer license. Applicants who don't already have the game and habitat license will have one added to their cart at checkout. Applicants can have the general game and habitat license refunded if they don't draw a deer license in the lottery.
Gratis applications received on or before the regular deer gun lottery application deadline will qualify for an any-legal-deer license. As per state law, gratis applications received after the deadline will be processed based on licenses remaining after the lottery. Generally, only antlerless licenses remain.
– Herald staff report
NDGF sets free fishing weekend
North Dakota's free fishing weekend is June 5-6, and residents can fish any body of water in the state without a license.
"This is a great opportunity to give fishing a try or to invite someone new with you on the water for their first time," said Cayla Bendel, North Dakota Game and Fish Department R3 coordinator.
Find out what you need to know to get started on the Game and Fish website at gf.nd.gov , including fishing regulations, fishing waters , fish recipes and the department's new Virtual Fishing Mentor Page for beginning anglers.
"With over 400 public fishing waters to choose from and some excellent shore-fishing opportunities, it doesn't take much to get outside and enjoy the North Dakota outdoors," Bendel said.
– Herald staff report
Habitat project expands Gruhl WMA
Pheasants Forever and several partners recently completed the acquisition and restoration of 160 acres in western Minnesota as an addition to the Gruhl Wildlife Management Area near Hawley, Minn. Now open to public hunting, the addition to Gruhl WMA features 11 wetlands and more than 100 acres of restored grasslands that are home to pheasants, waterfowl and prairie chickens.
"This project is a true gem. For this property to be permanently protected and opened to the public in some of the best remaining quality habitat for prairie chickens is incredibly exciting," Brian Winter, president of the Minnesota Prairie Chicken Society, said in a statement. "We're thrilled to be one of the partners in a group of collaborators to help protect critical habitat for this treasured bird."
Comprised of lowland brush, prairie and shallow wetlands, the northern reaches of Gruhl WMA were formerly marginal cropland acres containing drained wetlands that have been restored by Pheasants Forever's restoration specialist team. This project is located within the Agassiz Beach Ridges Prairie Corridor as defined by the Minnesota Prairie Conservation Plan and is contributing to the conservation of core grassland/wetland landscapes in the state's western region.
Partners contributing to the project were Minnesota's Outdoor Heritage Fund, North American Wetlands Conservation Act, Minnesota Prairie Chicken Society, Clay County Pheasants Forever
Michael and Dianne Fillmore, Scheels and the Minnesota Department of Natural Resources.
– Herald staff report
N.D. anglers should report tagged fish
The North Dakota Game and Fish Department is asking anglers to report tagged walleyes they catch from Rice Lake in Emmons County and Antelope Lake in Pierce County.
Department fisheries biologists tagged hundreds of walleyes in the two lakes this spring to determine exploitation and harvest in the popular fisheries. Walleyes were fitted with jaw tags as part of one-year studies in both waters.
Tagging fish for study purposes in North Dakota is not uncommon, the department said. Department fisheries biologists are in the third year of a four-year walleye tagging study on Lake Sakakawea to look at such things as natural mortality, aging mortality and fish movements.
Fisheries biologists say it's imperative walleye anglers report tagged fish from whatever waters they are fishing, no matter if they end up in livewells or back in the lake. Anglers also are encouraged to treat tagged walleyes just like they would treat any other fish they might have caught.
Anglers who release a tagged walleye should record the tag number and leave the tag on the fish. Tagged fish can be reported online at gf.nd.gov or by calling the Game and Fish Department's main office in Bismarck at (701) 328-6300.
– Herald staff report
NDGF: Be courteous at boat ramps
With some North Dakota boat ramps unusable because of low water levels, access sites are likely to be more congested than usual this year. With that in mind, the North Dakota Game and Fish Department reminds boaters to plan accordingly when heading to a lake or river this summer.
The department receives complaints every year about overly aggressive behavior at boat ramps. A few simple reminders will help ensure a fluent transition when launching and loading a boat.
Launching
Don't pull onto the ramp until your boat is ready to launch.

Prepare for launching in the parking area. Remove covers, load equipment, remove tie downs, attach lines and put in drain plug before backing onto the ramp.

When ready, pull into line to launch. Wait your turn. Be courteous.
Loading
Don't block the loading area with your boat until your tow vehicle is ready to load. Wait until you are clear of the launch area to unload gear.

As soon as your trailer is in the water, load and secure your boat to the trailer.

Remove boat and trailer from the water as quickly as possible.

Get clear of the ramp. Pull into the parking area to finish securing your boat, unloading gear, draining all water and inspecting for and removing any vegetation. Remember to leave plugs out when transporting boat.
– Herald staff report
Survey highlights ammo demand
Demand for ammunition will remain strong well into 2021, consumer research firm Southwick Associates said in reporting results from a survey of ammunition consumers.
The Florida-based market research and economics firm specializes in the hunting, shooting, sportfishing and other outdoor recreation markets.
In April, Southwick Associates surveyed more than 1,800 ammunition consumers as part of its quarterly HunterSurvey/ShooterSurvey tracking study. In 2020, four out of five consumers encountered out-of-stock issues while trying to purchase ammunition, while three-quarters have encountered out-of-stock situations so far this year. Of those who responded, 79% reported either fully or partially reducing their target shooting and hunting outings as a result of depleted ammunition shelves.
Nearly two-thirds of survey respondents said their current ammunition inventory was lower than they would prefer. When asked how much more ammunition they would like to have on hand, 43% reported "much more," while 38% reported "a little more." Only 17% were satisfied with the amounts they currently had on hand.
Reasons for wanting more ammo included:
Uncertainty about future ammunition supplies, 72%. That was especially true among consumers 45 years of age or older.

Uncertainty about future restrictions on ammunition purchases, 70%.

Uncertainty about future economic conditions, 54%.

Increased shooting and hunting activity, 26%. This trend was more common among the 25- to 34-year-old consumers.
"At some point, demand will certainly soften," Rob Southwick, president of Southwick Associates, said in a statement. "However, frenzied purchasing and empty shelves often fuels further increases in demand. We do not see demand softening in the near future."
– Southwick Associates