18-year-old angler on track to catch all 54 fish native to Minnesota
Ottertail resident is out to catch every fish native to Minnesota, has nine remaining.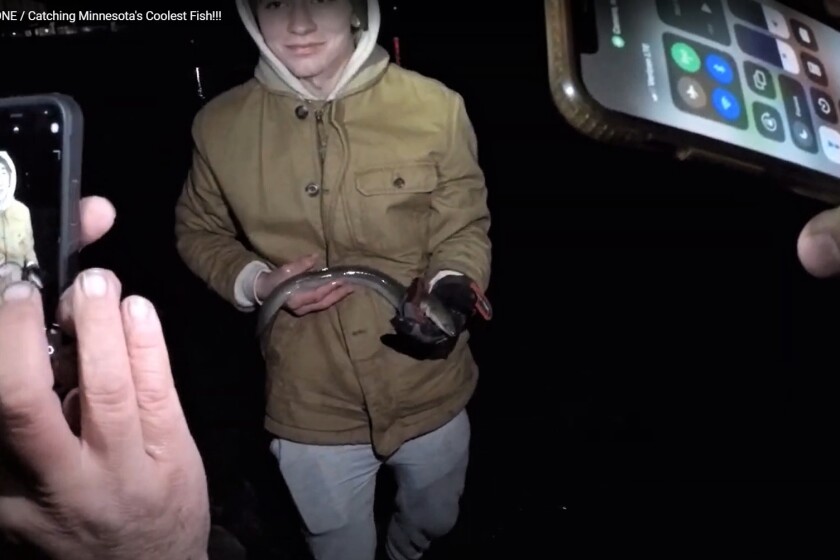 OTTERTAIL, Minn. — In Minnesota there are 54 native species of fish.
Cayden Hutmacher of Ottertail, Minnesota, is out to catch every one of them.
"I have nine left," the 18-year-old said, noting he recently crossed off the elusive American Eel .
"I've been after that fish for at least five years," he said. "I've targeted it over 15 times in different spots, but never came across one."
Luck was on his side when he secured a nightcrawler to his hook and cast out his line into the dark water. While he felt the fish bite, the fight was "strange." It seemed as if a fish was hooked, proceeded to get free, then chased the worm down for a second taste. The process repeated until Hutmacher pulled the lure out of the water and saw something was balled up. He thought he was about to lose the fish.
"Then it unrolled itself," said Chad Hutmacher, Cayden Hutmacher's father. Chad noted at that point it was apparent they would soon be holding a rare fish native to the state. He noted the fish was "super slippery" but "not electric" and the adventure was captured on video and published to Cayden's older brother's YouTube Channel, " Things Chris Does ."
Cayden Hutmacher said many of the "lucky fishing holes" that crossed another native fish off the list were provided by tips from "locals." He said regardless of where they have fished in Minnesota, the locals are all "friendly people" who offer "generous tips" when they learn of his quest. Of the nine fish that remain on his list, he believes the blue sucker will be the "unicorn fish."
"It's the rarest one here in Minnesota," he said. "I've looked and went after it, but no luck yet. I've never even seen it."
The former Perham High School student began his journey about a decade ago with his father. The mission of getting off the Xbox and into the tacklebox began shortly after Hutmacher learned about the different fish species in the state, he recalled. With a drive to catch something new, his family provided the support and rides to different bodies of water around the state.
"I'd say we've been to over 5,000 lakes," Hutmacher estimated.
While on a river in April 2017, near the border with Iowa, Hutmacher caught a unique native fish and captured a state record title when he reeled in a shortnose gar.
"I didn't know it existed until I started this (mission to catch every fish native to Minnesota)," he said.
When he reeled in the prehistoric-looking fish he saw the line snap. Luckily, his father was there with the net. Shortly after catching the unique fish, Hutmacher learned he broke a state record that had been held for more than 30 years. Hutmacher's shortnose gar weighed in at 5 pounds, 4 ounces with a girth of 11 ¾ inches and length of 31 inches.
"I believe I beat the record by two or three pounds," he said, adding the previous record holder reached out to congratulate him and encourage him to keep fishing.
In addition to holding a state record, Hutmacher has also collected several Master Angler awards along the way. The Master Angler program is open to any legal angler who has released or harvested one qualifying fish . There is also the title of Expert Angler (catching three trophy fish from a different species in the same year) and Grand Master (catching five trophy fish in a given year).
Hutmacher entered the Master Angler book in:
• 2012 with a goldeneye.
• 2013 with a shorthead redhorse.
• 2014 with a black crappie.
• 2015 with a bass-rock and a golden redhorse.
• 2016 with a bass-rock.
• 2017 with a bigmouth buffalo and quillback.
• 2018 with a large mouth bass and bigmouth buffalo.
• 2019 with a silver redhorse.