No. 2 SCSU beats Bemidji St. in goaltending battle
CLOUD, Minn. -- The sounds on the bench were not something that Brett Larson has heard much in his first season as the head coach of the St. Cloud State men's hockey team.
CLOUD, Minn. - The sounds on the bench were not something that Brett Larson has heard much in his first season as the head coach of the St. Cloud State men's hockey team.
No, it wasn't the sounds of an animal or a foreign language. The English being spoken and some of the non-verbal actions were not things that Larson wants to hear or see.
"We learned that we have to keep growing as far as our mental maturity and able to handle adversity," Larson said of the Huskies, who had 11 upperclassmen in its lineup Friday, Nov. 16. "Bemidji (State) was really tough to play against and I saw a lot of frustration on our bench that I haven't seen in a while.
"Give credit to Bemidji for that. We've got to learn to fight through those things together and not show the frustration."
But the No. 2-ranked Huskies got a power-play goal from Easton Brodzinski in the first period and 32 saves from senior Jeff Smith to beat the Beavers 2-0 in a nonconference game at the Herb Brooks National Hockey Center.
The Beavers (5-3-1) outshot the Huskies 32-21, hit a post and had a goal disallowed in the loss. It was the second straight game that Bemidji State has been shut out, but there were positives.
"I think we dominated them down low," Beavers goalie Henry Johnson said. "I think we put them on their heels and we were able to get a lot of pressure."
Winning special teams The Huskies (10-1) won the special teams battle. St. Cloud State managed two shots on its three power plays, but Brodzinski was able to redirect a pass from Ryan Poehling from in close at 11:46 of the first period for a 1-0 lead.
Brodzinski had a power-play goal disallowed a few minutes earlier because he kicked the puck into the net.
"It was kind of crappy to get the first one called off, but I kicked it in a little bit," said Brodzinski, a sophomore from Blaine. "It was nice to come back out and get one a few minutes later and put the team ahead. We kept the lead from there."
Part of how they kept that lead was by killing all three of Bemidji State's three power plays. The Beavers had six shots on the power play, but are 0-for-12 on the power play in their last two games.
"They were committed to blocking shots and doing things the right way," Larson said of his team, which blocked 15 shots in the game. "So much of penalty kill is just heart. You can draw some things up, but you have to have heart on the PK."
Shutout, assist for goalie Smith, who had not played since a 3-2 loss Oct. 27 at Northeastern, picked up his fourth career shutout in his third season with the Huskies. He also picked up an assist on the empty-net goal that Kevin Fitzgerald scored at 18:49 of the third period.
So was Smith more excited about the shutout or the assist?
"The assist was a bad rebound, so I kind of got lucky there," Smith said with a smile about his second assist of the season. "It's always nice to get a shutout. The guys came up with some huge, timely blocks there at the end.
"The defense has played so well and it's so much easier to play when you have so much confidence in your 'D' men."
Best 'D' core? Speaking of defense, Johnson had an interesting comment that can be up for debate. Bemidji State's top four defensemen (Tommy Muck, Dan Billett, Justin Baudry and Dillon Eichstadt) have combined to play 329 college games and Johnson has high praise for them.
"We have the best 'D' core in the nation," he said. "They were trying like hell to keep everyone out of my way and let me see the puck. They were good on the back end tonight."
A statement like that will start a big debate among many teams. St. Cloud State has the No. 4-scoring defensive group in the nation.
Game Summary Bemidji State 0-0-0-0
St. Cloud State 1-0-1-2
First period - 1. SCSU, Easton Brodzinski 6 (Ryan Poehling, Blake Lizotte), 11:46, (pp). Penalties - Dillon Eichstadt, BSU (high-sticking), 8:13; Ethan Somoza, BSU (hooking) 11:15; Eichstadt, BSU (hooking) 14:36; Jake Wahlin, SCSU (embellishment) 14:36.
Second period - No scoring. Penalties - Jimmy Schuldt, SCSU (elbowing) 11:37; Robby Jackson, SCSU (hooking) 15:22.
Third period - 2. SCSU, Kevin Fitzgerald 4 (Jeff Smith) 18:49 (en). Penalties - Brodzinski, SCSU (tripping) 4:44; Connor Brown-Maloski, BSU (tripping) 7:34.
Shots on goal - BSU 12-11-9-32; SCSU 7-6-8-21. Goalies - Henry Johnson, BSU (20 shots-19 saves); Jeff Smith, SCSU (32-32). Power plays - BSU 0-for-3; SCSU 1-for-3. Referees - Geno Binda, Ryan Hersey. Linesmen - Nick Biondich, Elliott Bucholz. Three stars of the game - 1. Smith (SCSU), 2. Brodzinski (SCSU), 3. Johnson (BSU). Att. - 3,947.
1
/
2:
St. Cloud State senior forward Patrick Newell (14) goes to his backhand to try to get around Bemidji State defenseman Dan Billett to shoot on Beavers goalie Hank Johnson in the first period Friday at the Herb Brooks National Hockey Center in St. Cloud, Minn. (Photo courtesy of Maddie MacFarlane, St. Cloud State University)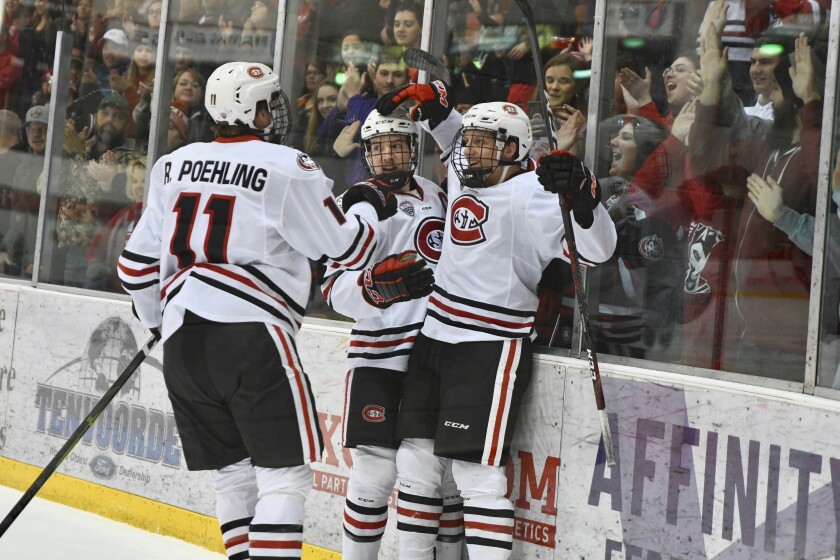 2
/
2:
St. Cloud State's Easton Brodzinski (right) celebrates his power-play goal in the first period with teammates Jimmy Schuldt (center) and Ryan Poehling (11) on Friday at the Herb Brooks National Hockey Center in St. Cloud, Minn. (Photo courtesy of Maddie MacFarlane, St. Cloud State University)