NHL veteran's words helped spark Rocco Grimaldi's playoff goal-scoring run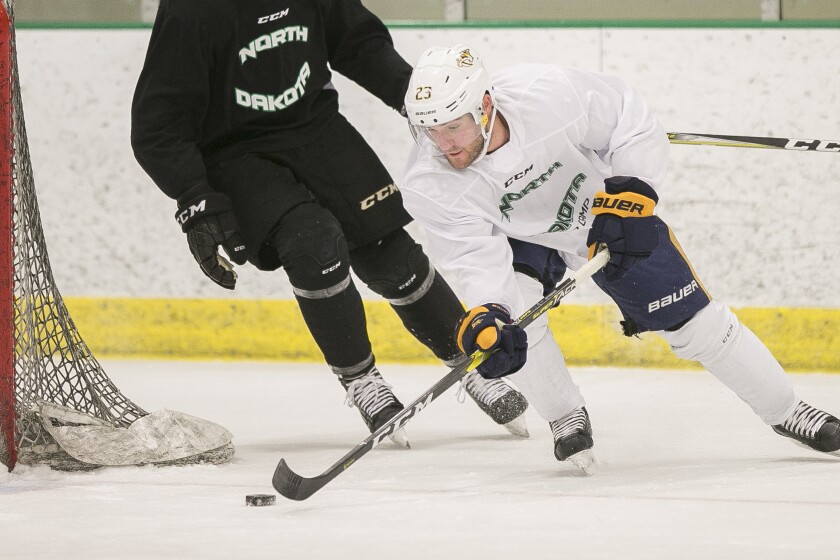 We are part of The Trust Project.
Rocco Grimaldi wasn't supposed to play in the Stanley Cup Playoffs last season.
The former UND player suffered a fractured rib in a game against Winnipeg at the end of the season and expected to be sidelined for Nashville's playoff run, whether he was medically cleared or not.
But then an unlikely set of circumstances occurred.
Grimaldi was medically cleared on the same day as Game 1 of Nashville's series against Dallas. And on the morning of Game 2, Predators forward Brian Boyle had to have an appendectomy, opening a spot in the lineup.
Grimaldi was on the ice doing his game day workout -- players who aren't scheduled to play do a taxing on-ice workout to keep their conditioning up -- when a member of the coaching staff pulled him off and informed him that there was a chance he would play that afternoon.
Grimaldi returned to the locker room and tried to mentally prepare himself for either possibility -- whether he plays or not. Predators defenseman Dan Hamhuis, a 15-year NHL veteran, walked in and saw Grimaldi sitting there.
They had a short exchange, one that Grimaldi says resonates with him to this day and always will going forward.
"You guys already done?" Hamhuis asked, noting that Grimaldi wasn't on the ice doing his game day workout.
"No, they pulled me off because I might have to play today," Grimaldi said.
"You might have to play? Or you might get to play?" Hamhuis responded.
"At that moment, it just clicked in my head, like 'Oh my gosh, I might get to play,'" Grimaldi said. "My whole mindset changed. It wasn't that I was having a bad attitude. It's a tough spot when you're not sure how you should prepare. But when he said that, it clicked. I got the call a couple hours later that I was 100 percent going in. My mind had already flipped the switch.
"I use that one thing he said every game. I used it in that Game 2. I used it in Game 3, 4, 5. I use it every game. I get to play today. I get to play today. That was really eye-opening for me."
That night, Grimaldi scored a goal and Nashville won 2-1 in overtime.
In Game 3, Grimaldi scored again and Nashville won 3-2.
Grimaldi scored again in Game 5.
Although the Predators were eliminated from that playoffs later that series, Grimaldi led the team in playoff goals, despite not playing in Game 1 or getting prime minutes.
Now, Grimaldi plans to take that same mindset into his second season with Nashville, a place he's carved out a home.
Prior to last season, Grimaldi had never played more than 20 games in the NHL in his first four pro seasons. But with a stacked Predators team, he managed to play in 53 regular-season games.
"It was a dream come true to play a full season and get that opportunity and do more than I thought was possible last year," Grimaldi said. "It was a lot of fun. To see some playoff games, too, was great. I hadn't played in the playoffs in three or four years, whatever it was. I got a couple of games a long time ago in Florida. To see that atmosphere and the intensity in that series was fun. Obviously, it wasn't the way we wanted it to end. It ended too early. But it gave me a good taste of what to hope for this year and what to expect.
"Now, I'm going to camp and I'm trying to make my first team in six years out of camp. Even though I played most of the year last year (in the NHL), I've still never made a team out of camp. So, that's my goal."
Grimaldi, who is skating at UND's pro camp this week in Ralph Engelstad Arena, earned a one-year contract worth $1 million through arbitration earlier this month. It is a one-way deal, which means he will earn the same money whether he's in the NHL or American Hockey League. But Grimaldi is hoping to stay in Nashville, where his wife, Abby, hopes to pursue her music career.
"We love the city," Grimaldi said. "Abby's a musician as well and we're hoping something works out there and our careers can start going (up) together. That'd be really fun. I'm excited to see what she's going to do, not just me. We're a team. I'm excited for my year. I'm excited to hopefully have more of an impact, fight for more minutes and make the team out of camp, which I've never done. And I'm excited to see what happens with her career and what she's been doing this summer and what we've both been doing this summer in Grand Forks, working on our crafts and hoping to live out our dreams."