NDGF plans to stock muskies in Larimore Dam
The North Dakota Game and Fish Department is proposing to close Larimore Dam in Grand Forks County and Wood Lake in Benson County to darkhouse spearing beginning next winter as part of an effort to establish muskies in the two lakes.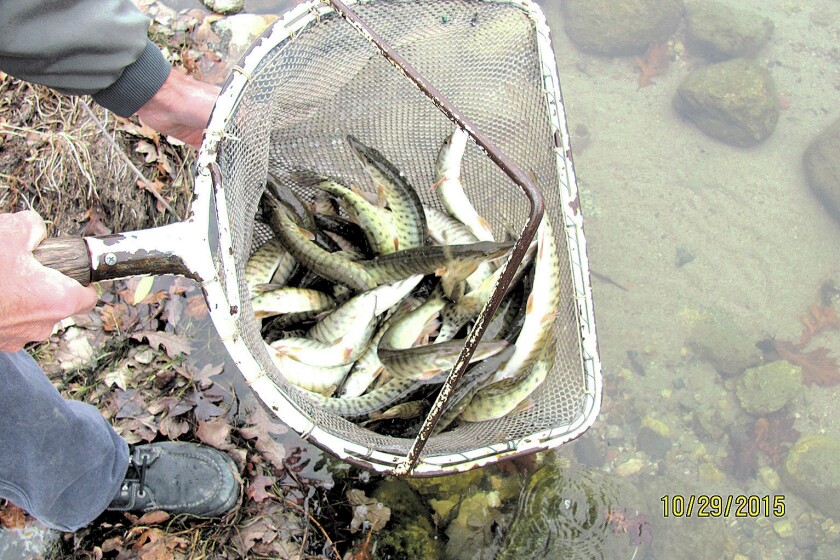 The North Dakota Game and Fish Department is proposing to close Larimore Dam in Grand Forks County and Wood Lake in Benson County to darkhouse spearing beginning next winter as part of an effort to establish muskies in the two lakes.
Lakes with muskie populations are closed to darkhouse spearing in North Dakota because of the species' resemblance to northern pike. Only a handful of lakes statewide have muskie populations.
Randy Hiltner, northeast district fisheries supervisor for Game and Fish in Devils Lake, said the department stocked 200 10- to 12-inch muskies in Wood Lake in October and plans to stock 100 muskies of similar size the next two Octobers at Larimore Dam. The 66.7-acre reservoir currently provides opportunities for walleyes, pike, largemouth bass, perch, crappies and bluegills.
The stocking would consist of pure-strain muskies from an out-of-state private source, Hiltner said.
"It would certainly be a trophy fishing experience" if the muskies establish a population, he said. "There's a lot of white suckers, and it rarely winterkills so they'd certainly have a good forage base if they could get some longevity."
Wood Lake, at 102.1 acres, has numerous small perch and bluegills and good numbers of larger walleyes and pike, in addition to the recent muskie stocking. The lake also holds bragging rights for producing North Dakota's state record walleye, a 15-pound, 12-ounce fish caught New Year's Day in 1959.
"I think there's some potential in Wood Lake, too. There's lots of food, and it doesn't winterkill," Hiltner said.
Hiltner said Red Willow Lake near Binford, N.D., had a decent muskie population after stocking efforts in 1976 and 1989, but winterkill events during low water years in the early '90s apparently wiped out the population.
Game and Fish stocked muskies in Red Willow again in 2010 and 2013, Hiltner said, and some of those fish might be of catchable size.
He said Game and Fish is exploring the idea of stocking muskies in Whitman Dam, as well, but that's still a couple of years off.
"There's a small group of anglers that really like muskies, and we have a pretty reliable source where we can get the fish to stock and will be trying several of these smaller water bodies," he said.
North Dakota's state record pure muskie weighed 46 pounds and came from New Johns Lake in Burleigh County in July 2007. The state record tiger muskie-a pike-muskie hybrid-weighed 40 pounds and came from Gravel Lake in Rolette County in 1975.
Other proposals
The plan to eliminate darkhouse spearing on Larimore Dam and Wood Lake is among a handful of potential changes Game and Fish is proposing for the 2016-18 fishing proclamation that will take effect April 1.
Key among those potential changes is a proposal to reduce the statewide possession limit of bluegills, yellow perch and white bass from 80 to 40. The statewide possession limit for most gamefish species is twice the daily limit, but the current possession limit for bluegills, perch and white bass is four times the daily limit.
Hiltner said creel surveys show relatively few anglers catch limits of perch on larger lakes such as Devils Lake, but smaller lakes take a real pounding when fishing is good. Reducing the possession limits for the three species could spread out the resource to more people, Hiltner said.
Other proposed changes to the proclamation include:
• Implementing a statewide rule requiring boaters to pull the drain plugs from their boats any time the craft is not in the water. Currently, the requirement only applies to boats leaving the Red River, where invasive zebra mussels have become established.
• Opening some or all of Lake Alice, Silver Lake, Rose Lake and Lake Ardoch national wildlife refuges to some seasonal fishing. The U.S. Fish and Wildlife Service this fall received approval to expand fishing opportunities on the federal refuges, most notably opening Lake Alice to ice fishing, which is allowed for the first time this winter.
• Opening Sweet Briar Dam in Morton County and Braun Lake in Logan County to darkhouse spearing.
• Eliminating length restrictions for largemouth bass and northern pike on Red Willow Lake and largemouth bass on North and South Golden lakes. Surveys have shown the length restrictions haven't produced the intended results.
• Allowing silver carp to be harvested by any legal means.
• Allowing the harvest of snapping turtles from July 1 to Nov. 15 with a daily and possession limit of one.
• Clarifying language that prohibits introducing anything into the water for enhancing the direct observation of fish-with the exception of underwater cameras.