Minnesota and Ontario survey sturgeon population
BAUDETTE, Minn. -- Tom Heinrich wrestled the big sturgeon out of a holding tank aboard the research boat he and Dennis Topp were working in and again was reminded about how things have changed since he started sampling the prehistoric fish on Lak...
BAUDETTE, Minn. - Tom Heinrich wrestled the big sturgeon out of a holding tank aboard the research boat he and Dennis Topp were working in and again was reminded about how things have changed since he started sampling the prehistoric fish on Lake of the Woods and Rainy River more than 20 years ago.
"When we started our sturgeon population assessment, it was really cool to see one that was over 60 inches," said Heinrich, large lake specialist for the Minnesota Department of Natural Resources in Baudette. "Now, it's looking for that 70-incher. It's just like the anglers. When they started (fishing sturgeon) up here, it was something to get a legal sturgeon, which was like a 45-incher.
"Now, they're looking for that 70- or 80-incher. We can see some huge differences."
Heinrich and Topp, the DNR's assistant area fisheries supervisor in Baudette, were making the rounds among the estimated 200 boats anchored in Four-Mile Bay near the mouth of the Rainy River on this late April day tagging and measuring lake sturgeon anglers had caught.
The numbered yellow tags are inserted near the dorsal fin.
The DNR, along with Ontario's Ministry of Natural Resources and the Rainy River First Nations Indian band in Ontario, have teamed up on a major "mark and recapture" study to estimate the population of sturgeon 40 inches or longer in Lake of the Woods and Rainy River.
The survey is a follow-up to a similar assessment in 2004, which tallied the recovering population at an estimated 60,000 sturgeon 40 inches or longer. By comparison, there were only about 16,000 sturgeon in that size range when the Ontario MNR conducted the first population survey in the late '80s.
"There was quite a change in the population," Heinrich said.
On the rebound
Lake sturgeon in Lake of the Woods and Rainy River are on the rebound after nearly being wiped out by overharvest beginning in the late 1800s. The fish mainly were killed for their caviar, and many a tale has been told about steamers using the oily sturgeon for fuel.
By 1905, sturgeon had all but disappeared, Heinrich said, and pollution from the pulp and paper industry along the Rainy River prevented recovery. A tiny remnant population weathered the storm, though, and federal clean water legislation enacted in the 1960s in both the U.S. and Canada helped jump-start the species.
Coupled with strict harvest regulations, sturgeon populations now have recovered to the point where short-term recovery goals set by Minnesota and Ontario officials have been met.
Those goals call for male sturgeon to age 30 and females to 50 years old, with fish larger than 70 inches present and 30 age-classes of fish in the population.
"That population was essentially gone, and then the water pollution kept them from coming back," Heinrich said. "The Rainy River is just a big component of their life cycle. It's essentially their nursery area, and none of the tributary streams offer enough of that nursery area to really have a significant impact on the population."
Sturgeon are slow to mature and spawn infrequently, with females reaching sexual maturity at about 26 years of age and males about 17. Females only spawn every four to nine years, while males spawn every two to three years.
"Once the Rainy got cleaned up, those younger life stages could survive again, so the fish just kind of did it by themselves once we got our act together," Heinrich said. "It shows you how resilient some of these things can be as long as you give them a chance."
About the study
Heinrich, who's overseeing the population study, said the Minnesota and Ontario fisheries crews hope to tag 1,400 sturgeon 40 inches or longer by the end of May in U.S. and Ontario waters. They'll tag sturgeon that anglers catch and also set nets in several locations along the Rainy and tributary streams where the fish spawn. They'll even hand-grab sturgeon in a few shallow spots.
The crews then will wait a few weeks for the sturgeon to disperse and mingle with untagged fish. In late June and July, Heinrich said, they'll go back and recapture a similar number of fish at several sites along the river and in the southeast portion of Lake of the Woods.
They won't capture sturgeon in August, when warm water makes the fish more susceptible to mortality, Heinrich said, but the crews will resume the work in September if they haven't neared the 1,400-fish goal by then.
For now, flows are too high for the nets to sample sturgeon effectively, and so the crews are relying mostly on fish that anglers catch. That will change as water levels stabilize.
"We're plugging away little by little," the DNR's Topp said. "We've got a whole bunch of different places we want to tag at yet, so we've got a ways to go. You take what you can get.
"I can't overemphasize how important it is for us to sample these fish that we're getting from anglers right now."
Ultimately, the ratio of tagged to untagged sturgeon caught during the recapture phase of the study will provide the researchers with a population estimate, Heinrich said. Without getting too technical, 1,400 is a large enough sample to calculate a statistically valid estimate, he said.
Larger fish
Heinrich said sturgeon larger than 40 inches have made up the bulk of the sampling effort this spring. That's a marked change from the last population assessment 10 years ago, when more than half the fish that crews collected from anglers measured less than 40 inches.
"That really tells you how this population has changed, and one of the things that looks like it is changing is recruitment has slowed down," Heinrich said. "There's just not that many small fish coming up, but who knows what's going on there.
"I can't explain that, but it does seem to be a change."
It's only speculation, but Heinrich says he doesn't expect the sturgeon population to increase with the same magnitude that occurred between 1990 and 2004. No doubt, though, the bigger fish are becoming more abundant.
That's been reflected in anglers' catches this spring.
"The 60-inchers right now, they're not even warranting a second glance unless they're 68 or 69 inches long," Heinrich said. "Those 62s, 65s are very nice fish, but they're just not that unusual anymore."
Long-term recovery goals call for male sturgeon to age 40 and females to 70 years old, with fish larger than 80 inches and 40 year-classes of fish. Heinrich said the oldest sturgeon he's sampled from Lake of the Woods was tagged in 1995 as a 45-year-old and was recaptured in 2004, 2005, 2007, 2009 and 2013.
"We've got good size structure right now, and I think that will continue to improve," he said. "But I think those real huge fish - the 150- to 200-pound fish - are always going to be relatively unusual."
Even if it requires some heavy lifting, Heinrich said working with lake sturgeon is one of the most enjoyable parts of the job.
"I love working with these things," he said. "They're just a cool fish."
Gear up to minimize
stress on big sturgeon
As a fisheries biologist, Tom Heinrich doesn't routinely dispense fishing advice, but he's got a key suggestion for sturgeon anglers.
Gear up with tackle heavy enough to battle a fish that could weigh 100 pounds or more.
"When people are fishing for these things, they really should bring the proper gear," said Heinrich, large lake specialist for the Department of Natural Resources in Baudette, Minn. "I saw an incredible number of people fishing (last weekend) with what I would call heavy walleye gear."
That's hard on the sturgeon, because they take longer to land on light tackle. Heinrich said that was apparent last weekend while tagging fish that anglers caught for the sturgeon population study now underway.
"I was seeing that in the (holding) tanks," he said. "Some of the fish were pretty beat, and then we're having to hold them for quite awhile before they're recovered to the point where we would like to release them.
"You really can play these things to exhaustion."
Also, Heinrich said, don't hold sturgeon vertically by the gill plates, which can damage internal organs, or try to land the big ones without a net.
"I saw people landing (big sturgeon) without nets and then they'd pass them over to us, and they'd be bleeding, and we're thinking, 'Is this going to survive or not?'" Heinrich said.
"People should be prepared to deal with the fish they're going to catch up here."
For more information on Lake of the Woods and Rainy River sturgeon, including tips on handling and estimating weights, check out the Baudette area fisheries office website at mndnr.gov/areas/fisheries/Baudette/management.html.
1
/
5:
A Department of Natural Resources fisheries crew watches as a sturgeon angler plays a fish April 27 on Four-Mile Bay of Lake of the Woods. The crew would measure and tag the fish before releasing it as part of a population study of sturgeon now underway on Lake of the Woods and Rainy River. (Brad Dokken photo)
2
/
5:
Tom Heinrich (left), large lake specialist for the Department of Natural Resources in Baudette, Minn., explains the procedure for a sturgeon population study now underway on Lake of the Woods and Rainy River. (Brad Dokken photo)
3
/
5:
Tom Heinrich (left), large lake specialist for the Department of Natural Resources in Baudette, Minn., and Dennis Topp, assistant area DNR fisheries supervisor in Baudette, transfer a large sturgeon from a holding tank to a measuring board April 26 on Lake of the Woods. (Brad Dokken photo)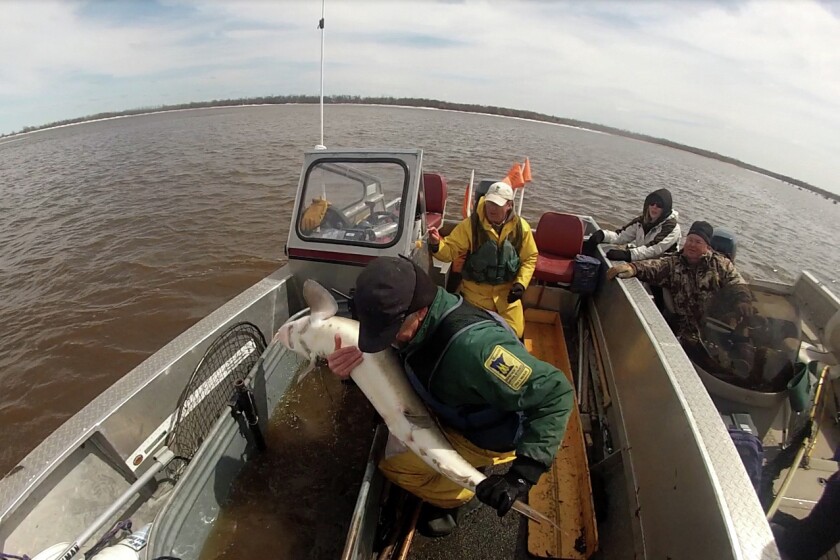 4
/
5:
Tom Heinrich (left), large lake specialist for the Department of Natural Resources in Baudette, Minn., wrestles a large sturgeon out of a holding tank on Lake of the Woods as assistant Baudette area fisheries supervisor Dennis Topp prepares to help him measure and tag the fish. (Brad Dokken photo)
5
/
5:
Tom Heinrich (left) and Dennis Topp of the area Department of Natural Resources fisheries office in Baudette, Minn., release a lake sturgeon April 26 after measuring and tagging the fish on Four-Mile Bay of Lake of the Woods. The fisheries biologists were collecting sturgeon caught by anglers as part of a population study now underway of lake sturgeon in Lake of the Woods and Rainy River. (Brad Dokken photo)