Langdon-E-M offense explodes in win over Minot Ryan in state semifinals
LANGDON, N.D. -- Minot Ryan marched 90 yards on its first possession of the game and punched in a touchdown.
Langdon-Edmore-Munich, however, didn't flinch. The Cardinals had plenty of offensive firepower to respond.
Langdon-E-M quarterback Simon Romfo ran for 222 yards and passed for 188 yards to lead the Cardinals to a 55-27 win over Minot Ryan in the North Dakota state Class A semifinals.
The Cardinals, the two-time defending state champions, won for the 37th time in a row.
Langdon-E-M will put that streak on the line in the state championship at 8:10 a.m. Friday in the Fargodome against Lisbon, a 44-20 semifinal winner over Velva.
"There was a little tension (after Ryan's early score)," Langdon-E-M coach Josh Krivarchka said. "Our kids haven't been in that situation this year. But we responded well, then got a stop. We understood that they're a good offensive team and felt like if we got a couple stops on defense throughout the game, we were going to be alright because we felt our offense would be tough to stop. We marched down and scored and that relaxed everybody."
Minot Ryan's Zach Hendrickson scored the game's first touchdown on a 7-yard catch from Nick Sanders.
Langdon-E-M countered with first-quarter touchdowns from Grant Romfo (15-yard pass from brother Simon Romfo) and Markus Kingzett (46-yard pass from Simon Romfo).
The Cardinals led 28-21 at halftime but dominated the second half, building a 55-21 lead with 5:40 left in the fourth quarter. Ryan's Jaxson Feller scored on a 25-yard run with no time on the clock at the end of the game.
"When you play a talented team in the semifinals, they did some things against our defense that made us adjust," Krivarchka said. "I was pretty proud of how our kids responded."
Simon Romfo finished with 19 carries for 222 yards and was 11-for-13 passing for 188 yards. Minot Ryan quarterback Nick Sanders was 18-for-35 passing for 253 yards. His favorite target was Bryson Elm, who had seven grabs for 114 yards.
The Cardinals' defense was led by Alex Cluchie's three sacks.
"We always say we have the ace in the deck when we need him," Krivarchka said of Simon Romfo "In big games, when we want to utilize that option of him running, he's as explosive as anybody out there."
Langdon-Edmore-Munich 55, Bishop Ryan 27
First quarter
BR -- Zach Hendrickson 7 pass from Nick Sanders (Bram Johannsen kick)
LEM -- Grant Romfo 15 pass from Simon Romfo (G. Romfo run)
LEM -- Markus Kingzett 46 pass from S. Romfo (S. Romfo run)
Second quarter
BR -- Bryson Elm 31 pass from Sanders (Johannsen kick)
LEM -- S. Romfo 25 run (pass failed)
LEM -- G. Romfo 2 run (run failed)
BR -- Elm 9 pass from Sanders (Johannsen kick)
Third quarter
LEM -- S. Romfo 67 run (pass failed)
LEM -- Carter Tetrault 4 pass from S. Romfo (Tetrault pass from S. Romfo)
Fourth quarter
LEM -- G. Romfo 1 run (S. Romfo kick)
LEM -- G. Romfo 1 run (kick failed)
BR -- Jaxson Feller 25 run
Individual leaders
RUSHING -- LEM: Simon Romfo 19-222, Grant Romfo 11-45, Carter Tetrault 4-29; BR: Jaxson Feller 18-106 Nick Sanders 13-25
PASSING -- LEM: Simon Romfo 11-13, 188 yards; BR: Nick Sanders 18-35, 253 yards
RECEIVING -- LEM: Markus Kingzett 2-58, Grant Romfo 3-50, Mason Romfo 2-36, Cooper Zimmer 2-22; BR: Bryson Elm 7-114, Zach Hendrickson 6-83, Feller 4-47
1
/
3:
Langdon Area/Edmore/Munich's Grant Romfo extends the ball past the goal line to score the Cardinal's first touchdown as he is tackled by Minot Ryan's Rylan Vibeto in the first quarter Saturday. Photo by Eric Hylden/Grand Forks Herald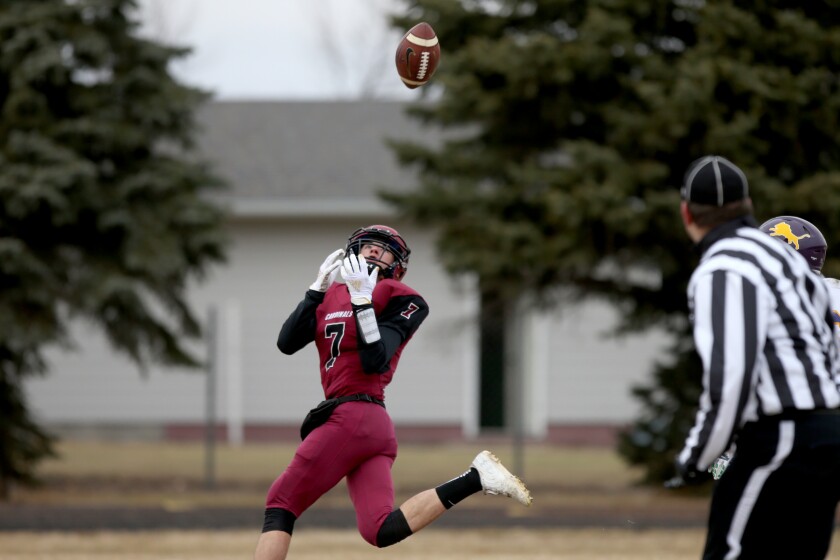 2
/
3:
Langdon Area/Edmore/Munich's Markus Kingzett hauls in a touchdown in the first quarter Saturday. Photo by Eric Hylden/Grand Forks Herald
3
/
3:
Langdon Area/Edmore/Munich's Simon Romfo tries to tackle Minot Ryan's Bryson Elm in the first half Saturday. Photo by Eric Hylden/Grand Forks Herald