Inside the Bubble: How UND hockey players are spending their time in the NCHC Pod
Hotel lobby area has become a hit for UND players in the NCHC Pod.
OMAHA, Neb. -- When you walk into Aloft Hotel in Aksarben Village, half of the lobby is blocked off with a black curtain.
Behind it is the hotel lounge, bar and seating area. But for three weeks, no visitors are welcome. There is no bartender pouring drinks from 4-10 p.m., no members of the public lounging around. Sports drinks and a coffee stand have replaced alcohol on the countertop. Nutritional foods, bagels and peanut butter tubs have replaced bar snacks.
If the eight-time NCAA national champion UND hockey flag waving high atop the pole outside the hotel isn't a clear enough indication of who has taken over the building, there's a stand located a few feet inside the hotel's main entrance that serves as a reminder.
It informs visitors who is allowed behind the black curtains.
"RESERVED," it reads, with the UND Fighting Hawks logo below it. "THE NEST."
If you peer behind the curtains, you'll see the area where UND hockey players are spending their down time in the National Collegiate Hockey Conference Pod.
You'll probably see Shane Pinto standing near the pool table, looking for a game. Gabe Bast, Mark Senden, Ethan Frisch or Jacob Bernard-Docker are the most likely takers.
In the corner next to the pool table, you'll probably see the freshmen and sophomores -- especially Brendan Budy, Judd Caulfield and Griffin Ness -- huddled around an arcade game, which has classics such as Donkey Kong, Pac-Man and Frogger.
On the other side of the room, you'll probably see Josh Rieger with three small circular tables pushed together with papers scattered across them, working on homework.
On the long table in the middle of the room, there's a good chance you'll catch two of college hockey's best players -- seniors Jordan Kawaguchi and Matt Kiersted -- seated on opposite sides with their laptops out, studying for finals.
In an adjacent room, you can often find Jasper Weatherby in the cold tub.
And in the corner, next to a fridge filled with bottled water, you'll probably catch the coaching staff sitting on barstools or standing against the bar with their laptops open as they watch video.
In a setting that is anything but routine -- all eight NCHC teams have traveled to Omaha to play a combined 38 games in 21 days -- the players are developing new routines as they kick off their season in the strangest way possible in the middle of a global pandemic.
"I wasn't really sure. . . nobody was really sure what to expect coming in," senior Jackson Keane said. "I think it's been an awesome experience, honestly. I've always enjoyed going on the road and playing in different cities and stuff like that. Having a really nice setup at the hotel, being able to be around the guys all the time is pretty special.
"I'd say it's probably a once-in-a-lifetime opportunity for most guys. We're just enjoying it. The biggest thing is being around all the guys and getting to play every couple days. That's what every hockey player wants to do. It's been really fun overall."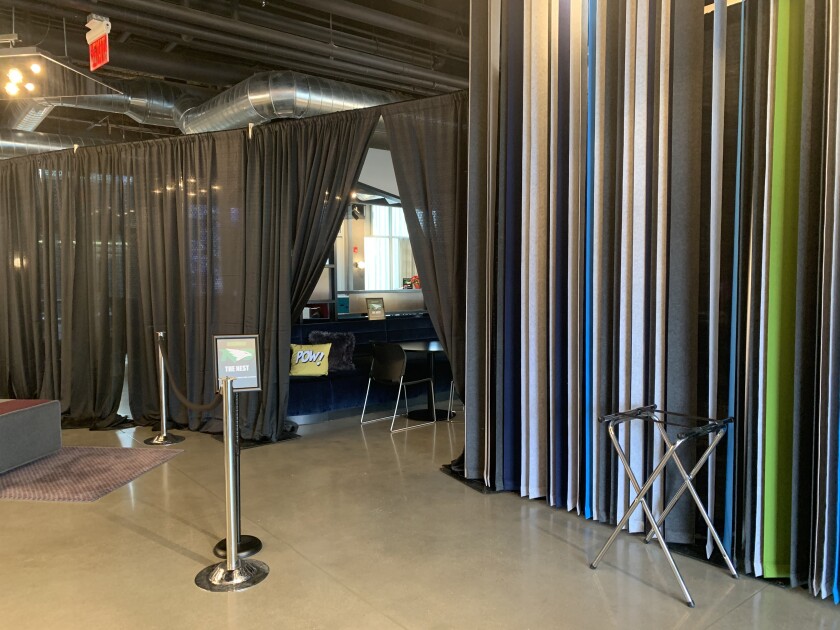 Other team hotels -- the Hilton Garden Inn and Courtyard Marriott in Aksarben Village -- are filled with NCHC teams and personnel and locked down to the public.
UND is the only team at its hotel, but it is not entirely closed off to the public. That's why The Nest is blocked off. A back stairwell leads directly into The Nest, but a sign on the door warns: "Do Not Enter: Quarantined Area."
The players have some downtime, but it might not be as much as you would guess.
They have a team breakfast around 8-9 a.m., lunch around noon and dinner around 6:30 p.m. on non-game days. Operations director Pat Swanson has generally used two local catering services for meals, which are set up buffet style on a table inside The Nest. To change it up, he also has ordered catering from P.F. Chang's, Chipotle and Copps Pizza. The players eat in The Nest area.
Sometimes, they'll have team stretches after breakfast. On one nice day last week, they did it in the parking lot. To change things up, athletic trainer Mark Poolman even had the team in the swimming pool one day for exercises.
"I'm not sure that pool was made for 24 guys," senior Collin Adams said, laughing.
The number of players in The Nest usually coincides with meal time. About an hour before meals, the number of players in that area will start increasing significantly. It usually stays pretty full until about an hour after meal time. Then, some start going back to their rooms, but others will linger.
"I've noticed guys are staying in there longer after meals," goalie Peter Thome said. "Usually, if we had 6:30 dinner, guys would be out of there by 6:50 or 7. I've noticed guys are sticking around until at least 7:30, hanging out."
Their afternoons and evenings vary depending on whether there's a game.
Players are not allowed to eat out at restaurants, but they can grab takeout. Gandolfo's, a New York-style delicatessen located across the street from the hotel, has been their main grab-and-go spot.
Once all of the players vacate The Nest for the evening, which usually happens by 9 p.m. on non-game nights and shortly after post-game meals on game days, the equipment staff sometimes moves in for one game of pool.
The pool table is a permanent fixture in the lobby, even during normal times. It was there when the team first arrived and has been the biggest hit.
Unless the team is at the arena or sleeping, you'll usually find someone playing a game.
Several players were asked, in separate interviews, if they stopped down at The Nest at any given moment, what would they expect to find.
"I'd bet my whole bank account Shane Pinto is standing by the pool table, probably losing to somebody," Keane said.
"Definitely Shane Pinto at the pool table," Adams said.
"Shane Pinto's going to be playing someone in pool," Thome said.
"Most likely," Rieger said, "Shane Pinto will be at the pool table, probably playing Jacob."
Yes, certain players are getting reputations.
"I've been playing a lot of pool," Pinto admitted, laughing. "I have been getting better."
The operator of the hotel, noticing the pool table was a hit, offered to bring in the arcade game, a foosball table and a dart board. All three arrived for Week 2. The arcade game has been a big hit since it showed up.
"I don't think any of us had played Donkey Kong before," Rieger said. "So, we started cheating and looking up how to beat the levels."
When players head up to their rooms for the night -- the entire UND hockey traveling party takes up two floors -- they either study or play Xbox.
"If we do get time to play video games, it's usually Call of Duty," Adams said.
Not everyone has been on Call of Duty, though.
Kiersted, Thome and Keane have been teaming up with former UND forward Rhett Gardner, who is back home in Saskatchewan awaiting the start of the NHL's season, to play NHL 21 online. Gardner reached the NHL with the Stanley Cup-finalist Dallas Stars last season.
They all create and name their own players -- 6 foot 9, 270 pounds is an average size -- and play on the same team. Thome controls the defenseman. Kiersted plays center. Keane and Gardner rotate between wing and goalie.
"We could be playing against some 8-year-old who has no idea that he's playing against Rhett Gardner from the NHL," Thome said. "That's been a highlight for me. That's been a blast."
Players also are allowed to watch other games at Baxter Arena. They have specific sections blocked off for them.
A group of players will often walk to the arena, located just a couple blocks away, to watch a period or two, especially if the game features an upcoming opponent.
'Remember that time we went to the Bubble?'
The players will all welcome a return to normalcy, when they can play games in front of 12,000 fans in Ralph Engelstad Arena again. But when they depart the Pod next week, they'll miss some of the new routines they've developed.
"The biggest thing I'll miss is being around the guys in that little area we have, The Nest," Keane said. "Just being down there and having little things to do. Being in the locker room is one of the most enjoyable times for a lot of players. Here, we get to be around everyone, get a chance to relax. The biggest thing I'll remember from this is being around the guys."
Rieger agreed.
"Back at home, you have your roommates," Rieger said. "You go into the living room and hang out with them. Here, you're hanging out with different guys all the time. One day, I'll be hanging out with Ethan, then I'll hang out with Riese Gaber, then I'll play pool against Kiers or Gabe. It doesn't matter who you're hanging out with, you're going to have a good time.
"I think when we leave, we'll be losing a little bit of that side of things, where everyone is always together. We'll still hang out at the rink, before and after practice, but once you leave the rink, you go home and kind of go your separate ways."
One thing is for sure.
They'll never forget this unique experience.
"I think," Thome said, "it's something we'll look back on that's crazy, like, 'Remember that time we went to the Bubble?'"