Hillsboro-Central Valley locks down Class B Region 2 boys basketball title with stingy defense
Elliot Rotvold had a hard time narrowing down his defensive stopper Thursday night.
Oscar Benson? Landen Reed? Patrick Limke? They all were mentioned. "We had a lot of them tonight,'' Rotvold, the Hillsboro-Central Valley coach, said.
The Burros won the Region 2 boys high school basketball tournament for the third time in four seasons. They did it with defense, beating high-scoring Hatton-Northwood 55-38 in the championship game at Betty Engelstad Sioux Center.
"We knew they (Thunder) had a great offensive team,'' Rotvold said. "They were trying to spread us out and take it to the basket. We had guys helping out. We contested about every shot.
"Oscar did a great job on (Avery) Thorsgard. Patrick did a great job on (Colton) Konschak. Landen did a great job on (Alex) Wolfe. This team locked down on defense.''
That's been the norm in the regional tournament. In the Burros' three wins, they allowed 16, 33 and 38 points.
"We played pretty good defense,'' Benson said. "We work hard on defense. It's started clicking the last couple of games. We're proud of holding them to that low (a point total). But we knew we had it in us.''
That defense was at its best in the third quarter. The Burros took a 25-22 lead into halftime. They broke the game open by out-scoring Hatton-Northwood 13-1 in the third. The lone point was a Wolfe free throw that kept the Thunder within 29-23. "That's about as good as it gets, to hold that team to one point in a quarter,'' Rotvold said.
Hillsboro-CV went on a quarter-closing 9-0 run in the final four minutes, highlighted by a pair of Benson baskets.
The Thunder were down by as many as 11 in the first half, but closed it on a 10-2 run to pull within three. Hatton-Northwood held the Burros scoreless for the final four minutes of the half.
"We had two good looks on threes before the half but we couldn't knock them down,'' H-N coach Keenan Konschak said. "Maybe we have momentum if we go in tied. But one point in the third quarter -- their defense was too tight.
"Suffocating defense. We had very few good looks. They closed outside on our shooters and we couldn't get it into the post.''
Carson Henningsgard had 22 points to lead the 20-4 Burros. He had 12 of the Burros' 17 points in the final quarter. Patrick Limke added 14 points. He had nine in a first quarter that closed with the Burros leading 20-10.
Colton Konschak scored 12 points to lead the Thunder. Hatton-Northwood, the No. 1 seed in the regional and ranked second in the final Class B weekly state poll, closed at 21-3.
1
/
9:
Hatton-Northwood Thunder guard Avery Thorsgard is introduced prior to the N.D. Class B Region 2 boys basketball championship game against Hillsboro-Central Valley Thursday night in Grand Forks. Nick Nelson / Grand Forks Herald
2
/
9:
Hillsboro-Central-Valley's Oscar Benson (11) leaps in the air to catch a passed ball from Hatton-Northwood guard Colton Konschak during Thursday's N.D. Class B Region 2 boys basketball championship game at the Betty Engelstad Sioux Center. Nick Nelson / Grand Forks Herald
3
/
9:
Hatton-Northwood's Colton Konschak (21) swats down a layup from Hillsboro-Central Valley guard Landen Reed (40) in the first quarter of Thursday's N.D. Class B Region 2 championship boys basketball game in Grand Forks. Nick Nelson / Grand Forks Herald
4
/
9:
Hatton-Northwood fans cheer on the Thunder boy's basketball lteam during their N.D. Class B Region 2 championship game Thursday night against Hillsboro-Central Valley at the Betty Engelstad Sioux Center. Nick Nelson / Grand Forks Herald
5
/
9:
Hatton-Northwood's Parker Vaagene (4) evades Hillsboro-Central Valley guard Carson Henningsgard during the N.D. Class B Region 2 boys basketball championship Thursday night in Grand Forks. Nick Nelson / Grand Forks Herald
6
/
9:
The Burros bench and fans celebrate a Hillsboro-Central Valley point over Hatton-Northwood Thursday night during the N.D. Class B Region 2 boys basketball championship game at the Betty Engelstad Sioux Center. Nick Nelson / Grand Forks Herald
7
/
9:
Hillsboro athletic director Dave Nelson (center) is greeted by members of the Hillsboro-Central Valley boys basketball team after being named N.D. Region 2 athletic director of the year following the Burros' 55-38 Region 2 championship victory over Hatton-Northwood Thursday night in Grand Forks. Nick Nelson / Grand Forks Herald
8
/
9:
Members of the Hatton-Northwood Thunder boys basketball team react as Hillsboro-Central Valley is presented with the N.D. Class B Region 2 championship trophy Thursday night at the Betty Engelstad Sioux Center. Nick Nelson / Grand Forks Herald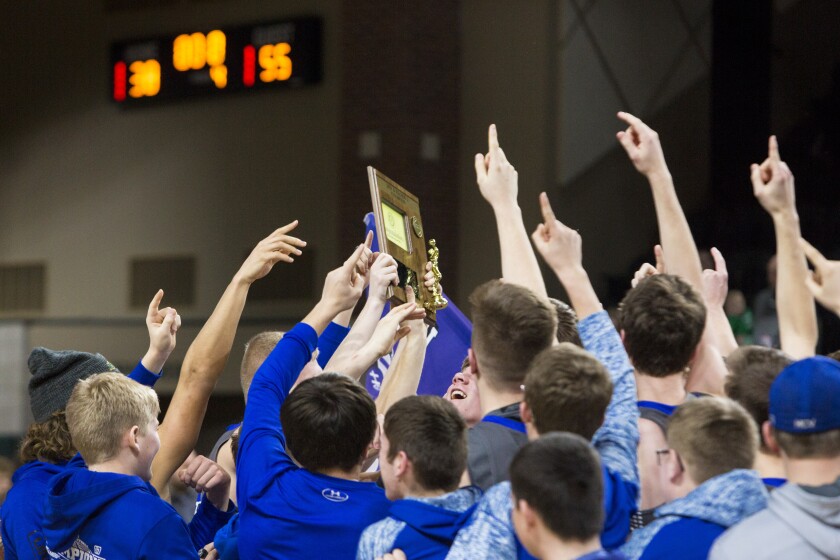 9
/
9:
Members of the Hillsboro-Central Valley boys basketball team are swarmed by Burros fans following Thursday's 55-38 win over Hatton-Northwood during the N.D. Class B Region 2 championship game at the Betty Engelstad Sioux Center. Nick Nelson / Grand Forks Herald