Grafton captures North Dakota state Class B girls basketball title with 64-50 win over Central Cass
Spoilers finish the season 25-2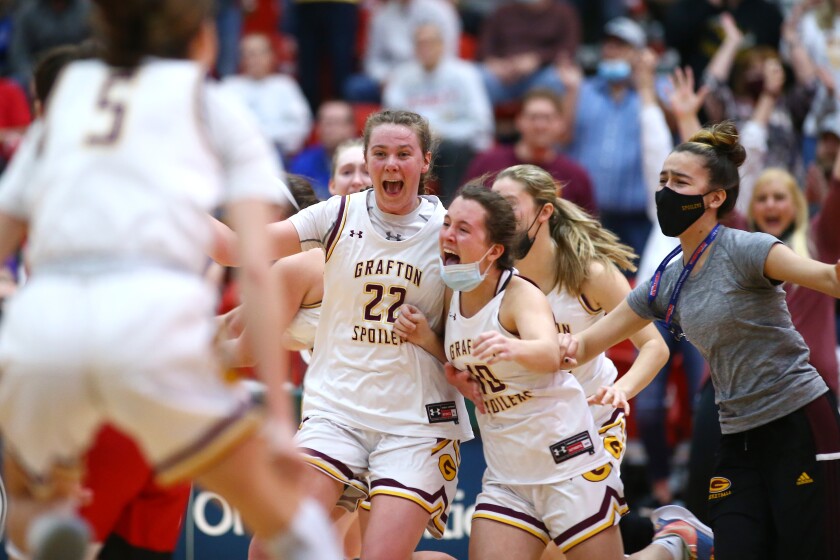 MINOT -- After finishing second a season ago, the Grafton Spoilers made it their mission to return to the championship game of the North Dakota state Class B girls basketball tournament.
And they wanted to return as a different team, too.
They accomplished that mission -- and a lot more. The Spoilers used a fast start and balanced scoring to down Central Cass 64-50 on Saturday night to win the state Class B championship at the Minot State Dome.
The Spoilers captured their second state title, the first coming in 2012. But this title came under different circumstances.
What made this team's title different was its mental state heading into an unknown year due to the COVID-19 pandemic.
"Perseverance," said Grafton coach Laurie Sieben, referring to this season's title. "They wanted to make themselves better which was hard when you didn't even know if there was going to be a season. They were committed to building the skillset, but along the way, they continued to build the chemistry, too."
The tournament's co-MVPs, senior Julia Dusek and sophomore Walker Demers, both felt the desire to come back this season as different players.
"I had to step up my role in everything I did and become more of a leader," said Demers, who scored a game-high 20 points. "After this year I'm going to have to step into a leader's role even more."
Dusek, who averaged 14 points, three rebounds and an assist during Grafton's three-day run in Minot, wanted this tournament to be taken more seriously.
"Last year, I felt like I was just going through the motions," said Dusek. "This year I knew what it was going to be like. I had to be in the moment. I'm a senior and these were my last few games, so I knew I had to bring my best."
The Spoilers and Squirrels, who previously met in December, showcased their tenacity on defense throughout the tournament.The Spoilers and Squirrels had 24 and 23 steals, respectively, entering the championship game and were tough on-ball defenders in transition.
The highlight of the first quarter went to Grafton when Dusek hit a tough layup from the baseline while falling to the floor. This was immediately followed by a Cassie Erickson put-back on a missed foul shot.
"All these kids have moments that just build onto the next," said Sieben. "Demers and Dusek and our starters all had big moments along the way."
Both sparked a 15-1 Spoilers' run that resulted in a 19-5 lead late in the first quarter..
"I feel like we just looked to the inside more because we had the height advantage," said Demers. "That was a major factor."
The Squirrels, not content with the opening quarter, made sure to slow down their chain of turnovers and push back. Delaney Cotton, coming off the bench, hit some clutch shots to get the offense going. They were on pace to outscore Grafton in the following quarter, turning around their field goal percentage from 30 percent in the first quarter to 68 percent in the second. Still, the Spoilers' strong play resulted in a 32-21 Grafton halftime lead.
The two offensive centerpieces for each team, Grafton's Carlee Sieben and Central Cass' Decontee Smith, shared three assists in the first half with Smith outscoring Sieben 7-4.
Matching Central Cass' half-court press coming out of the locker room, the Spoilers were aggressive in trying to finish what they couldn't in last year's tournament against Langdon-E-M. A plan that worked out when Carlee Sieben pulled off a slick steal-and-score on a Squirrels inbound pass in the third quarter.
"We just wanted to be big defensively and confident offensively," Laurie Sieben said. "Central Cass is an aggressive team. You have to contest everything and every possession means something."
In the second half, Grafton just needed to shoot at the rate they normally did throughout the year to put this one away. Cassie Sieben, who had struggled with her shot at times this tournament, knocked down a very important 3-pointer in the latter half of the third to keep the game at a safe distance for the Spoilers.
"That's what she's done all year," said the Grafton coach. "These kids have taken what the different games have brought them. Sometimes that might mean to score, sometimes that might mean to make the extra pass. These kids are committed to making the good to great play and utilizing their teammates' strengths.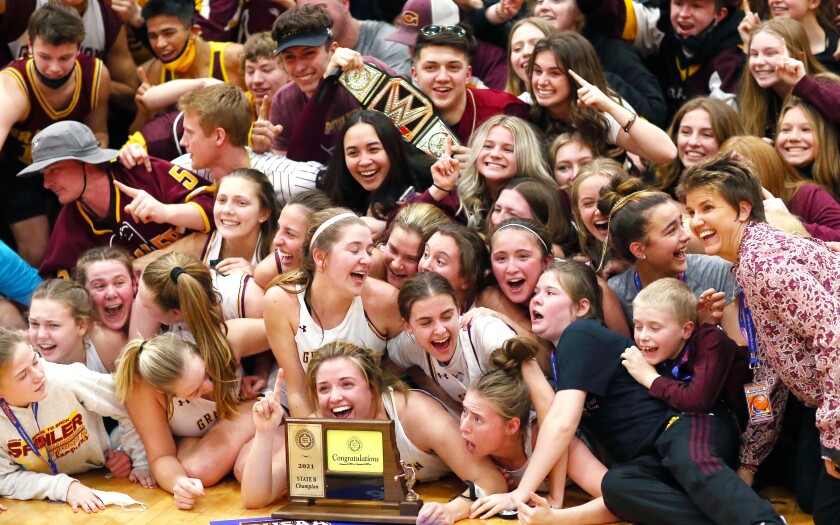 On their way to their second Class B championship, Grafton was not going to break. The Squirrels brought pressure, namely from Victoria Richter's seven fourth-quarter points, but the Spoilers continued to get contributions from Carlee Sieben, Dusek and Demers.
The play of Demers and Dusek earned them co-MVP honors. Carlee Sieben joined Dusek and Demers on the All-Tournament team.
"It means so much to me," said Demers. "I feel like (Dusek) had the leadership all the way through this tournament and all the way through this season. I feel like it is really well deserved."
Dusek shared the same thoughts.
"We've been playing together for a while even though she's a sophomore," said Dusek. "We've really played together and it really means a lot to me."
In addition to the scoring of Demers and Dusek, Cassie Sieben added 11 points while Carlee Sieben finished with 10.
Central Cass, which beat Grafton by two points in that December meeting, was led by Decontee Smith's 13 points. The Squirrels finished 24-2.
Grafton 64, Central Cass 50
Halftime: Grafton 32, Central Cass 21
Central Cass -- Victoria Richter 9, Kailey McKinnon 8, Decontee Smith 13, Rylie Holzer 4, Jaylin Cotton 2, Delaney Cotton 11, Morgan Lee 3
Grafton -- Julia Dusek 11, Carlee Sieben 10, Reagan Hanson 5, Cassie Sieben 11, Walker Demers 20, Anna Carignan 3, Cassie Erickson 4
1
/
6:
Grafton's Cassie Sieben hoists the Spoilers Class B championship trophy Saturday in Minot. Photo by Eric Hylden/Grand Forks Herald
2
/
6:
Grafton's Cassie Sieben (12) and Walker Demers (24) battle for a rebound with Central Cass' Victoria Richter in the first half Saturday. Photo by Eric Hylden/Grand Forks Herald
3
/
6:
The Grafton Spoilers celebrate with their fans after winning the 2021 Class B Girls basketball championship Saturday in Minot. Photo by Eric Hylden/Grand Forks Herald
4
/
6:
Tournament co-MVP Julia Dusek hugs Carlee Sieben after the Spoilers won the 2021 Class B girls basketball tournament. Photo by Eric Hylden/Grand Forks Herald
5
/
6:
Grafton's Carlee Sieben looks to pass the ball as Central Cass' Rylie Holzer defends in the first half of Saturday's championship in Minot. Photo by Eric Hylden/Grand Forks Herald
6
/
6:
Grafton's Cassie Sieben sets up to shoot as Central Cass' Morgan Lee defends in the first half of the ND Class B tournament in Minot Saturday. Photo by Eric Hylden/Grand Forks Herald