Got an outdoors lover on your holiday gift list? Here are 20 ideas to get you started
The beauty of having an outdoors lover on your holiday gift list is the seemingly endless array of products on the market. Whether you're buying for a hunter, angler or birdwatcher, gift ideas abound.
The beauty of having an outdoors lover on your holiday gift list is the seemingly endless array of products on the market. Whether you're buying for a hunter, angler or birdwatcher, gift ideas abound.
And as any outdoors lover knows, there's no such thing as too much gear.
I receive dozens of press releases throughout the year trumpeting new products or improvements to longtime standards. Some quickly end up in the trash, while others catch my attention and warrant further mention.
Christmas will be here before we know it, and with that in mind, here are 20 outdoorsy gift ideas I've either tried or that caught my attention this year:
Fishing
• Trigger X and VMC ice baits: Trigger X's new line of soft plastic ice fishing baits come in seven lifelike styles designed to fool fish even under the ice. Sister company VMC has unveiled a line of four hard-water jigging spoons and five jigs. I've got a several models of both I plan to try as soon as I get on the ice; $2.99 to $4.99. Info: rapala.com.
• Rattl'n Flyer Spoon: It's been around for a few years now, but Lindy's Rattl'n Flyer Spoon remains one of my go-to winter fishing lures. I especially like the glow-red version, but the spoons come in a variety of colors. About $4; lindyfishingtackle.com.
• Vexilar SonarPhone: From the "this is really cool" department comes this product from Vexilar, which turns any smartphone into a sonar to read depths and locate fish. Cellphone coverage isn't necessary, and the SonarPhone creates its own WiFi hotspot that allows you to share your signal with as many people as you wish. The free software app is available from the App store for both Android and iPhone users. About $129.99; vexilar.com.
• Clam Pro Tackle: Developed by ice fishermen for ice fishermen, the line of ice fishing tackle from Clam Corp., makers of the Clam and Fish Trap series of portable ice houses, includes a variety of lures from jigging spoons, soft plastics and lipless crankbaits to pike rigs. From $3 to $8; clamoutdoors.com.
• Frabill Softbag: This storage bag for ice fishing tackle looks like a keeper to me and features numerous zippered pockets and elastic tie-downs for easily strapping to a snowmobile or ATV, along with one large and three smaller Plano utility boxes. About $40; frabill.com.
Books/media
•"Gone Fishing": This compilation of stories written by the late "Whopper John" Little, the UND professor and local fishing celebrity who was a regular contributor to the Herald's outdoors pages, is a must-read for anyone who fishes in the Dakotas, Minnesota or Canada. Written in Little's inimitable, often self-deprecating style, "Gone Fishing" is a fundraiser for the John Little Memorial Endowment to help continue the UND Writers Conference he founded. To order, send $20 (plus $3 shipping and handling for out-of-town orders) to the John Little Memorial Endowment, c/o Kathy Coudle-King, UND Department of English, Box 7209, University Station, Grand Forks, ND 58202; also available at amazon.com.
•"The Wild Chef": From author Jonathan Miles and the editors of Field & Stream magazine, "The Wild Chef" is a collection of more than 130 recipes, tips and food writing from the magazine's blog and popular "Wild Chef" column. About $20; amazon.com.
• "Cornell Guide to Bird Sounds: Master Set for North America": Recognizing a bird by its call can be a challenge for inexperienced birders, and this set from the Cornell Lab of Ornithology removes much of the guesswork. This set includes 4,938 cuts representing the vocal and mechanical sound repertoires of 735 bird species that regularly breed in North America. Includes MP3 sound files and accompanying photographs. About $49.99; http://macaulaylibrary.org/guide/audio/master-set-for-north-america .
Camping/hobbies
• Vertical fire pit grate: There's an art to building a campfire, and this welded steel grate ensures wood is stacked in a teepee form throughout the fire. Billed as a tool for both expert and novice fire builders, the FIREase comes in three models ranging in price from $65 to $75; firease.com.
• Ultralight stuff sacks: I'm a big fan of stuff sacks because they make packing my outdoor gear quick and easy. This series of sacks from Hyperlite Mountain Gear is constructed from light, waterproof material and comes in sizes ranging from "nano" to "jumbo." From $12 to $100 depending on the sack; hyperlitemountaingear.com.
• SlatGrills: The titanium version of this lightweight grill from St. Paul-based SlatGrills weighs in at a mere 23 ounces and works on commercial fuels ranging from white gas to charcoal or natural fuels such as wood or pinecones. The grill folds up to 4 inches by 9 inches when not in use. From $90 to $200, depending on the size and model; slatgrills.com.
• Woodstream Perky-Pet bird feeder: This lantern-shaped bird feeder blends into the backyard or garden and features a locking cap system to keep squirrels out. Plus, it holds up to 2 pounds of birdseed. Available at retailers such as Walmart, Sears and Bass Pro Shops; about $28.99.
Warmth and safety
• Snowmobile/ATV PFD: No one likes to think about putting their snowmobile or ATV through the ice, but it happens. The Nebulus Emergency Flotation Device from Lakeville, Minn.-based JTW Associates is a compact, self-inflating, life-saving tool that has been engineered to combat these accidents. The PFD can be attached to a snowmobile or ATV and manually deployed by the rider. The inflated device provides flotation to support as many as three riders on top of the device as well as the tethered ATV or snowmobile just under the surface. At $525, the price tag is hefty, but money well spent if the worst occurs; nebulusflotation.com.
• ThermaCell heated insoles: The company best known for its mosquito-repelling appliances is making a name in the cold weather market with heated insoles. A remote control regulates the heat settings for the insoles, which operate on lithium batteries that can be recharged as many as 500 times with the wall charger that's included. About $130, available at Cabela's and Scheels; thermacell.com.
• Muck Boots: These boots have been on Christmas gift lists in the past, and for good reason: they're some of the best, most versatile boots on the market. I've had my Arctic Sport Mucks for a decade now, and they're still going strong. Available at numerous retailers in styles ranging from shoes to ankle- and knee-high varieties that cost from $65 to $200; muckboots.com.
Hunting/shooting
• Motorola Talkabout electronic earmuffs: Protect your hearing when hunting and shooting, yet detect low-level sounds; communicate with others by inserting the included microphone cable to the headset and using with Talkabout radios or other compatible devices. About $119.99 from numerous retailers; motorolasolutions.com.
• Trail cameras: Trail cameras that feature infrared night vision capability have become big sellers in recent years, and they're great entertainment whether you're a hunter or a wildlife-watcher. Best of all, they won't break the bank. Simmons offers a two-pack that retails for $119.99, a big savings from the regular price of $239.99, but several brands and models are available.
• Havalon Baracuta knife: A gear-head hunting friend recently picked up one of these knives, which feature interchangeable blades, and gave it rave reviews. The knife's orange handle makes it easy to find on the ground, the blades are replaceable and, in my friend's words, "scary sharp." Models for skinning and fishing available at most outdoor retailers for about $65; havalon.com.
Gadgets and gizmos
• Pelican headlamp: I wrote about this headlamp last summer and absolutely love mine. Besides having an adjustable beam and a signaling SOS beacon, the compact, lightweight Pelican headlamp has a motion-activated sensor that turns the light off and on with the wave of a hand. About $50; pelicanprogear.com.
• GoPro camera: These lightweight, waterproof cameras feature both video and still-camera settings and have become all the rage among outdoors enthusiasts seeking to put a high-quality, high-tech touch on their time outside. A series of optional mounts allow users to place the cameras just about anywhere, and the waterproof case protects the camera to a depth of 200 feet. Ranging from $200 to $400 depending on the model, the GoPro is available at numerous retailers and online at gopro.com.
Dokken reports on outdoors. Reach him at (701) 780-1148; (800) 477-6572, ext. 1148; or send e-mail to bdokken@gfherald.com .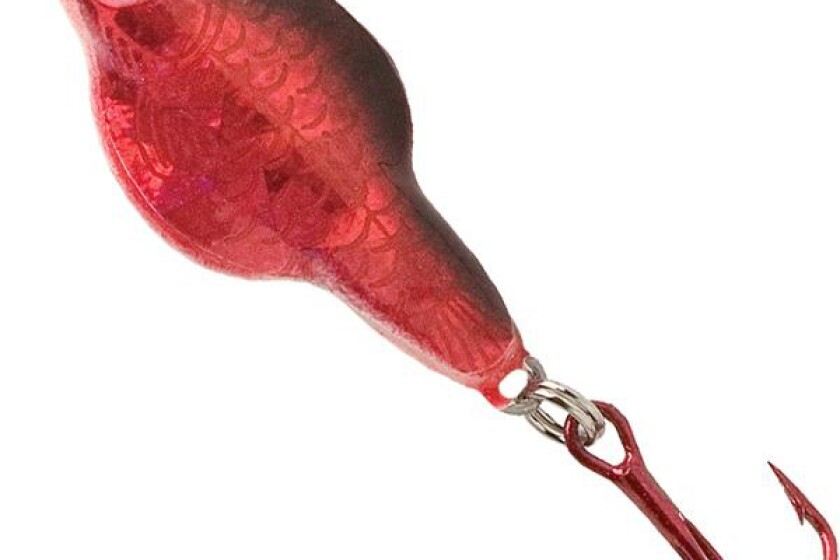 6
/
10:
Firease log-stacking aid.
7
/
10:
Cornell Guide to Bird Sounds
8
/
10:
Electronics lost and found kit