Future UND hockey players sign Letters of Intent
We are part of The Trust Project.
The NCAA's signing period opened this week, allowing players to ink their National Letters of Intent.
That means other teams can no longer contact players with offers.
As of Friday morning, seven future UND players have signed. All of them had previously given verbal commitments.
The signees are forward Jake Schmaltz, forward Nick Portz, forward Matteo Costantini, forward Louis Jamernik, defenseman Scott Morrow, defenseman Luke Bast and goaltender Hobie Hedquist.
Two of those players -- Schmaltz and Costantini -- have already been picked in the NHL Draft. Schmaltz is a seventh-round pick of the Boston Bruins and Costantini is a fifth-round pick of the Buffalo Sabres.
It's possible more signees could trickle in later.
Most, if not all, of the players who signed will come to UND in the fall of 2021.
Here's a rundown of the players who have signed:
Jake Schmaltz, forward, Green Bay Gamblers
This pattern has worked in the past: a Schmaltz playing for the Green Bay Gamblers before coming to UND.
Jake's cousins Jordan and Nick both did that. They both were standout players at the college level before moving onto NHL careers. Jake, a seventh-round pick of the Boston Bruins in 2019, has been patient with his development and that could pay off this year and in the future.
He had a goal and an assist in a 4-3 Gamblers win Thursday night.
Matteo Costantini, forward, Penticton Vees
The Penticton Vees have sent plenty of players to UND.
There are three on this year's roster: Jackson Keane, Adam Scheel and Gabe Bast. Last year's roster also featured Colton Poolman, Jonny Tychonick and Dixon Bowen. Before that, players like Troy Stecher, Tyson Jost, Nick Jones, Brendan O'Donnell and Mark MacMillan all came from there.
Costantini is next.
The fifth-round pick of the Buffalo Sabres in last month's draft is off to a fast start to this season, producing 16 points in 11 British Columbia Hockey League games.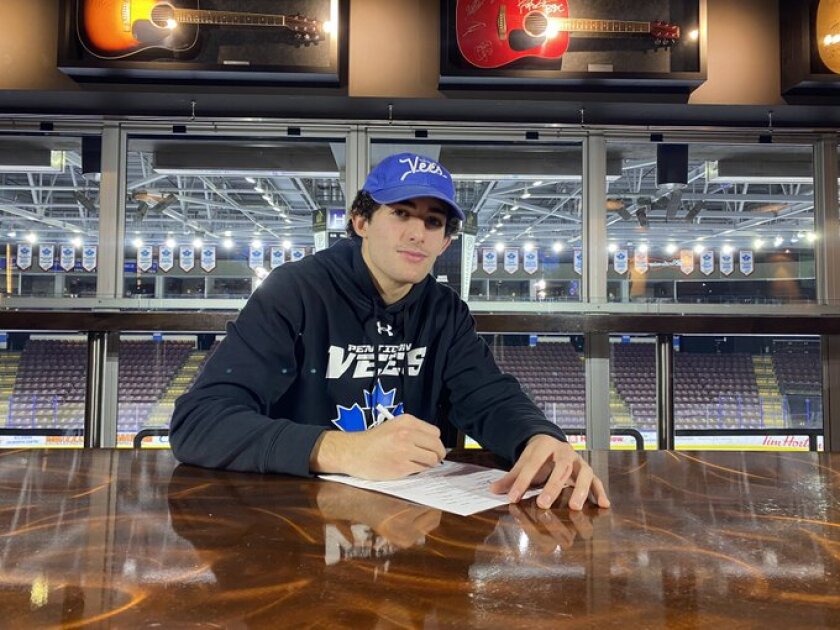 Nick Portz, forward, Tri-City Storm
Portz, a St. Cloud, Minn., product who is a friend of former UND captain Austin Poganski, fits perfectly into UND's new recruiting philosophy of bringing in older, accomplished players to mix with younger NHL draft picks.
Portz jumped onto the scene early last season in the USHL and should produce a good amount of offense this season. But that's not his only strength. He is a 200-foot forward who should have the ability to play up and down the lineup at UND.
He will be 21 years old by the time he gets to campus next fall.
Louis Jamernik, forward, Okotoks Oilers
Jamernik is currently playing for an Okotoks Oilers program that has sent several key players to UND, including Brad Eidsness, Corban Knight, Derek Rodwell and Jacob Bernard-Docker.
Jamernik is a natural leader, who is wearing the captain's 'C' this season. He plays fast, heavy and relentless. Despite not having a huge frame -- he's 5-foot-11 -- Jamernik can play a power forward style of game that should translate well into the NCHC. He's playing wing this season.
In Okotoks, Jamernik has played this season on a line with Dylan James and Bowden Singleton -- two players who will follow in Jamernik's footsteps to UND.
Scott Morrow, defense, Shattuck-St. Mary's
Get ready to hear a lot about Morrow.
He will be UND's top NHL Draft prospect in 2021 and could be in contention to go as high as the first round, continuing a trend of UND-committed defensemen getting picked high.
Four UND-bound defensemen have gone in the top two rounds in the last three years -- Jacob Bernard-Docker (first round) and Jonny Tychonick (second round) in 2018 and Jake Sanderson (first round) and Tyler Kleven (second round) in 2020.
Morrow is an offensive defenseman, who is playing for Tom Ward, the longtime Shattuck coach who sent numerous greats to UND in the last 20 years.
Luke Bast, defense, Waterloo Black Hawks
Gabe Bast is a senior, but there will be another Bast on the way.
Gabe's younger brother, Luke, will come to UND after a winding junior career that saw him win a championship with the AJHL's Brooks Bandits before heading to play for Waterloo in the USHL.
The 19-year-old had 18 points in 45 games last season for Waterloo.
Hobie Hedquist, goalie, Dubuque Fighting Saints
Hedquist, of Heron Lake, Minn., has continued his ascent since committing to UND.
Heading into the 2020-21 season, he's expected to be a potential pick in the NHL Draft. He has good size at 6-foot-2, 170 pounds -- a growing trend in high-end goaltenders.
Hedquist will likely fill the spot of Peter Thome, who is entering his senior year. UND and Thome will have the option of one more year, though, because of an NCAA rule that won't count 2020-21 against a player's eligibility.