Following wicked crash, Dustin Strand back on the race track this weekend
Strand moves on from last week's crash at the Norman County Raceway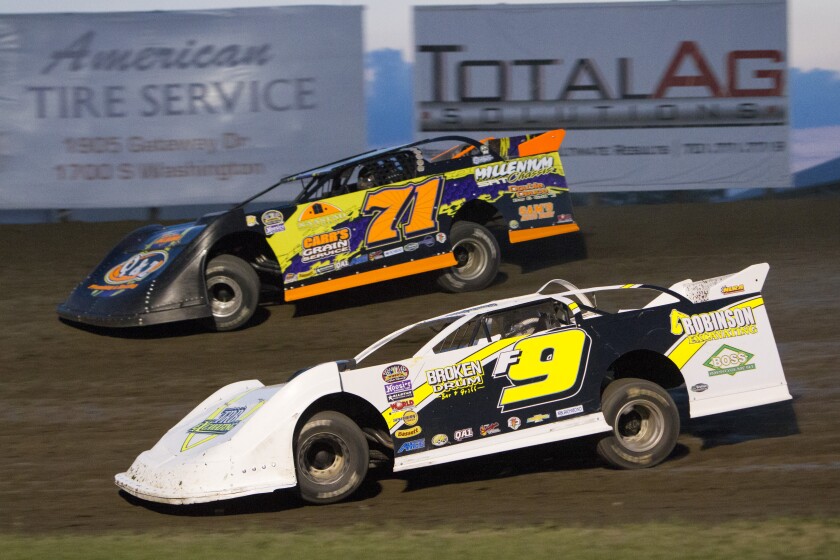 It's rare when Dustin Strand doesn't race at River Cities Speedway. He's one of the top late model and modified drivers in the region.
But he was absent last Friday at The Bullring. For good reason.
Strand was involved in a wicked wreck during the Thursday, July 22, Advantage RV Modified Tour at the Norman County Raceway in Ada, Minn. His familiar No. 71 modified touched tires with another car, jumped the guardrail on the backstretch and flipped violently before coming to rest on its hood just off Turn 3.
"That was a nasty ride," said Strand. "I'm not sure what exactly happened but I jumped tires with another car and it got up in the air. I hope I don't have to take that ride again. Usually, you don't see a wreck like that with the body car. But I was pretty fortunate. Everything on the car did its job."
Strand was taken to the hospital after the wreck for precautionary measures but was released later that night.
"My neck hurt right away and my right eye was nearly swollen shut," said Strand. "They took me in right away but all the tests came back good. I still have a black eye. It looks like I was in a bar fight."
Strand, however, will be back racing this weekend -- in his late model. On Thursday night, he was scheduled to race with the NLRA in Ada before racing in NLRA shows Friday at RCS and Saturday at the Devils Lake Speedway.
Strand's profession is building race cars.
He said his car held up well, considering the violent nature of the wreck.
"I had the frame all stripped down and to the naked eye, it looked good," said Strand. "But a few spots were stressed. So, we're going to build a new frame and hopefully have it ready for some year-end shows. I don't want to take a chance of something like that happening again.
"I've been fortunate. I've been racing for 22 years and nothing like that happened before."
Strand was scheduled to race all four nights of the Advantage RV Modified tour, which raced at RCS last week.
"The day after, I'll bet I spent half the day on the phone talking to people," he said. "There were a lot of concerned people, and that was nice to see."
For the rest of the season, Strand said he'll concentrate mainly on racing his late model. Strand has one late model win this season at RCS.
Lightning sprints and wingless sprints will compete Friday night at RCS. The NOSA sprints won't race at RCS this week. NOSA sprints will be competing at the two-day Governor's Cup show this weekend in Mandan.
Blacklance on a roll
One of the hottest drivers in the region is Aaron Blacklance of Thief River Falls.
He's won 15 features this season, racing in both the streets and Midwest modifieds divisions.
One of his biggest wins of the season came last week at the Greenbush Race Park, where he won the Rebel Midwest Modified Tour.
Three of Blacklance's wins have come at River Cities Speedway in the streets division.