Fargo South starts strong to down Grand Forks Central
Knights fall to 2-9 overall
Grand Forks Central was on an eight-game losing skid going into Friday's matchup against Fargo South, including a prior 70-63 road loss to the Bruins on Dec. 30. But that wasn't a consideration for Central coach Dan Carlson.
"There's no looking back," Carlson said. "We have to fight our way through; we have a lot of season left."
Central center Joe Newton netted a season-high 12 points, but his offensive burst wasn't enough as South defeated the Knights 53-33 at the Grand Forks Central gymnasium. Newton produced his season-best outing after recovering from a leg injury.
The Bruins bolted to an 11-0 lead to start the game. South kept the Knights scoreless for nearly three minutes until Mason Gravseth went 1-for-2 at the free-throw line. Grand Forks Central continued to struggle at the hoop as Fargo South pulled away to a 29-18 gap at the end of the half.
Central shot 23 percent while South ended 22-for-49 from the field and also hit 7-of-20 three-pointers. In addition to Newton's 12 points, Mason Love added seven for the Knights.
"We played outstanding defense but really struggled scoring the ball," Carlson said. "We just couldn't make the baskets."
Fargo South kept the same offensive pace in the second half, with the Knights often holding a double-digit deficit thanks to Bruins South duo Sibomana Enock and Diamond McGill, who had 13 and 10 points, respectively.
Grand Forks Central falls to 2-8 in the EDC and 2-9 overall. The Knights host rival Red River on Thursday, Jan. 28th.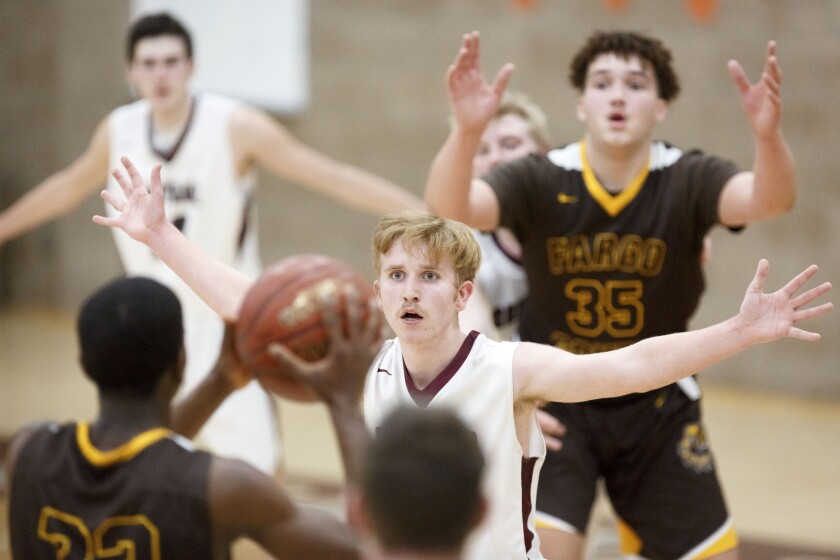 1
/
2:
Knights guard Nick Veres keeps his eyes on the ball as his blocks Fargo South's Diamond McGill (left) in the second half of Friday's home basketball game. Nick Nelson / Grand Forks Herald
2
/
2:
Fargo South's Peyton Kessel (right) tips the ball away from Grand Forks Central center Mason Gravseth Friday night at Central High School. Nick Nelson / Grand Forks Herald