Defenseman Brent Johnson leads UND's 2021 NHL Draft board
The incoming Fighting Hawks rookie had a breakout season with the Sioux Falls Stampede.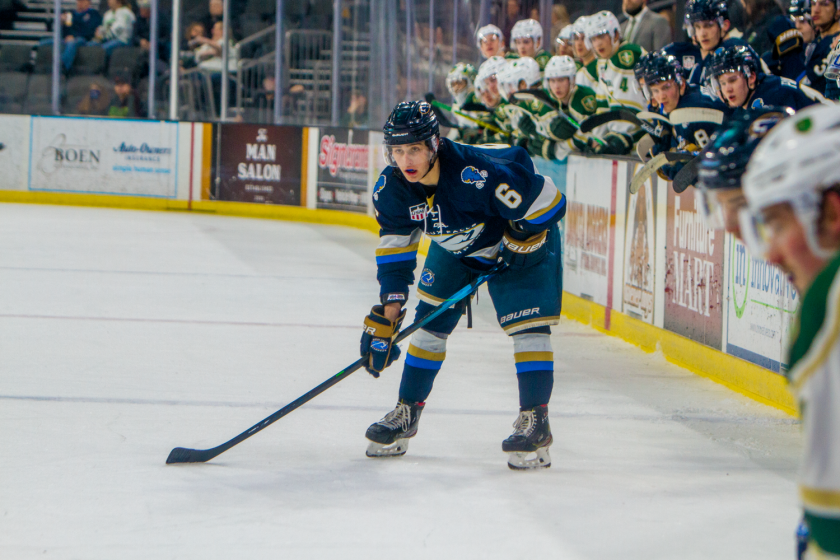 UND has had a player picked in the top two rounds of seven straight NHL Drafts.
Its best hope to keep that streak alive this year belongs to defenseman Brent Johnson.
Johnson, who played last season for the Sioux Falls Stampede in the United States Hockey League, was ranked No. 38 in the NHL Central Scouting Bureau's final draft rankings, which were released Thursday.
That likely places Johnson as a candidate to go in the second or third round.
Johnson, who is from Texas, finished fifth among defensemen in scoring in the USHL this season with 11 goals and 32 points in 47 games. He was selected to play in the BioSteel All-American Game, but he suffered a shoulder injury late in the season and had to undergo surgery.
Johnson is expected to be ready to join UND this fall.
UND had two other players ranked by Central Scouting. Forward Jackson Blake, expected to come to UND in 2022, was ranked No. 52, while defenseman Nate Benoit, expected in 2022 or 2023, was ranked No. 179.
Blake played for Eden Prairie (Minn.) High School and the Chicago Steel in the USHL this season. Benoit played for Mount St. Charles Academy in Rhode Island. He also played three games in the USHL with Tri-City.
The NHL Draft is scheduled for July 23-24, a month later than usual due to the late start of the NHL season.
The Fighting Hawks had five players/recruits selected in each of the last two drafts and four in 2018, but the lower number this year was expected, because they don't have very many draft-eligible players.
Three of UND's expected freshmen this year have already been picked in previous drafts: Jackson Kunz (fourth round, Vancouver, 2020), Matteo Costantini (fifth round, Buffalo, 2020) and Jake Schmaltz (seventh round, Boston, 2019). Recruit Ethan Bowen also was taken in the seventh round by Anaheim in 2020.
The number of first-year eligible players will rise again next year for UND with at least six: forward Jaksen Panzer of East Grand Forks, forward Cole Spicer of Grand Forks, forward Bowden Singleton of Calgary, forward Dylan James of Calgary, defenseman Trey Ausmus of East Grand Forks and defenseman Tyler Dunbar of Sault Ste. Marie, Mich.
UND had one other previously committed player on Central Scouting's 2021 list in defenseman Scott Morrow. With one spot open for a rookie defenseman for this fall, the Fighting Hawks opted to bring in Johnson, who was ranked a spot ahead of Morrow and had a year of junior hockey experience. Instead of waiting a year, Morrow flipped his commitment to UMass.
Michigan will capture the headlines for this year's NHL Draft.
The Wolverines have four players ranked in the top six of Central Scouting's rankings -- defenseman Owen Power at No. 1, forward Kent Johnson at No. 3, defenseman Luke Hughes at No. 4 and forward Matthew Beniers at No. 6.
Power, Johnson and Beniers all played for Michigan last season. Hughes is an incoming freshman.
Other top college prospects include Harvard forward commit Matthew Coronato (No. 9), Minnesota forward commit Cruz Lucius (No. 12), Wisconsin defenseman commit Corson Ceulemans (No. 14), Notre Dame forward commit Sasha Pastujov (No. 18), Denver defenseman commit Shai Buium (No. 20), Denver defenseman commit Sean Behrens (No. 24), Boston University forward commit Tyler Boucher (No. 25), Michigan forward commit Mackie Samoskevich (No. 26), St. Cloud State defenseman commit Jack Peart (No. 27) and Minnesota forward commit Tristan Broz (No. 28).
UND recruits in Central Scouting rankings
No. 38 - Brent Johnson, D
No. 52 - Jackson Blake, F
No. 179 - Nate Benoit, D