UND promotes Joel Schwenzfeier to defensive coordinator
Schwenzfeier is a former UND safety and Hallock, Minn., native.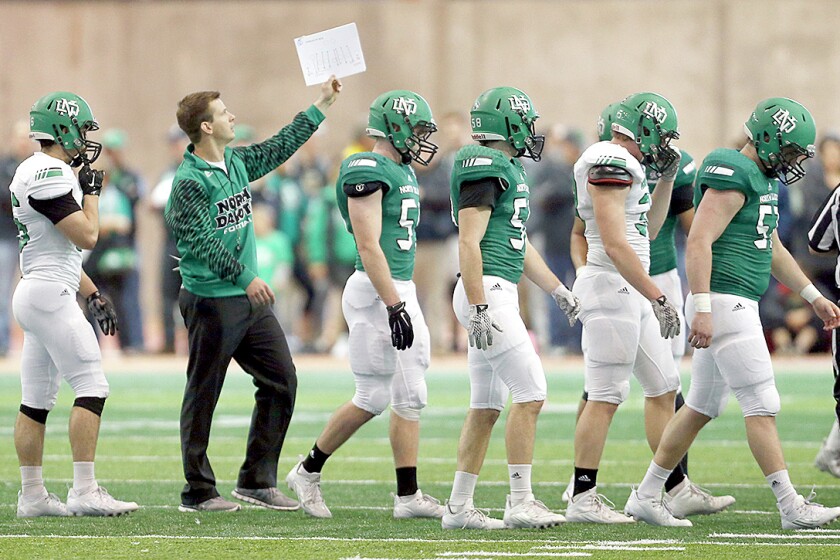 GRAND FORKS — The UND football program will go in-house to hire its new defensive coordinator.
The Fighting Hawks announced Monday that safeties coach, recruiting coordinator and former UND player Joel Schwenzfeier will take over at defensive coordinator for Brett Holinka, who decided to leave the program earlier this month.
"(Schwenzfeier) is passionate about UND football and has contributed a great deal throughout his affiliation to the program as a player and as a member of the coaching staff," UND head coach Bubba Schweigert said. "He is highly skilled at teaching the game and cares greatly about developing young people in all aspects of their lives. His enthusiasm and love for the game is contagious and his role as the defensive coordinator will lead to a positive impact on our entire program."
Previously, Schwenzfeier, who has been with the Fighting Hawks for the past 10 seasons, has coached outside linebackers (2014-17) and running backs (2013) before taking over the safeties.
"I am incredibly grateful to Coach Schweigert for this opportunity to serve as the defensive coordinator," Schwenzfeier said. "This program and university hold a special place in my heart, and it is a privilege to continue my coaching career in the community that greatly impacted my life as a student, athlete and professional. I am committed to developing our players both on and off the field, and to helping them reach their full potential. I look forward to working alongside our talented coaching staff and dedicated student-athletes to build a championship-winning defense."
A native of Hallock, Minn., Schwenzfeier played at UND from 2007-10 and made 37 career starts. He finished his career with 11 interceptions including three in the 2009 season opener at Texas Tech.
With the promotion of Schwenzfeier, UND will has two assistant jobs to fill. UND running backs coach Steve Crutchley recently left for a job at North Dakota State.
UND plans to begin spring ball on Wednesday morning.