Matt Waletzko's transformation as a UND rookie started the path to this weekend's NFL Draft
Waletzko has been projected anywhere from a second round pick to seventh round.
We are part of The Trust Project.
GRAND FORKS — When UND senior offensive lineman Donny Ventrelli was competing at college recruiting camps in 2017, he was taking reps as a defensive lineman and found himself matched up with future roommate Matt Waletzko.
"I actually beat him off the line a few times," Ventrelli said. "I give him a lot of grief. My dad actually video-taped it. I've shown him multiple times."
It's a good-natured joke between friends but also underlines the incredible transformation of Waletzko, who committed to UND as a baby-faced 6-foot-7, 330-pound high school senior, then lost 30 pounds as a rookie in Grand Forks before developing into an NFL draft prospect that could be selected on either the second or third day of this weekend's draft.
The NFL Draft begins Thursday with the first round at 7 p.m. The second and third rounds will be Friday, starting at 6 p.m. The final three rounds will be Saturday starting at 11 a.m.
Former UND offensive coordinator Paul Rudolph was the first to recruit Waletzko out of Cold Spring, Minn.
"Paul got back to campus and invited him to our camp," UND head coach Bubba Schweigert said. "He was a big body we knew had to change. We had to get him in shape. When he got to camp, we saw he could move his feet and really tried hard.
"That picture his dad shared with me this spring when he was in my office when we offered him to what he looks like now ... gosh, there was lots of potential and he went to work and made the potential a reality."
Waletzko was injured his junior year of high school, which limited his ability to do cardio workouts and led to his weight gain. The injury also prevented Waletzko from full health in the window most college football recruiting takes place. UND was his only Division I offer.
"He definitely was under-recruited," ROCORI High School football coach James Herberg said. "It's hard to know what other schools were thinking but if Matt would've taken the rest of his summer and into the fall (to commit), I think without question other offers would've come. But Matt was very loyal to North Dakota, who stuck their neck out and said we want you."
Schweigert is appreciative of Waletzko's loyalty throughout his career.
"We really trusted Matt and it turns out that's who he really is — an awesome person who stayed with his commitment, even staying with his commitment after that spring season," Schweigert said. "Guys with his talent, we know there are other opportunities out there, but he was going to stay with UND until he was ready to pursue an opportunity to play after college."
Herberg said Waletzko was laser-focused his senior year following the injury.
"I think that's when Matt became more serious and willing to do whatever it took," Herberg said. "He put in the time and worked extremely hard. I use Matt as an example all the time as a coach when a kid says I'm too tired to play both ways. (Waletzko) was the heaviest kid I've had play and he didn't bat an eye."
On homecoming Waletzko's senior year, ROCORI played a game with a temperature of 94 degrees.
"He played both ways and had a big, old smile on his face," Herberg said.
Once he arrived on UND's campus, Waletzko shed the weight quickly and played much of his career around 300 pounds. He said he didn't do much to lose the weight other than sweat it off, as he had never experienced college-level workouts.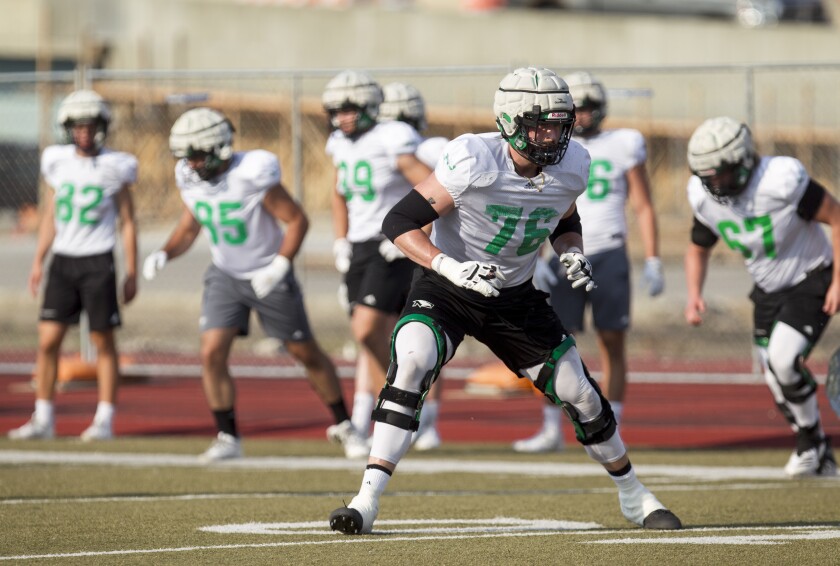 UND pulled his redshirt in 2018 and Waletzko played in nine games and started the final five games of the year at left tackle.
In 2019, Waletzko started the first six games of the season before suffering a season-ending injury.
"Early on, he wasn't as mobile as he is now, and he obviously wasn't as strong as he is now," Schweigert said. "You just saw his improvement. His best years are ahead of him. We had a spring season, where he wasn't able to have a year of weightlifting the way we could have. He's really going to do a lot of developing yet."
Waletzko's progression started to take off in the pandemic-altered 2020-21 season. He returned from the injury to start all seven games as UND finished 5-2 and advanced to the FCS quarterfinals.
He finished his junior season as an all-Missouri Valley Football Conference second team pick.
In the fall of 2021, Waletzko was named a Stats Perform and HERO Sports FCS Preseason All-American.
After the season, he was named to the all-MVFC first team and was a Phil Steele All-American.
Waletzko is described as primarily a leader by example but was also willing to voice emotions especially later in his career.
"He's a really easy guy to root for," Ventrelli said. "He's a great team guy. He's easy to root for because of the type of guy he is and he's always there when you need him."
Ventrelli lived with Waletzko as freshmen at Noren Hall on campus and now the two share a house together in Grand Forks.
"The first thing you see with him is his size and how big he is and how big his feet are," Ventrelli said. "But it's also his personality, how nice of a guy he is and kind-hearted."
His NFL projection has seen a wide range of opinions. The Athletic has released a consensus big board of the top 300 prospects in the draft, which averages the projections of more than 80 analysts.
That big board lists Waletzko as No. 152 overall, as of Wednesday.
Schweigert said there's huge value to his program to have Waletzko in NFL discussions. Other than Kenny Golladay, who transferred to Northern Illinois after two seasons at UND, Chris Kuper in 2006 (fifth round, Denver Broncos) is the last UND player to be selected in the draft.
"He's handled it with so much class and humility, too," Schweigert said. "It's really what you want in a team captain. It hasn't changed him one bit. When he's around our guys and the weight room and with prospects coming in, he's the same guy and that's what makes him such an outstanding person.
"It has brought so much attention to our program and sends a message that you can come here, work hard and get a shot at the next level. He's done a lot for us. We're really thankful what he's done and the exposure he's provided for our program."
UND in the NFL

UND football NFL draft picks since 1980.

| Year | First | Last | Round | Pick | Pos. | Team |
| --- | --- | --- | --- | --- | --- | --- |
| 1980 | Dale | Markham | 11 | 287 | DT | Chiefs |
| 1981 | Todd | Thomas | 5 | 124 | OL | Chiefs |
| 1987 | Tracy | Martin | 6 | 161 | WR | Jets |
| 1989 | Norm | McGee | 11 | 307 | WR | 49ers |
| 1989 | Monte | Smith | 9 | 236 | OL | Broncos |
SOURCE
:
Grand Forks Herald