Fans flock to Scheels Arena for fun-filled Day 1 at Fargo Regional
Thursday's sellout crowd of 5,061 was the third-largest Day 1 attendance in five regionals held at Scheels Arena and the largest since 2017.
FARGO — Set the intense rivalries of college hockey aside and what you get is a collective group of fans uniting for a common cause.
That cause? Friends, fun and a genuine love for hockey. That was evident Thursday at NCAA's Fargo Regional, where the sweaters spotted in the Scheels Arena crowd spanned far beyond the four participating teams.
A quick look in the crowd showed an abundance of purple, red and white from the first regional semifinal between Minnesota State and St. Cloud State. Sprinkled in between, you could spot plenty of maroon and gold as Minnesota fans awaited their top-ranked, top-seeded Golden Gophers to take the ice against heavy East Coast underdog Canisius, which brought a contingent of its own from Buffalo, N.Y.
Although not in this year's tournament, North Dakota fans made their presence known with plenty of green apparel throughout.
Other jerseys spotted? Denver, Wisconsin, RIT, Bemidji State and of course, there's always somebody with a Mighty Ducks sweater.
For the love of hockey.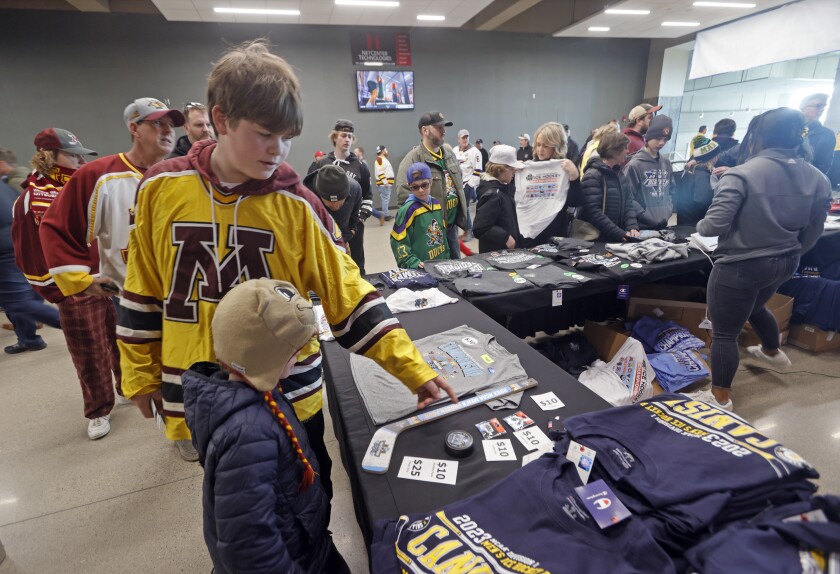 Huskies fans had the shortest drive to Fargo at roughly 171 miles, which is why a sea of red was seemingly the most prominent fan base in the day's opening game.
"We've been in the regionals before and stuck out on the East Coast," said St. Cloud fan and student Collin Rutkowski. "But now we're up in Fargo and so it's a great time to come up here and root on the Huskies."
The Mavericks' fans and pep band had a strong showing Thursday as well, but it was St. Cloud coming out on top 4-0.
"It was a great atmosphere," Rutkowski said. "There were a lot of Mankato fans here and a lot of parents from St. Cloud State. I feel like we were outnumbered a bit here. Mankato fans travel well, so you've got to tip it to them a little bit. But the St. Cloud fans made it well-known that we were here and winning 4-0 was a great outcome."
The 171-mile trek up Interstate 94 pales in comparison to the travel of Canisius fans. The distance between Buffalo and Fargo stretches 1,173 miles — or nearly 18 hours by car.
It was a trip Andy and Amy Urbank couldn't pass up — their son Erik is a second-line winger for the Golden Griffins.
"We got in (Thursday morning)," Andy Urbank said. "We flew into Minneapolis and drove over and it's been great so far. We've only been here half a day, but everything's been fine."
The high temperature in Buffalo Thursday was 44 degrees. Fargo hovered anywhere between a high of 25 degrees and low of six.
"It's cold," Amy Urbank quipped. "More snow than Buffalo."
The Golden Griffins fans knew it would be a tall task facing a high-powered Golden Gophers squad whose fans infiltrated most of the seats in the late game.
"Let's get a win, come out and play well and not get lazy like last weekend," said Gophers fan Bryce Thurmes of Hampton, Minn.
Get a win indeed, as Minnesota used a six-goal third period to roll to a 9-2 win over Canisius.
Announced attendance for Thursday's two-game session was 5,061 — deemed a sellout.
It's the third-best Day 1 crowd in five regionals at Scheels Arena. The largest remains 2015 — the first year Fargo hosted — with 5,283 fans.
This is the second Fargo regional with UND not present, the last drawing a crowd of 4,220 in 2019.
"We're pleased," said Scheels Arena general manager Jon Kram. "We found a way to get everyone in. Parking was a bit of a challenge with all of the snow, but if you looked at the crowd, it was full and it was a great atmosphere."
Kram noted it's always a challenge to track fan retention between games one and two, but the seating bowl seemed to fill even more for the late game.
"What you don't know is who stays from game one to game two," Kram said. "The challenge of in between (games) is seeing the full concourses. But people are excited, having fun, having something to drink and something to eat."
Between Thursday's games, Kram deemed the event a success to that point.
"So far we're happy," Kram said. "Let's get through game two and onto Saturday."
St. Cloud State and Minnesota will now square off in the regional championship game at 5:30 p.m. Saturday with the winner advancing to the Frozen Four in Tampa, Fla.