Brent Johnson headlines UND's 2021 NHL Draft class
The freshman defenseman is expected to go in the second or third rounds. Recruits Jackson Blake and Nate Benoit are UND's other draft hopefuls.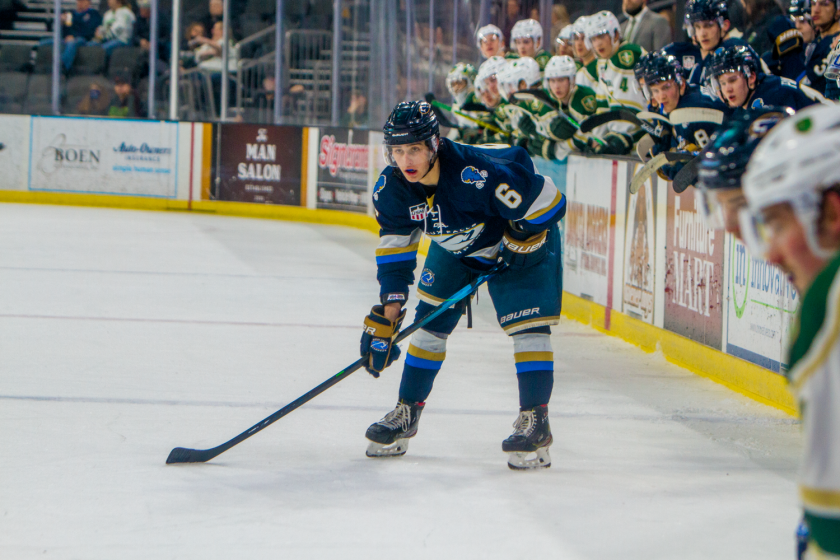 On Friday night, Brent Johnson will settle into his spot in Ralph Engelstad Arena.
He will be accompanied by his mother, Paula, his father, Eric, and one of his old coaches, Christopher Zarb. They will watch the first round of the NHL Draft play out on the center-ice scoreboard, though expectations aren't high he will hear his name.
They plan to gather again at 10 a.m. Saturday with a much larger crew — aunts, uncles, cousins and his old billet family from Sioux Falls — to take part in the festivities as he is expected to be the first UND player to have his name called.
The incoming freshman defenseman, who has interviewed with 29 of the 32 NHL teams, is projected to go in the second or third rounds.
"I'm just kind of excited to see what happens," he said. "I really have no idea at this point. A lot of nerves are building up, but I'm just excited. At the end of the day, it's going to be a dream come true."
Johnson, a right-handed shot, is a modern defenseman who skates well and is agile at the blue line. He excels at generating offense. He scored 11 goals as a rookie defenseman in the United States Hockey League for Sioux Falls last season, working his way up projected draft boards by the time his season ended in April due to a shoulder injury.
"We hope he goes in the first round, but we won't be disappointed if he doesn't," UND coach Brad Berry said. "We fully believe somebody will take him in the second round.
"He's got a lot of confidence in his game as a young player. He did a lot of great things in the USHL as a young player there, scoring 11 goals his rookie season. He has confidence in his game with the puck. He knows he has to get stronger. That's part of the maturity process at North Dakota, pushing his game to what he needs to be at."
UND fans will likely have their eyes on two picks.
Five of UND's last six drafted defensemen — Christian Wolanin, Jacob Bernard-Docker, Jonny Tychonick, Jake Sanderson and Tyler Kleven — all were picked by the Ottawa Senators, and the Senators have two picks in the second round (Nos. 39 and 42 overall).
Johnson doesn't have much of a preference where he goes.
He was born in St. Louis and grew up a Blues fan. In fact, he was named after the Blues' starting goaltender at the time of his birth, Brent Johnson. He later moved to Dallas, where he played for the Dallas Stars Elite program. He also spent a year in Detroit playing for the Little Caesars program.
For the second-straight year, the NHL Draft is being held online and remotely due to the ongoing coronavirus pandemic. Like last year, UND is holding an event at The Ralph for it, but Johnson will be the lone draft hopeful present.
"It's going to be a cool experience," Johnson said of having family and friends in Grand Forks for it. "To have something like that, I'll never forget it and I'll talk about it for years and years."
After having busy draft days the last three years, this weekend will be relatively quiet, because the Fighting Hawks don't have many draft-eligible players.
Some of their incoming freshmen have already been picked, including Jackson Kunz (Vancouver Canucks), Jake Schmaltz (Boston Bruins) and Matteo Costantini (Buffalo Sabres).
The only other candidates to get picked this year are recruits Jackson Blake and Nate Benoit.
Blake, a forward who won both a Minnesota prep title with Eden Prairie and a USHL title with Chicago, is expected to go in the mid-rounds. Blake will come to campus in the fall of 2022.
Benoit, who played most of the season with Mount St. Charles Academy, will be a late-round pick if he goes at all. He will come in a year or two.
Arrival at UND: This summer.
Position: Defense.
Size: 5-foot-11, 161 pounds.
Hometown: Dallas.
2020-21 team: Sioux Falls (USHL).
NHL Central Scouting ranking: No. 38 North American skater.
Draft projection: Second or third round.
An NHL scout says: "He's a dynamic skating offensive defenseman. He has great shooting and scoring ability. He's deceptive and beats guys one-on-one. He needs to get stronger and improve defensively. It might be a slow adjustment to the NCHC because of that, but the offense and power-play stuff is top-notch. He will be a point-producing, goal-scoring defenseman for North Dakota."
Arrival at UND: Fall 2022.
Position: Forward.
Size: 5-foot-10, 158 pounds.
Hometown: Eden Prairie, Minn.
2020-21 teams: Eden Prairie High School and Chicago (USHL).
NHL Central Scouting ranking: No. 52 North American skater.
Draft projection: Third, fourth or fifth round.
An NHL scout says: "He's one of the smartest and most skilled players in the U.S. this year. He processes the play so quick and has the skill to execute. He makes plays through sticks and scores goals in the home plate area that will translate to the next level. He's pretty gritty and courageous in the offensive zone and really good in tight areas with the puck. He needs to grow stronger, improve his speed and be more consistent on the defensive side of the game. He will benefit from another full year in the USHL and should be a big point producer, top power-play guy for North Dakota."
Arrival at UND: Fall 2022 or 2023.
Position: Defense.
Size: 6 feet, 168 pounds.
Hometown: Bow, N.H.
2020-21 teams: Mount St. Charles Academy and Tri-City (USHL).
NHL Central Scouting ranking: No. 179 North American skater.
Draft projection: Late rounds or undrafted.
An NHL scout says: "He could be a solid later pick. He was really good at Nationals for Mount St. Charles and looked like he belonged when he joined Tri-City, too. He's a good defender with good gaps and a good stick. He takes the body and gets stops. He can also make a good first touch with the puck. He has a decent shot from the point. He doesn't have a high-end puck game, though. He needs to keep it simple. He needs to improve his skating. He has some trouble defending side speed or getting back to retrieve pucks quick enough. He will probably be a good defending, pass-first guy for North Dakota and maybe as an upperclassman, he can add some offense, too. He might need two more years before he comes."