Badger/Greenbush-Middle River putting trust in their experience during perfect season
Heading into the Minnesota State Tournament, the 26-0 Badger/Greenbush-Middle River Gators have been dominant on both sides of the diamond.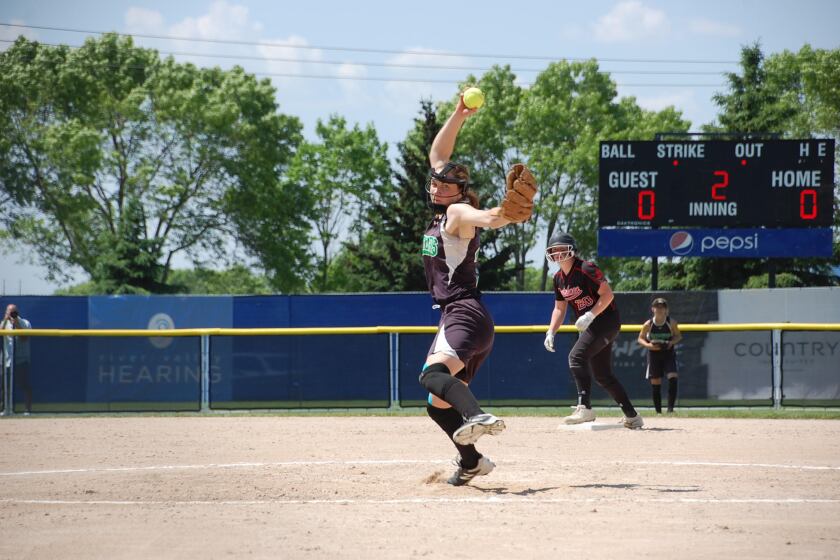 This year's Badger/Greenbush-Middle River softball squad has been playing at a different level than seen in previous years. They are a Minnesota-best 26-0 this year heading into the Class A state tournament this week.
It's an effort that has been in the works for the past couple of years under head coach Kent Chrisitan.
"For several years we've been a pretty young team. This year those young girls are now juniors and seniors," Christian said. "This last summer and fall we were able to get in some games that I don't think other teams did and that definitely helped. We're an experienced team."
Statistically speaking, the Gators have been dominant in all phases of the game. Out of the 268 runs they have scored, 204 of them were scored via RBIs at the plate. Overall the Gators have 10 batters hitting above .400 and of those 10, six have an OPS above .800.
"We tell our girls all the time that this is a very humbling game. How many sports can you play where if you're successful three out of 10 times you're considered pretty good? Fortunately, we've had girls that have been successful four or five times out of 10," he said.
The BGMR offense has been so deep it is tough to point to one or two players that have been definitively paving the way. Asher Burslie's .619 batting average ranks first on the team, while Lauren Kvien has tallied the most RBIs with 29 and Mariah Christian the most hits with 30.
Up and down the lineup the Gators have been able to put together strong and patient at-bats that wear down the opposition, which is a testament to their experience.
"In our division, especially, we have had teams with younger pitchers. They're going to be good pitchers, but they're young. It was a growing year for Northern Minnesota softball and we just happened to have the most experienced team," said Christian.
As for their own pitching this year, Mariah Chrisitan has been the ace on the mound. Her 10-0 record, 0.81 ERA and 21 strikeouts push the pace for the defense. As a team, they have given up just eight earned runs in conference play.
They have allowed 28 altogether, but the former stat certainly speaks to the cohesiveness of this fastpitch group. The girls have formed deep chemistry and are able to pick each other up.
Now, heading into a state tournament, the effort is meshing with the results all at the right time.
"They haven't put too much pressure on themselves and they seem to get along really well. They have played a lot together and have had this goal for quite some time," said Christian.
This year has been a unique experience for all spring sports programs given no one has ever come off of a COVID year before, but this BGMR roster goes back before that. They are hoping this week is their opportunity to shine a spotlight on all the years of hard work.
The MSHSL Class A State Softball Tournament begins on Tuesday in Mankato, Minn. at 3 p.m. Quarterfinal and semifinal rounds will be on the same day before the championship and third-place game happening Wednesday.
B-G-MR is the No. 2 seed in the tournament and will take on 19-5 Springfield in the quarterfinal round.