Another razor-thin margin of victory expected again as the World of Outlaws return to Grand Forks
River Cities Speedway set for its 28th WoO show Friday night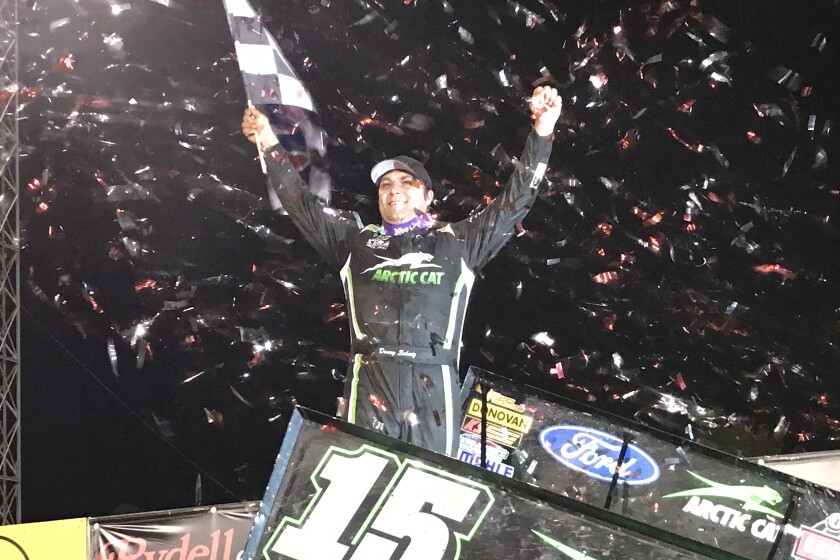 We are part of The Trust Project.
GRAND FORKS – When the World of Outlaws race at River Cities Speedway, a razor-thin margin of victory is usually the norm.
Last season, Brad Sweet chased down Sheldon Haudenschild in the closing laps and won by 0.133 seconds. Two years ago, in perhaps the most thrilling of all WoO races at RCS, NASCAR regular Kyle Larson captured an amazing win, passing Logan Schuchart out of Turn 4 on the final lap to take the win.
There have been other nail-biters as well since the Outlaws started racing at RCS in 2007.
The 2011 battle between Schatz and Steve Kinser, the King of the Outlaws, also ranks as one of the best WoO features in Grand Forks since 2007.
On Friday night, the Outlaws return to high-banked Bullring. And it's likely fans will see another down-to-the wire finish.
"The competition is as tough as it's ever been," said Mark Dobmeier, a past WoO winner and the career wins leader at The Bullring. "The level of competition is very high. There are 10 guys that can win on any given night.
"The Outlaws are always tough. You have to have your stuff together 100 percent and you need a little luck, too. Our crew has been working hard and hopefully we can give them a good run."
Friday night's WoO show will mark the 28th time the country's top sprint car drivers will compete in Grand Forks.
Donny Schatz, the 10-time WoO series champion, has won once in 23 races this season and sits sixth in season points. But Schatz has been the dominant driver at WoO shows in Grand Forks. The Fargo driver has won 12 times at RCS and has been a threat every time the Outlaws come to Grand Forks.
Sweet is at the top of the season points race but the hottest driver of late has been Haudenschild, son of legendary driver Jac Haudenschild.
The younger Haudenschild has won three of the past five WoO races, During that span, Haudenschild has risen from fourth in points to second. He's had four-straight top-10 results in Grand Forks. His best finish was second last season. Haudenschild has five wins this season, tops on the circuit.
The car count on Friday is expected to be between 25 and 30 cars. Approximately 15 travelers will compete. The number of RCS regulars and regional drivers will comprise the rest of the field. It's expected 10 to 15 local and regional drivers will test their cars against the Outlaws.
SLS Promotions again is promoting the WoO show in Grand Forks, despite the death last week of founder Larry Hillerud, who has been an integral part of past WoO events in Grand Forks.. Hillerud, also a former driver, died last week. He originally is from the Minot area,
The Outlaws will race at Huset's Speedway near Sioux Falls on Sunday, June 5.
On Saturday, WoO announcer Johnny Gibson, who has called more than 2,000 consecutive World of Outlaws races since grabbing the mic in the mid 1990s, will be inducted into the Knoxville Raceway Hall of Fame. He will be joined by legendary car owners Tony Stewart and Dennis Roth, along with noteworthy drivers including 12-time winner Tim Green and five-time winner Gary Wright.
World of OutlawsWhen: Friday night, 7:30 p.m.
Where: River Cities Speedway
Tickets: $45 reserved in advance; $45 reserved day at the track; $37 general admission; $20 kids ages 12 and under
Feature: 40 laps
Top prize: The winner will take home $10,000
Last year's winner: Brad Sweet