After passing on Brock Boeser at the NHL Draft, the Minnesota Wild will face the former UND star in the playoffs
It all appeared to line up perfectly for the Minnesota Wild.
They walked onto the stage at the BB&T Center in Sunrise, Fla., on a sunny June day in 2015 to make the No. 20 overall pick in the NHL Draft.
The Wild, who had long searched for a goal-scoring right winger, had a perfect fit on the board. They were going to have the opportunity to draft Brock Boeser, the local product out of Burnsville, who led the United States Hockey League in goals the previous season.
Wild general manager Chuck Fletcher stepped up to the mic. He didn't make any small talk or have any announcements. He got right to the point.
He leaned in and said: "Minnesota selects, from Farjestad, Joel Eriksson Ek."
The Wild passed on Boeser in favor of the centerman from Sweden. Boeser went three picks later to the Vancouver Canucks.
The Wild have since been dogged by questions about the pick.
Boeser went on to play two years at UND, leading the Fighting Hawks to an NCAA national championship as a freshman (he had four points in the title game), while finishing third nationally in points with 60. The following year, he turned pro after UND bowed out of the NCAA tournament and made his NHL debut the next day. The opponent? The Minnesota Wild. Boeser scored a goal in that first game.
While Eriksson Ek has turned into a solid defensive center for the Wild, the production comparison with Boeser isn't close.
Eriksson Ek has played in 210 NHL games, scoring 24 goals and tallying 66 points.
Boeser has played in 197 NHL games, scoring 75 goals and tallying 161 points.
The spotlight on this pick and all the comparisons are bound to rise again this weekend. When Boeser plays his first Stanley Cup Playoff game on Sunday, it will be against the team he made his NHL debut against, the hometown team that passed on him in the draft, the Wild.
Vancouver and Minnesota open up their best-of-five series at 9:30 p.m. Sunday in Edmonton.
"I would probably say I know a little more about them. . . I know Minnesota better than most teams," Boeser said.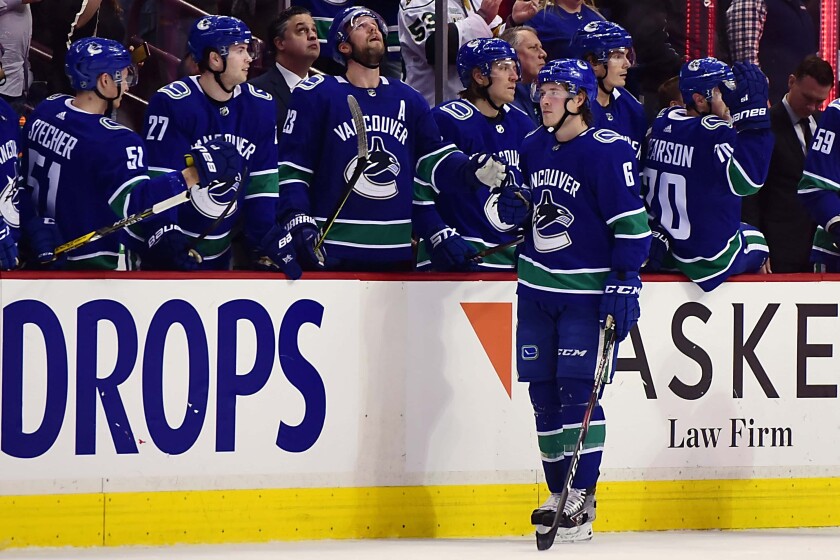 'The best I've felt in a long time'
Boeser, who had 16 goals and 45 points in 57 regular-season games, says he will be ready for the series.
He spent the coronavirus pandemic stoppage at home in the Twin Cities working out and preparing for the playoffs. He played well during Vancouver's sole exhibition game ahead of the playoffs, despite not scoring a goal.
"I feel really good," Boeser said during a recently press conference. "I told you guys when we talked in the summer that I was coming back on a mission. I really put in the work when I was at home. I was working hard. I'm noticing a difference right now. I feel better. I feel confident right now. Hopefully, I can continue that and bring it against the Wild. The shot's feeling good.
"I got in a couple weeks where I train in the summers before I came back. It was a little different just being at home. A lot of Peloton. I rode a lot of Peloton. A lot of roller blade rides. . . other workouts at home. I don't know if it was the Peloton or what it was, but I feel quicker out there. I feel stronger. It's the best I've felt in a long time and I hope I can keep it going."
There may be one change in Boeser for this series. He recently started using a new curve on his stick. It's the first time he's changed the curve on his stick since peewee hockey.
"Auston Matthews curve," Boeser said. "I've liked it so far. We'll see if it leads somewhere."
Boeser isn't the only former UND player in this series.
His college teammate, Troy Stecher, is a regular on defense for the Canucks. Stecher has five goals and 17 points in 69 games for Vancouver this season.
On the other side, Minnesota's leading goal scorer this season was longtime star Zach Parise, who had 25 goals and 46 points in 69 games.
Luke Johnson, who won state championships at both Grand Forks Red River and Grand Forks Central before helping UND to the 2016 NCAA title, also is on Minnesota's playoff roster. Johnson played three games for the Wild this season.
Boeser, Stecher and Johnson all were on UND's 2016 title team.
But none will have the spotlight in this series like Boeser.
"I know their defense is one of their strengths," Boeser said of the Wild. "You look at their top four 'D,' and they're all really good defensive players. We know we're going to have to break them down in that aspect. I think Minnesota had a slow start to the season but was kind of gaining traction before the break. So, I know they're going to have confidence.
"We need to have the same confidence and I think we need to be prepared for each game and know what they're going to bring each game. With saying that, I think we need to make sure we play our game and kind of dictate the pace of play against them."
Minnesota Wild vs. Vancouver Canucks
Best-of-5 series, in Edmonton
Game 1: 9:30 p.m. Sunday (NBC Sports)
Game 2: 9:45 p.m. Tuesday (USA)
Game 3: Aug. 6, TBD
Game 4: Aug. 7 (if necessary)
Game 5: Aug. 9 (if necessary)