5 things you might've missed in UND's 44-10 win over Missouri State in the FCS playoffs
No. 7 UND beat No. 12 Missouri State 44-10 in the first round of the FCS playoffs on Saturday at the Alerus Center.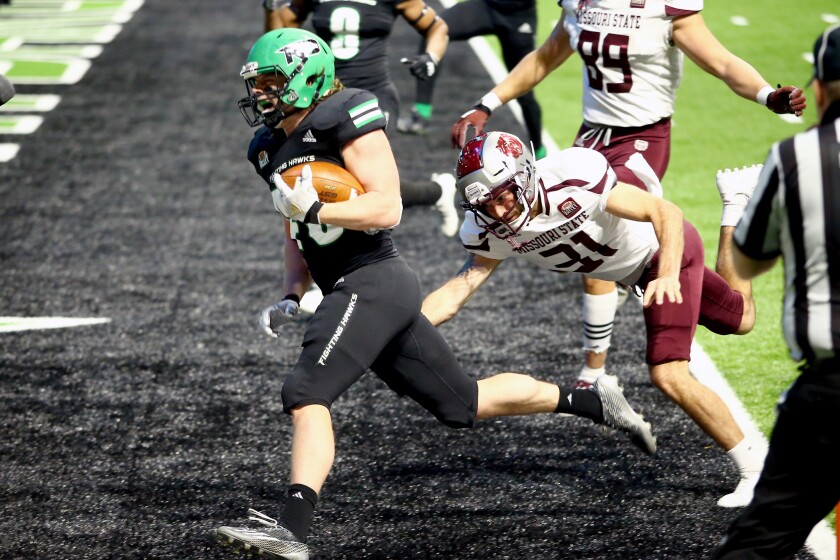 With UND's 44-10 win over Missouri State in the first round of the FCS playoffs on Saturday at the Alerus Center, here are 5 things you might've missed:
1. Belquist injury a concern
With the game basically in hand the entire second half, the biggest concern for UND was health.
That became an issue in the third quarter when breakout rookie wide receiver Bo Belquist was injured following a 10-yard catch.
Belquist had one of his best games as a Fighting Hawk, scoring on a 48-yard flea-flicker in the first quarter and catching all four of his targets for 88 yards.
But Belquist -- the talented New Rockford, N.D., native -- needed to be helped off the field in the third quarter, bringing into question his future availability.
"Lower leg injury, and we're taking a look at him right now," UND coach Bubba Schweigert said. "We'll see where that goes. It was a little unfortunate. He's tough, I know that. He'll do whatever he can to get back, that's for sure."
Belquist has 255 yards receiving this season with three touchdowns.
On Twitter after the game, Bo's dad, Elliott Belquist, commented that Bo's injury was a "little ankle sprain."
2. Kilty fills in fine for Hergel
One of the big storylines leading into UND's first round FCS playoff matchup with Missouri State was the transfer of starting offensive lineman Kyle Hergel, who entered the NCAA transfer portal the week of the game.
Hergel, a sophomore, had started every game the past two seasons.
In his place, UND started true freshman Easton Kilty.
"He played hard," Schweigert said. "We'll take a look at it. I didn't really isolate on that today. We'd like to run the ball more consistently, but they really loaded up the box. We really wanted to run the clock, and they knew we wanted to run the football."
UND ran 38 times for 141 yards, but the Fighting Hawks also led by three scores for much of the game.
Fighting Hawks quarterback Tommy Schuster, who has been sacked once all year, wasn't sacked against Missouri State, a team that had 27 sacks this year coming into the game.
3. Kauppinen answers questions early
With 35 days between games, the UND football team was mostly healthy against Missouri State.
The biggest injury was to safety Jordan Canady, who was injured March 20 against North Dakota State.
Filling in for Canady in a starting role was redshirt sophomore Kadon Kauppinen.
After UND won the toss to start the game and deferred to the second half, Missouri State started the game with the ball.
After a false start on the first play of the game, UND blitzed Kauppinen on the next play and Kauppinen hit Missouri State starting quarterback Matt Struck as his first pass was incomplete.
On Struck's second play, Kauppinen broke up a pass to set up third-and-15. The Bears would eventually punt on the first set of downs.
4. Turner was at his best
UND linebacker Jaxson Turner wasn't on the all-Missouri Valley Football Conference teams released earlier in the week.
A few former UND players took to social media to voice their disapproval.
The way Turner played against Missouri State, it appeared the senior from Esko, Minn., was making his case for a snub.
Turner had a pair of sacks, but he was even more disruptive than those numbers indicate.
Turner moved just half a sack shy of former UND defensive end Ross Brenneman for second on the program's Division I list for career sacks with 18.0
UND's eight sacks are the most by the school since Sept. 16, 2006 vs. Winona State when UND had 10.
5. Skokna solid on special teams
UND has turned a majority of its punt and kick returns over to sophomore running back Luke Skokna.
Skokna has flourished in this role. Skokna had an 18-yard punt return and a 39-yard kick return against Missouri State.
For the year, Skokna would be in the Top 15 in the country in both categories if he had enough returns to qualify for the official statistics.