Trinity Health Foundation prepares for new hospital
The 594,000-square-foot hospital is complemented by a 196,000-square-foot medical office building and is scheduled to open in spring 2023.
In a little more than a year, a state-of-the-art medical campus will open in Minot, expanding the area's health care offerings and providing additional jobs in the region.
In the meantime, Trinity Health Foundation is fundraising for a contribution it will make to the project.
Trinity Health broke ground on the new hospital in 2018, and though there have been a few setbacks along the way it is presently on track to open in spring 2023.
The 594,000-square-foot hospital is complemented by a 196,000-square-foot medical office building, making a total of 790,000 square feet of new medical space on the 43-acre site. An additional 32 acres sit directly south and will be used for future growth.
The campus is one of the things that excites Trinity newcomer Dusty Zimmerman.
Zimmerman joined Trinity Health Foundation this past fall as its new executive director, and says among her priorities is "putting the Trinity Health Foundation out into the community" to bring more awareness to the many things the company is doing.
"It's our goal to build more awareness of what we do to support Trinity Health's efforts," she said. "I spend a lot of time working on that. And, of course, fundraising for the $15 million contribution that the Foundation will make to the new hospital. That's the other priority at the moment. … We are working with various donors and other organizations to raise those funds prior to the hospital opening in about 18 months."
When finished, the hospital will have 168 beds, all of them in private patient rooms.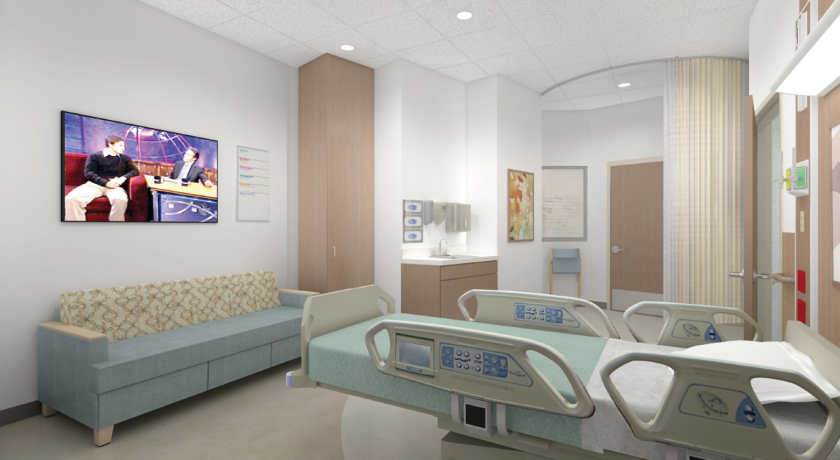 The hospital originally was slated to open in 2022, but supply chain delays and a propane fire that happened at the facility in March 2019 pushed back the completion date.
Work is moving along nicely now, Zimmerman said.
The construction manager of the project is JE Dunn Construction, and the architect is Indiana-based TEG Architects. Marc Mellmer, vice president of JE Dunn in Bismarck, said he is impressed with the state-of-the-art hospital.
"The building has seven floors, 12 elevators, two escalators, eight stair towers, 14 operating rooms, two C-section ORs, 12 labor and delivery suites, 26 emergency exam rooms, 148 patient beds, a helipad, and an underground parking garage," he said.
What's next on the project list is completing rough-in work above the ceiling and in walls and starting finish work throughout the facility.
"We are honored to be trusted by Trinity Health and the citizens of Minot to build one of the largest, if not the largest, hospital in the state of North Dakota," Mellmer said.
Besides the hospital, Zimmerman said other priorities are raising funds for a new ambulance and promoting Trinity's scholarships. With nursing shortages across the U.S., she said Trinity's nursing scholarship is an important one. This year Trinity received a record number of applicants, at 68. It also offers a radiology tech scholarship, which Zimmerman said is not as popular but still important.
The great thing about the nursing scholarship program, she said, is that many individuals, some of them former nurses or other medical professionals, contribute to the fund.
"Primarily they're individual donors," she said. "We have a lot of retired nurses who contribute to that. They've spent their careers serving and now they want to help the next generation of nurses."
The nursing scholarship every year opens Aug. 1 and closes Nov. 1. The rad tech scholarship also is traditionally distributed in the fall.
She also said that Trinity's ambulance service area continues to grow due to rural volunteer groups disbanding and increased population growth. As such, the need for additional vehicles is great. At present, the Foundation is fundraising for one new ambulance, which Zimmerman said costs $138,341.
Trinity Health will celebrate 100 years in 2022, which will place other to-do items on Zimmerman's plate. That's OK, since she is excited about all of the things happening at Trinity. And as for the future of the existing hospital, there have been a lot of discussions about that.
"There hasn't been anything finalized at the moment," she said, "but the city, various city entities, hospital staff, and a number of community members have all been meeting regularly trying to come up with what the building could be utilized for in the future."