Our view: Study needed to end vicious taunts at high school sports events
Issues have arisen in recent months that have brought taunting at sports events to the forefront at the state Capitol.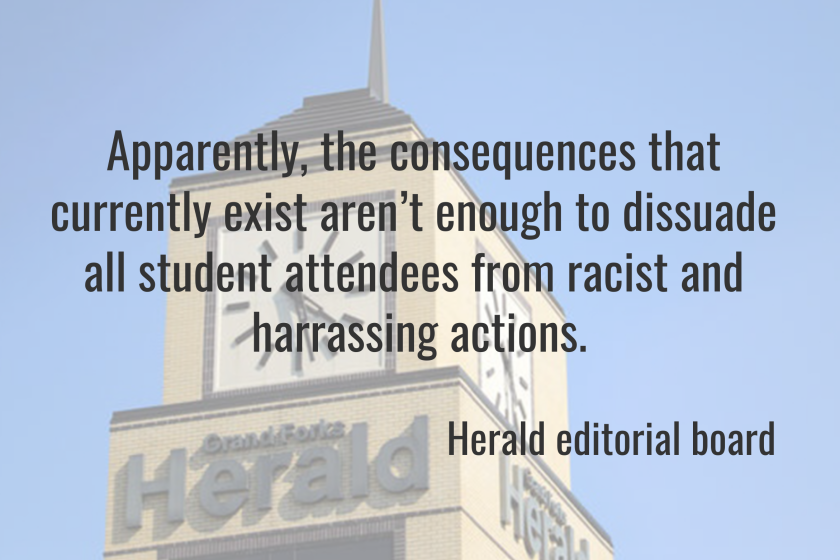 At times, school and state athletics officials are going too far in limiting what student attendees can yell during sports events. For example, in 2015, the Grand Forks Herald reported that "according to the 2012-2013 (Eastern Dakota Conference) guidelines, 'cheers that identify individual opponents or teams are not permitted,' which includes 'air ball' cheers or scoreboard cheers."
So, at the end of the classic "We've got spirit, yes we do," it's apparently wrong to close it with the traditional "We've got more, check the score."
That rule is going too far, in our opinion.
But issues have arisen in recent months that have brought taunting at sports events to the forefront at the state Capitol. Now, House Concurrent Resolution 3022 is calling for a legislative study that seeks to clarify the role of school officials in promoting good behavior among attendees at sporting events. It seeks to include a "clarification of (spectator) expectations and consequences for violating those expectations."
The Legislature is expected to decide this week, so it's possible, due to the nature of deadlines, the issue already has been decided before this piece is published. Nonetheless, lawmakers should indeed pass HCR 3022 in an effort to curb concerning behavior that has occurred at school events in North Dakota.
Some kids just aren't grasping the seriousness of the issue at hand.
As reported by Forum News Service, the resolution originated with Rep. Jayme Davis, D-Rolette, a member of Turtle Mountain Band of Chippewa. She brought forth the proposal after learning of two recent basketball games where young fans made racist remarks and gestures toward non-white players.
For example, at a Jan. 31 game between Jamestown and Bismarck High, fans from Jamestown allegedly yelled the "N-word" at a Black player and made racist hand gestures at a Native American player. Jamestown school officials acknowledged inappropriate remarks and gestures were made.
Further, according to FNS reporting, video from a basketball game two weeks later in Dickinson showed a young fan taunting Native American players from Turtle Mountain Community High School. Dickinson school officials said they disciplined a student after the incident.
In response, the North Dakota High School Activities Association clarified its anti-discrimination policies, which state profanity, negative chants, trash talk, name-calling and personal attacks are unacceptable and must be immediately addressed by school or tournament administrators.
Some want more oversight, thus HCR 3022.
Davis, in an FNS report last week, said accountability is lacking, even when the harassment is caught on camera.
Yes, a study is needed because then, lawmakers could gather input from a task force composed of a cross section of educators, tribal representatives and others. Apparently, the consequences that currently exist aren't enough to dissuade all student attendees from racist and harrassing actions.
Teams certainly deserve an advantage when playing on their home court. In years past, that unfortunately sometimes meant vicious taunts and questionable cheers. Whereas we don't mind shoutouts related to the scoreboard and such, there is just no place for racism and outright harassment at sports events. Or anywhere, for that matter.
This resolution is needed, as is a study to determine what is the best next step.