McFeely: West Fargo will vote to eliminate athletic director positions at three high schools
Second-largest school district in state could move to district-level activities director with managers at each school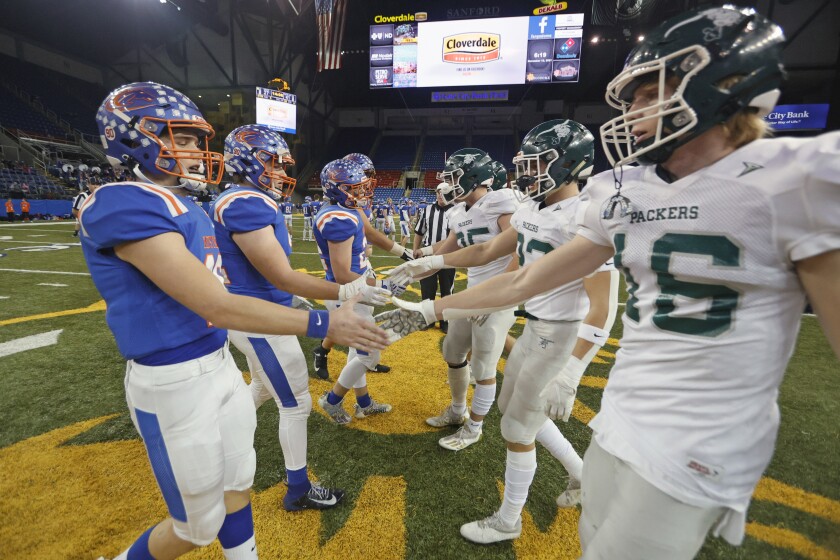 We are part of The Trust Project.
WEST FARGO — The West Fargo School Board will vote Monday, June 6, whether to eliminate its three athletic director positions at its high schools. The district would then hire one district-wide activities director and three activities managers, one for each school.
The board meeting begins at 5 p.m. at the district office.
West Fargo — with West Fargo High School, Sheyenne High School and Horace High School — would follow a trend of the larger school districts in North Dakota that have gone from school-specific activities directors to district-level ADs. Grand Forks earlier this year voted to dissolve a district-wide athletics director and two high school-level activities director positions, replacing them with a district-wide activities director and two high school athletics directors — one each for Central High School and Red River High School.
The Grand Forks Herald reported the school district will spend an estimated $21,000 more each year because of the change.
Not all are happy with the proposed change. Lori Hermann, wife of Sheyenne High School athletic director Cory Hermann, posted on Facebook that the school-level activities directors would not be paid commensurate with the job duties
"... This position would drop so drastically on the pay scale that this person would be working for under minimum wage with little to no say in any decisions regarding said activities," Lori Hermann wrote. "Imagine this…WFPS is the second largest school district in ND (right behind Bismarck). If you want to be the best, you have to have the best administration. This means you must pay those individuals what their worth. WFPS says they care about their employees but do they really? This proposal will take us from a current ranking (on the pay scale) of 7th (that means that almost all other Class A schools ADs are above us) to dead last in the state!"
According to a memo given to school board members in their agenda packet, the district-wide activities director would be paid $148,200 annually. Each school-level manager would make an average of $104,420.
"WFPS claims this proposal will create equity across the district (having one individual making decisions)," Hermann wrote. "What it's really doing is taking the voice out of each individual building."
Hermann recently completed his first year as the AD at Sheyenne.
The district, however, says it has grown to a point that it needs to centralize administrative responsibilities, calling the current model "unsustainable."
"In just the last year we have experienced issues arising from a lack of centralized leadership. One specific example relates to the transportation of student-athletes when an emergency prompted the cancellation of non-district provided transportation for one high school team but not the other. Overnight stays and travel schedules also vary from school to school," the district's memo said. "By eliminating our current three building level positions and adding one activities director with an activities manager at each site, we feel we can address the issues we are currently experiencing while also leveraging the strengths of our present system."
While advocating going to a district-level activities director, West Fargo wants a different model than the one currently used by neighboring Fargo Public Schools. Fargo has a one activity director at the district level and assigns the activities portfolio to an assistant principal at each secondary school.
West Fargo would have the activities managers report to the activities director; the activities director would report to the secondary assistant superintendent.
"With continued district growth, we need to ensure there is equity in the extra-curricular activities made available to learners. Actively managing coach/athlete ratios, social media oversight, systemic budget planning, uniform replacement schedules, and travel parity are just a few of the issues that currently lack a consistent approach across all our feeder systems," the memo said. "More support for middle level activities could be provided with this position, as well as managing Title IX requirements."