Chuck Haga: They ask, 'What can I do to help?'
Write a letter and send it to someone who matters in your life.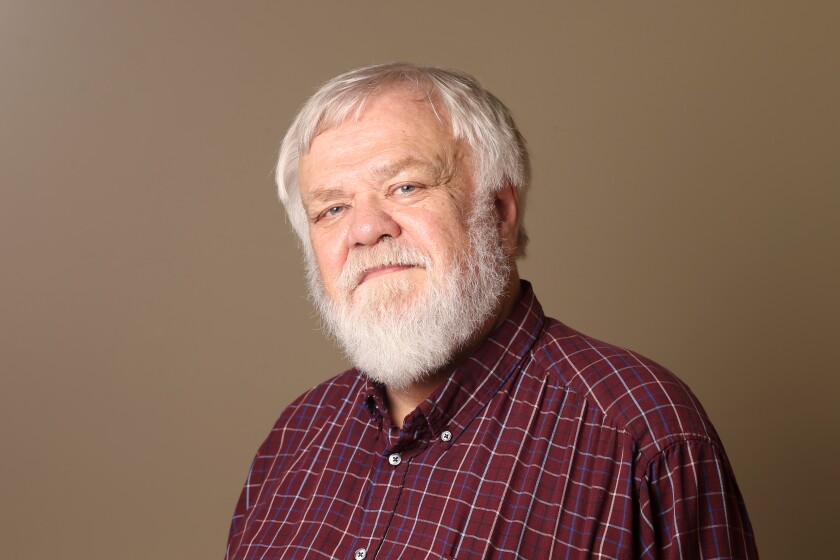 At least one of the medications I'm taking to grapple with cancer is meant to make me look really stupid.
"May I call you no gor bgief update?" I wrote to a friend the other day. "Impoddible to textm."
I was warned that some of these medications would make me drowsy. But they've also made me slow, achingly slow. A line or two responding to the day's question, "How are you doing, Chuck?" can take half an hour to compose, fix typos and then fix the fixes.
I am determined not to turn this column into a personal medical journal, a long goodbye, or a brazen appeal for sympathy. But I write. That's what I do. I have spent more than half a century writing, trying to communicate, and for the past seven years I've presumed to teach the noble craft to a new generation. And now that question – How am I doing? – comes at me several times a day, always kind and caring and well meant.
I would most like to have those conversations one on one, where we look into each other's eyes, maybe touch, punctuate the facts and fears with giggles and truths. One of the things I most liked about the Larry McMurtry-inspired TV series "Lonesome Dove" was the honest talk, pained or profound, between Woodrow and Gus.
But COVID and blizzards, distance and the damned intrusiveness of social media have discounted in-person visiting as a form of human connection.
So, I write. At least, I try. But when the words don't come, or they come disguised and damaged beyond recognition, I turn to the telephone, which is good in some ways. The words are alive there, cushioned by breath, precious breath. You hear how they're chosen in the stumbling and searching on the other end of the line.
And talking on the phone has been so much easier lately than trying to peck out a message on social media, constantly having to go back and correct. I must have rewritten some sentences a dozen times. This has depressed me because it recalls the broad decline of letter writing: personal, hand-written and stamped letters and postcards. I have written frequently about the decline of letter writing, how I miss fetching the mail and finding a note written in a recognizable hand.
I've written, too, about an exercise I have students do, giving them each a thank you note, an envelope and a stamp and asking them to think about audience, message and tone as they write a few lines to someone who matters.
My friend Wojtek in Poland used a Christmas letter to tell me that he, too, is sick.
2021 was an awful year, he wrote, "caused not only by the virus and the general mess our poor country has become, but also by the struggle against the alien that has planted itself in my body. I had long suspected that I might not be immortal after all, which suspicion was confirmed by the diagnosis of cancer. … "
Wojtek and I met at the University of Oslo, Norway, in the summer of 1978. With shared interests in European history, international travel and the beauty of Norway, we became friends, and after that first semester he invited me to spend Christmas break with him and his wife in Poland. There we drank vodka, condemned all manner of tyranny, listened to Chopin and stood in long lines in his university city on the chance there might be bananas or toilet paper at the end of the line. This was Poland before the collapse of Communism, a country plagued by corruption and shortages but a country – and a people – far more beautiful than I had imagined.
I'm told often not to waste time on regrets, but one of my great regrets is not having spent more time in the decades since exploring ideas and the world with that remarkable man.
"Virus or no virus, cancer or no cancer, one summer without a trip to a place blessed with a climate better than that of Poland had been enough," Wojtek wrote, "so before the chemo got the better of me we flew first to Malta and from there to Rome."
In Malta, he and his wife, Aleksandra, stayed at a beach hotel, snorkeled in the Mediterranean and toured the palaces, castles and museums of Valletta, the capital. In Rome, they wandered streets familiar from earlier visits and discovered new treats, "like the beer called 'Ichnusa,' brewed in Sardinia, of all places."
After "How are you doing, Chuck?" the line I hear most often these days is, "What can I do to help?"
Here's a suggestion. It would please me if you found paper, pen and a postage stamp and wrote a letter to someone who matters in your life. (Not to me; I'd love to be flooded with cards and letters, but that would make this seem too self-serving an exercise.)
No, choose someone who might remember a good dog, yours or hers, or a day spent in a garden or on a lake, or whose hand you held at a movie or before a campfire. Hold it again. Hold life close.
Chuck Haga had a long career at the Grand Forks Herald and the Minneapolis Star Tribune before retiring in 2013. He can be contacted at crhaga@gmail.com.